CANCELLED Duo "Syrinx"
13.06.2022., 20:30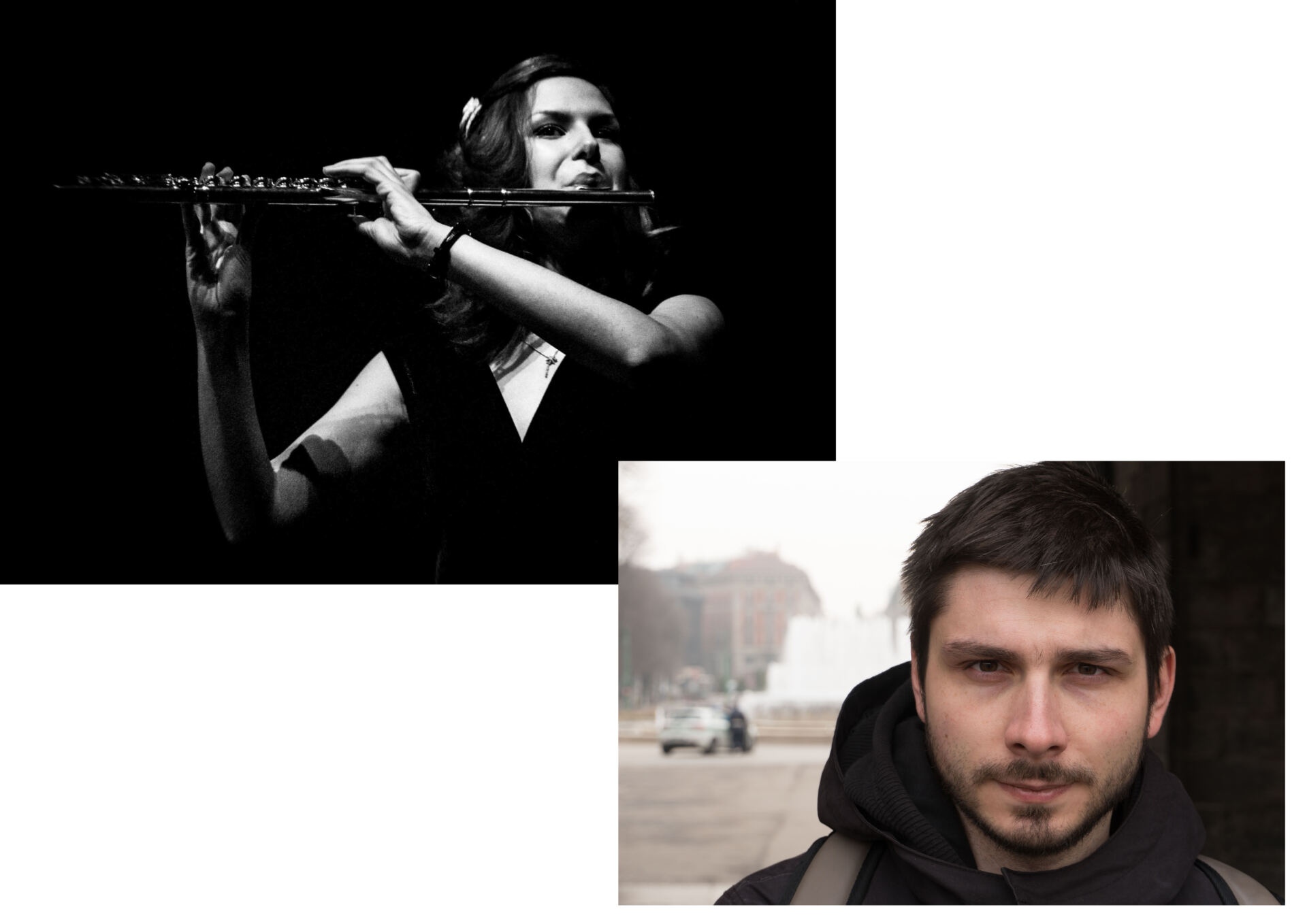 Angelina Nikolić, flaute and Nemanja Egerić, piano
Program:
Claude Debussy
Bilitis
Pour invoquer Pan, dieu du vent d'été
Pour un tombeau sans nom
Pour que la nuit soit propice
Pour la danseuese aux crotales
Pour l'Égyptienne
Pour remercier la pluie au matin

Wolfgang Amadeus Mozart
Sonata for violin and piano in E minor, , KV 304 (arr for flute and piano)
Allegro
Tempo di Menuetto
Sergei Prokofiev
Sonata for flute and piano in D major, Op. 94
Moderato
Scherzo – Presto
Andante
Allegro con brio
Biographie:
Nemanja  Egerić  completed his bachelor and master diploma for piano at the Faculty of Arts in Niš in the class of prof. Misha Dacić. He finished the post-graduate studies in the class of pianist Bruno Canino at the academy Scuola di Musica di Fiesole in Florence. In 2020 he finished Ph.D. studies for the classical piano performance at the Faculty of Music in Belgrade in the class of professor Maja Rajković. Thesis of his doctoral studies is based on interpretative and programmatic explication of Olivier Messiaen's piano cycle Vingt regards sur l'Enfant-Jésus. Currently, he attends an advance course studies for contemporary piano in the class of Emanuele Arciuli at the Accademia di Musica Pinerolo.
Nemanja has participated on numerous competitions winning a prestigious prizes such as: Laureate at the competition of young composers Laureate at the International piano competition ULJUS (2017), I prize at the International piano competition Klavitas (2017); Laureate of the Contemporary music festival ReConstruction 2 (2019); II prize at INSAM Contemporary Music Competition (2019). He has been honored with award "Stanojlo Rajičić" for the best concert of the concert seasson 2018/2019 of the Serbian academy of Science and Arts. In 2020, after performing the whole ciyle of Messiaen's Vingt regards sur l'Enfant-Jésus, he has been honored for the high contribution of performing contemporary music (fondation Ivan Jevtić), and in 2021 he got the award for the most significant artistic achievement of the year (Faculty of Music in Belgrade).
In 2015 Nemanja appeared as a soloist in the piano concerto Nights in the Gardens of Spain by Manuel de Falla with Niš Symphony orchestra conducted by maestro Zoran Stanisavljević. He performed many solo and chamber recitals in Italy, Switzerland, North Macedonia, Bosnia and Herzegovina as in all major concert halls of Serbia. He performed at domestic and international festivals such as Lucern Piano Festival, Musica al Ponte, International Review of Composers, Piano City, NIMUS, CONVIVIUM MUSICUM, BUNT, BLISS… He is a member of piano duo Stevan Nemanja with a pianist Stevan Spalević with whom has won several international competitions for chamber music. Since 2018 he has been playing in Duo Syrinx with flutist Angelina Nikolić, with whom performs all major modern and contemporary works. Nemanja was the first among Serbian pianists to perform significant piano works from composers such as Messiaen, Berio, Nono, Harvey, Kurtág, Fedele… Nemanja has been studying with number of esteemed professors such as Piter Hill, Momo Kodama, Pierre Sublet, Aleksandar Serdar. Since 2019 he has been working as a piano accompanist for voice and strings at the Faculty of Arts in Niš, Serbia.