Andrea Massimo Grassi, clarinet and Anna Quaranta, piano
26.04.2017., 20:00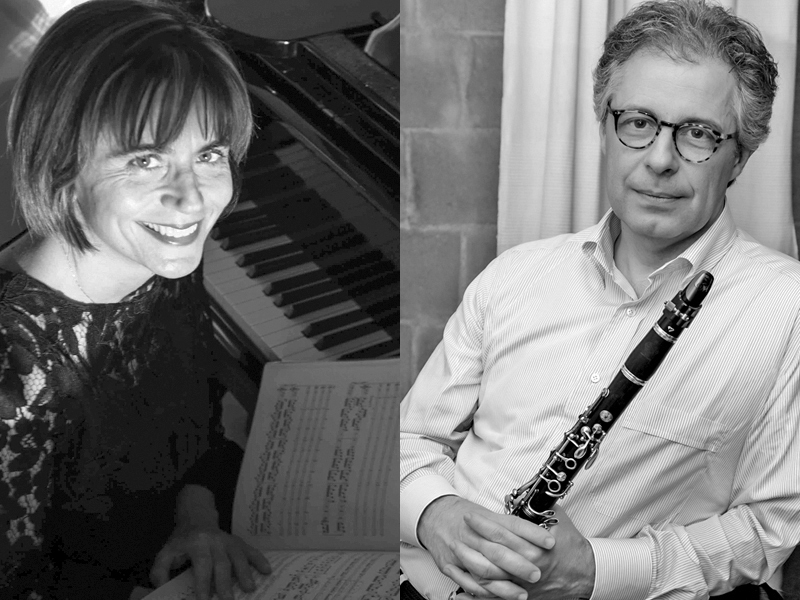 Concert is organized in cooperation with the Italian Institute of Culture in Belgrade and Serbian Clarinet Academy and Festival.
Program:
Johannes Brahms
Sonata in F Minor for clarinet and piano, Op. 120/1 (1894)
Allegro appassionato; Sostenuto ed espressivo
Andante un poco Adagio
Allegretto grazioso
Vivace
Sonata in E-Flat Major for clarinet and piano, Op. 120/2 (1894)
Allegro amabile
Allegro appassionato
Andante con moto
Allegro
Biographies:
Andrea Massimo Grassi
Born in Milan, Italy, he graduated in clarinet at the Conservatorio 'G. Verdi', under the guidance of Primo Borali. Later on he specialised with Vittorio Luna and with Masha Yanouchevsky, Maureen Jones and Dario De Rosa for chamber music. In 1995 he received the prestigious 'Diploma d'onore' from the Accademia Musicale Chigiana of Siena, and in 1996 the diploma of the Accademia Internazionale di Musica of Biella as a student of Antony Pay. He completed his musical studies graduating with honours in modern literature at the University of Parma and gaining the PhD in Musical Philology at the Facoltà di Musicologia of Cremona.
He has performed chamber music in Italy as well as in USA, Russia, United Kingdom, Germany, Spain, France and Portugal, playing for the University of Chicago, the Minnesota State University, the Teatro alla Scala of Milan, the Université de Rouen, the RAI Radiotelevisione italiana, the Gnessins College of Moscow, the Accademia Musicale Chigiana, the Lusitanian festival 'Sete sòis Sete luas', the Musikhochschule of Mannheim, the Northeastern Illinois University, the Southeast Missouri State University, the University of Leeds (UK).
He has performed in Germany and Italy chamber music works by Mozart (Quintet K 581), Brahms (Trio op. 114, Quintet op. 115) and Bruch (Stücke op. 83) with Michael Flaksman, Susanne Rabenschlag, Gernot Süssmuth, Yulia Berinskaya, Vladimir Mendelssohn, Erich Krüger, Frieder Berthold , Alain Meunier.
He has published, among other things, the book 'Fräulein Klarinette'. La genesi e il testo delle opere per clarinetto di J. Brahms ['Fräulein Klarinette'. The genesis and the text of J. Brahms's clarinet works] published by ETS (Pisa 2006) as well as and the Urtext edition of the Quintet for clarinet and strings by Brahms for the Henle Verlag, Munich.
He has held seminars-concerts and master classes in the USA, Russia, United Kingdom and in many Italian Universities and Music Academies, and he is dedicated to training and education in the fields of music and performing arts, in particular as coordinator and teacher at the Accademia Teatro alla Scala. He is a Council member of the National Serbian Clarinet Association.
Anna Quaranta
Born in Salerno, Anna Quaranta lives and works in Bologna, Italy. She graduated at the Conservatorium 'G. Martucci' in her hometown in Pianoforte, Choral Music and Choir conducting. Subsequently she specialized with Alexander Hintchev, and followed piano and chamber music master classes with Boris Petrushansky, Boris Bekhterev, Bruno Canino, Sergio Fiorentino. She also followed courses in Phenomenology of Music held by Sergiu Celibidache in Saluzzo, which played a significant role in her further musical development; she is currently expanding on this subject with Christa Bützberger, one of the most accomplished among Celibidache's followers.
Anna Quaranta has performed regularly as a soloist as well as playing with various chamber music ensembles in the main cities of Italy and among other countries (in Germany, at Mannheim Musikhochschule and in USA, for University of Chicago and Southeast Missouri State University).
In addition to performing, Anna Quaranta has cultivated a strong interest in Musicology and the Philosophy of Music. After having graduated in Literature and Musical Disciplines, she got her Ph.D. in Musicology at Bologna University, discussing a dissertation on 'The Theory and Praxis of Sergiu Celibidache', one of the rare attempts to date which systematizes the complex thought of the controversial conductor. She taught in 1997/98 History of Modern Music at Salerno University and she has published essays on specialized journals and miscellaneous volumes.
At present Anna Quaranta collaborates with prestigious institutions, holding concerts, seminars, master classes and training activities. She is Piano teacher in Bologna Musical High School.