17th International Festival "Days of Organ": ORGAN & FANFARE
06.07.2017., 20:30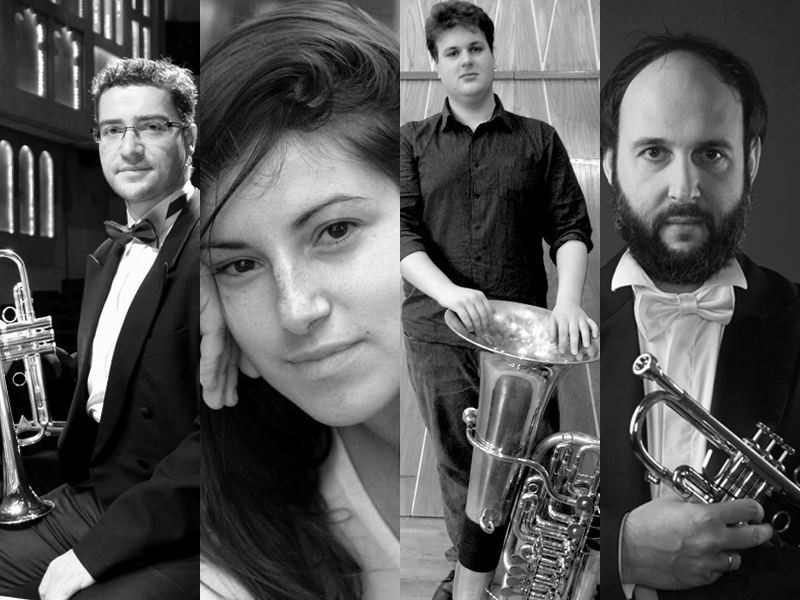 Closing Concert
Lana Jelenković (Serbia), organ
Philipp Rebman (Germany), trumpet
Aleksandar Solunac (Serbia), trumpet
Sebastian Marhold (Austria), tuba
guests:
Miljana Popović Materni, violin and Jelena Dragnić, violin
Boris Brezovac, viola and Đorđe Pantelić, viola
Julijana Marković, cello
Organ & Fanfare
Heinrich Ignaz Franz von Biber (1644–1704)
Sonata tam aris quam aulis servientes, No. 7
for 2 trumpets, 2 violins, cello & continuo
Vincent Persichetti (1915–1987)
The Hollow Men, for trumpet & string orchestra, Op. 25
(reduction for trumpet and organ by composer)
Alan Hovhaness (1911–2000)
Prayer of Saint Gregory
interlude from opera Etchmiadzin, Op. 62b
(reduction for trumpet and organ by composer)
Olivier Messiaen (1908–1992)
Dieu est saint
from cycle Méditations sur le Mystère de la Sainte Trinité
Theodor Hlouschek (1923)
Barockes Konzert, for tuba and organ
Comodo
Sostenuto
Allegro
Petronio Franceschini (1651–1680)
Sonata in D major, for 2 trumpets, strings &continuo
Grave
Allegro
Adagio
Allegro
Biographies:
Lana Jelenković (1981, Belgrade) graduated with a Master of Music degree in Organ Performance from the Faculty of Music in Belgrade. At the Hochschule für Musik in Würzburg she finished her postgraduate Organ Studies with a Concert Degree with Prof. Christoph Bossert and earned a master degree in harpsichord with Prof. Glen Wilson at the Department for Early Music. Simultaneously, Lana completed International Master Studies Organ Expert at Hochschule für Musik in Trossingen and at the University of Rome Tor Vergata. Lana has participated in a number of master-classes across Europe. She has performed at numerous festivals, such as Ars vivendi clavicembalum, Dies organorum, Mozart Fest Würzburg, Messiaen, Mendelssohn, Die Nacht der offenen Kirchen, Würzburger Bach Tage, Gartenstädter Orgelsommer Bamberg, Early Music Festival in Belgrade, Amis de l' Orgue Luxembourg etc. Of special note is her long-standing association with the Belgrade Philharmonic Orchestra. She is member of baroque ensembles Tempera Barocca, Sela-Consort and duo Omnia. Lana is an actively performing organist, harpsichordist, continuo player and piano accompanist, and she performs with various orchestras, choruses and chamber ensembles throughout Europe.
Philipp Rebmann (Freiburg, Germany) began studying at the Hochschule for Music in Freiburg with Prof.Anthony Plog and continued with Prof. Klaus Schuhwerk in Basel, Switzerland. His orchestral experience as a trumpet player encompasses a vast number of international ensembles and orchestras in Europe, including the Schleswig Holstein Festival Orchestra, the Göttinger Symphony Orchestra, the German Chamber Orchestra in Bremen, the Symphony Orchestra of Tenerife, the Netherlands Symphonic Orchestra, the National Orchestra of Toulouse, the Southwest German Philharmonic Orchestra Constance and the Mahler Chamber Orchestra. As chamber musician, Rebmann plays actively in Germany and Doha. He holds the position of second trumpet in the Qatar Philharmonic Orchestra.
Aleksandar Solunac (1978, Belgrade) finished his studies at the Faculty of Music in Belgrade in the class of Mladen Đorđević. He continued his studies at the Norwegian Academy of Music with prof. Bengt Eklund and received Artist Diploma – Master of Music Performance. During his studies he played in orchestras like the Mediterranean Youth Orchestra, RTS Symphonic Orchestra and others. Since 2011 he is holding the position of principal trumpet of Belgrade Philharmonic Orchestra. As member of orchestra he has performed in Europe, Asia and USA. As member of chamber ensembles and soloist he took part in different music festivals in Belgrade and Serbia. As soloist he played with RTS Symphonic Orchestra, The Norwegian Radio Orchestra and Belgrade Philharmonic Orchestra.
Sebastian Marhold (1992, Köflach, Austria) started playing tuba at the age of seven. With eleven years he joined the marching band from his hometown. He continued his studies at the Conservatory of Graz in the class of Erich Bendl and at the Vienna Conservatory with Prof. Paul Halwax. He won the first prizes at the Austrian Youth Music Competition Prima la Musica in 2010 and 2011. In 2014 he received scholarship and joined the Orchestra Academy of Nuremberg State Theater. He played with Graz Philharmonic Orchestra, ORF RSO Wien, World Youth Orchestra, EUYO, Jeunesse Musical Deutschland, the Theater of Coburg, Nuremberg Symphony Orchestra, the Hofer Symphoniker and the Summer Academy of the Vienna Philharmonic. Since 2016 he is holding the position of principal tuba at the Qatar Philharmonic Orchestra.