Concert of the "colluvio" Chamber Music Academy 2019
20.08.2019., 20:00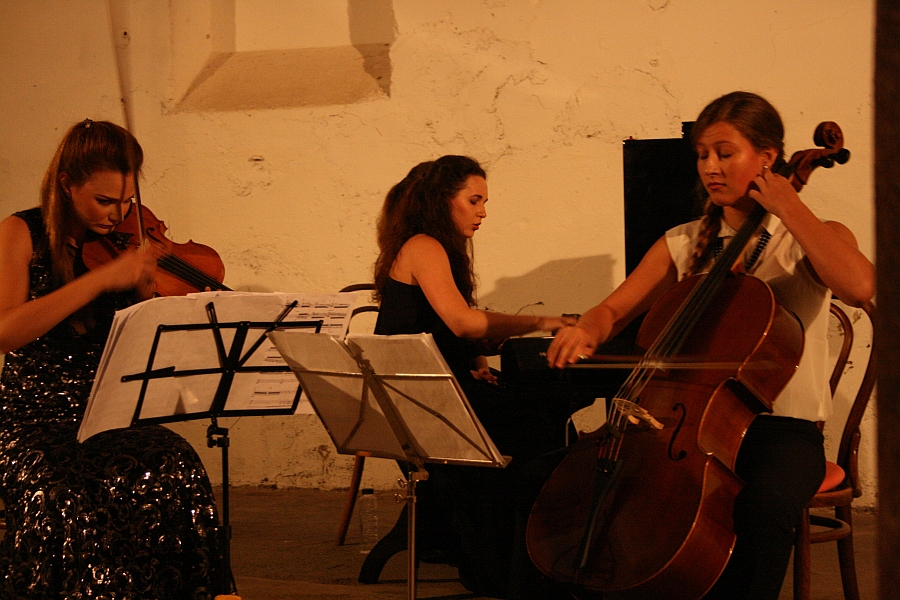 18 years of the COLLUVIO Chamber Music Academy – Master class for chamber music including an international tour.

Participants:
11 music students from all over Europe, focus on South-Eastern Europe, Eastern Europe, Austria, Germany. Instruments: piano, violin, viola, cello. Masterworks for piano trio and piano quintet.
Chamber music class on manor "Gut Hornegg" (Austria): 29.07. – 08.08.2019 led by Yuri Kot, piano (Ukraine), prof. at the music academy in Kiev, Olivera Milić-Hirscher, violin (Serbia), violin class at the special school for musical talents in Ćuprija, Serbia and Meinhard Holler, cello (Austria), private cello class in Munich.
Program:
Robert Schumann
Piano Trio No.3 in G Minor, op. 110
Bewegt, doch nicht zu rasch
Ziemlich langsam
Rasch
Kräftig, mit Humor
Trio András – Coco – Samuel

Felix Mendelssohn-Bartholdy
Piano Trio No. 2 in C minor, op. 66
1. Allegro energico e con fuoco – 2. Andante espressivo – 3. Scherzo (Molto allegro quasi presto) – 4. Finale (Allegro appassionato)
Trio Victor – David – Pavle
Mieczysław Weinberg
Piano quintet Op. 18 (1944)
Moderato con moto
Allegretto
Presto
Largo
Allegro agitato
Quintet Anastasiya – Assia – Sofia – Kinga – Lucija
CONCERTS ON TOUR
09.08.2019, 19.30 Uhr, GUT HORNEGG, Austria, Styria Preding
Ehemalige Stallungen auf Gut Hornegg
10.08., 20.15 Uhr, VILLACH, Austria,
Parksalon des Warmbaderhof, Kadischenallee 22-24, A-9504 Villach-Warmbad
11.08., 19.00 Uhr, MERTINGEN, Germany
12.08., 19.30 Uhr, FELDAFING am Starnberger See, Germany
St. Peter und Paul Kirche
13.08., 19.30 Uhr, VIENNA, Austria,
Schubert´s Birth House, Nußdorfer Straße 54, A-1090 Wien
14.08., 19.00 Uhr, BUDAPEST, Hungary,
Concert Hall of the Institute for Musicology, Academy of Sciences, H-1014 Budapest, Táncsics Mihály u. 7
17.08., 19.30 Uhr, LVIV – LEMBERG, Ukraine,
Organ Hall
20.08., 20.00, BELGRADE, Serbia
Svečana sala Skupštine grada, Dragoslava Jovanovića 2
FREE ADMISSION for all concerts
Teachers:
Yuri Kot, piano (Ukraine), prof. at the music academy in Kiev
Olivera Milić-Hirscher, violin (Serbia), violin class at the special school for musical talents in Ćuprija, Serbia
Meinhard Holler, cello (Austria), private cello class in Munich
Claus-Christian Schuster, piano (Austria), founder of the Altenberg Trio Vienna
The 11 chosen musicians:
András Moldoványi (23), piano, Hungary – Music Academy Budapest
Coco Inman (21), violin, Great Britain – Royal College of Music, London
Samuel Ng (20), cello, Malaysia – Royal College of Music, London
Victor Dai (21), piano, Australia – Royal College of Music, London
David Horvat (21), violin, Serbia – Royal College of Music, London
Pavle Popović (21), cello, Serbia – Faculty of music in Belgrade
Anastasiya Sharina (25), piano, Ukraine – Music Academy Kiev
Assia Weismann (22), violin, Russia – Music Academy Karlsruhe
Sofia Kolupov (22), 2. violin, Ukraine – Royal College of Music, London
Kinga Wojdalska (21), Viola – viola, Poland – Royal College of Music, London
Lucija Mušac , cello, Croatia – Music School of Split