MILOMIR KOVAČEVIĆ WELCOME TO GOLI OTOK
11.06.2020-30.07.2020, 12:00-20:00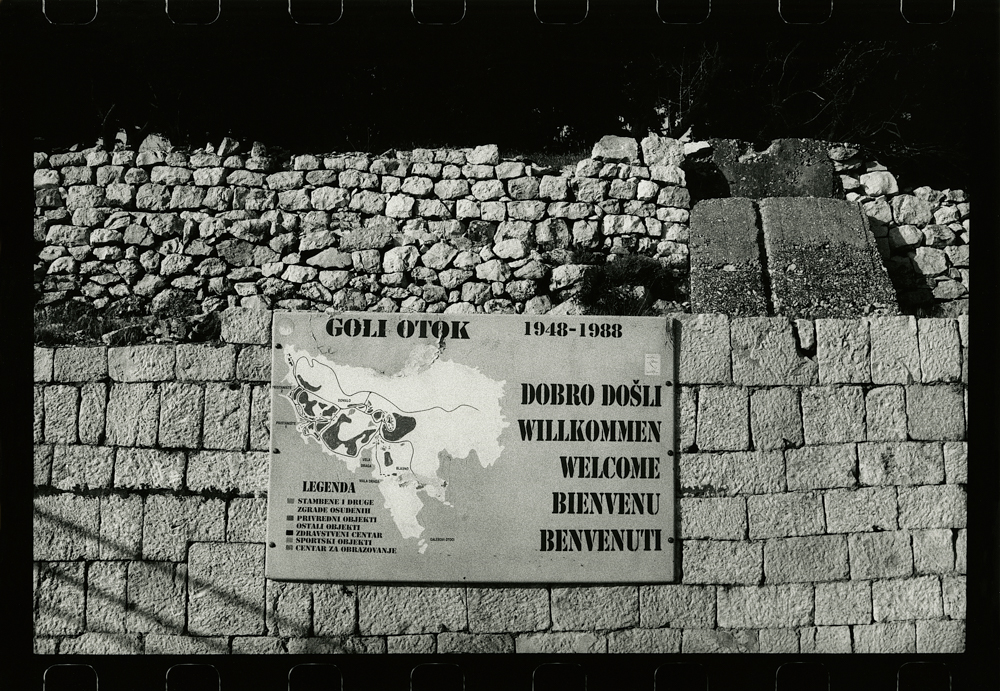 MILOMIR KOVAČEVIĆ
WELCOME TO GOLI OTOK
Jun 11 – July 30, 2020
ARTGET Gallery, Trg republike 5/I
Artisitic director of the Artget Gallery in 2020: Aleksandar Kostić
There is something in the photographs Welcome to Goli otok by Milomir Kovačević that is not at all ironic like the title of this exhibition: an invitation to finally discover physically, with the help of light and shadows, something that in our mind is just a notion of hell. Because, that's what Goli otok is – a synonym for the torments of Hades to which thou­sands of victims were subjected from 1948 to the late fifties, and it has always remained only a foggy threat, rather than a specific geographical location with its toponyms.
I myself, like Milomir, stayed in that damned place, but for different reasons, and now, as I am looking at his visual impressions, I think how I may have not seen the place well. It worked on me as a whole, as a blow to the head, and the photographs by Mi­lomir Kovačević decompose that set into a series of visual sensations and selected scenes that illu­minate things quite differently from how I experi­enced them.
In fact, those photographs talk about us now. And they pose the question: Have we left compassion on that damned island? Because, nothing is so present in the time we are currently living in as that – the lack of empathy, lack of understanding for others, indifference for suffering. These photographs strike me as a silent warning that we have forgotten we are human.
Goran Marković
Belgrade, May 21, 2020
I was born and lived in Yugoslavia, and in my time there was no talk of Goli otok.
In 1990, I had the opportunity to visit 6 prisons in Bosnia and Croatia; I did not go to see human beasts, criminals, murderers, but people living in specific circumstances with specific rules.
A short time later, I found myself and spant 1007 days in Sarajevo, which in somehow itself became a large prison, again with its own specific rules, and everywhere I saw human suffering, wounds…
Goli otok has always remained a topic that in­trigued me, as the biggest (in my opinion) "stain" in the history of Yugoslavia, the party, communism, socialism, Tito, as a place of pain and suffering of thousands of innocent people.
My exile to Paris and the appearance of the testi­monies of the surviving camp inmates about life on Goli otok only increased my desire to go there one day. I don't even know anymore whether it was just a desire to document or something else.
And then came an invitation from my pre-war friend from Zagreb, Darko Bavoljak, to visit Goli otok.
Everything happened quickly, Paris, Zagreb, Rab, Lopar, a boat, a 45-minute ride, and we arrived to Goli otok.
The faded bulletin board "Welcome to Goli otok" is the first thing that greets you. And then I start tour­ing the Island…
Everything is ruined, destroyed by people, nature, wind, rain…. At every step, traces of the prisoners' life there can be seen or felt. Demolished buildings, work facilities, unnecessary and unclear concrete buildings, dormitories, playgrounds, a quarry, cine­ma hall. The whole Island is covered with a network of crushed stone roads, and large drains for collect­ing water from stone slabs, also built by prisoners. Inside the buildings, the walls are ruined, the metal plates rusted, the tiles darkened, light streams in through the collapsing roofs.
Everything is desolate and ghostly like in a film, I am silently photographing everything, how is it possible that this existed, that so many people were killed, tortured…

Milomir Kovačević
Paris, May 29, 2020
Milomir Kovačević (1961) took up photography at the age of 17, at the CEDUS University Photo-Cinema Club in Sarajevo. From the very beginning, his oeuvre was dedi­cated to life on the streets and social, cultural and sports events in Sarajevo; in the 1990s he became one of the most notable city photo-chroniclers.
He became a member of the Association of Fine and Applied Artists of Bosnia and Herzegovina (ULUPUBiH) in 1989.The body of work of this photojournalist, whose pho­tographs are not sensational and short-lived, covers a wide range of topics, from those often invisible in the ruts of everyday life to those that open some taboo topics: Medjugorje, prisons, flea markets, rock concerts, Hordes of Evil (Sarajevo Football Club fans), graffiti, pioneers, Tito's photographs in shop windows for the last Republic Day…
In the early 1990s, Kovačević testified to the profound social changes in the country in the period of the demise of communism, the first democratic elections, party ral­lies, the creation of new parties, new authorities, peace events and, at the same time, chronicled the daily cul­tural and sports life of the city.
In 1992 he started recording everything that Sarajevo would tragically become known for all over the world – the life of the besieged city from the inside. Unlike his foreign colleagues, who lurked to capture death in the most bizarre way possible – Kovačević was trying to cre­ate, at least in photographs, something harmonious and visually pure in the tragic war environment – he record­ed life and resistance to this difficult time. During that period, several photo series were created: Tito in War, No Name, Ase Lies, War Architecture…
In 1995 he left for Paris and was there when the war in Bosnia and Herzegovina ended. In the new environment, too, he continues his successful photographic and exhi­bition activity with the cycles of portraits of inhabitants of French cities, Paris cemeteries (as a continuation of war series from Sarajevo), street chess players, night photographs of monuments and everything that makes Paris a city of light, and other series.
He has received numerous recognitions for his work – from the CCF Foundation Photography Award, today's HSBC, in 1998, after which he exhibited throughout France and at the International Center of Photography in New York, to the latest one – the Knight of Merit, hon­oured by the President of France, for his distinguished work in photography.