CRITICS HAVE CHOOSEN 2021: STREET! THE GRAFFITI SCENE FROM THE BLOCKS
28.01.2021-04.03.2021, 12:00-20:00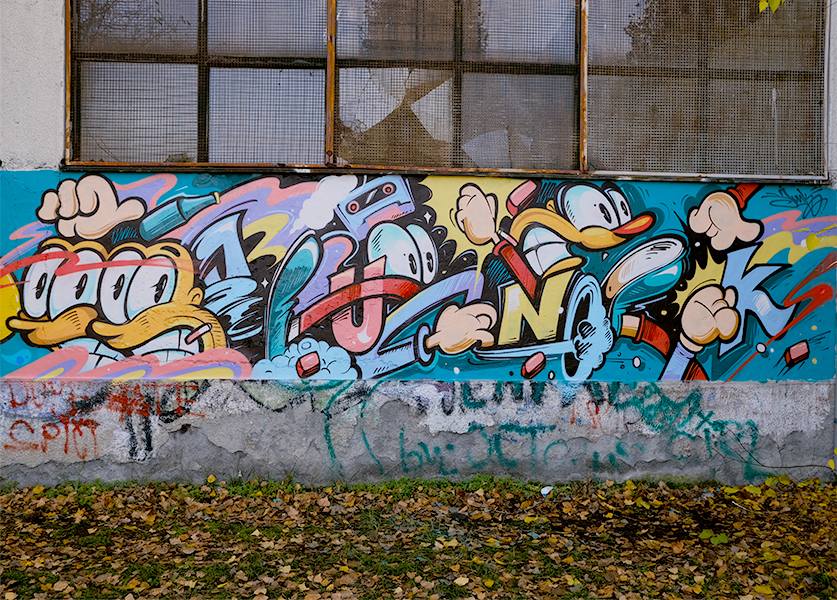 CRITICS HAVE CHOOSEN 2021: STREET! THE GRAFFITI SCENE FROM THE BLOCKS
Curator: Dragana Kovačić
Art Gallery, Knez Mihailova 6
Opening: Thursday, January 28
The joint work titled STREET! was conceived as a graffiti jam of Hope, Cash, Junk and their guests Sub Zero and Abs, who come from the subcultural milieu of the blocks of Novi Beograd. They are representatives of two generations of graffiti artists who have been working in this area continuously since the mid-1980s. The identity of this group is determined by the blocks, marked as "alternative cartography of the city" since they were built, and then additionally ghettoized during the 1990s. The blocks are an essential precondition and inseparable substrate of their practice and determine the distinct way of their drawing, strategy and the field of action.
The practices of Hope, Cash, Junk, Sub Zero, Abs and other graffiti artists have been preserved as underground and alternative. Their works are created in a latent tension between the legal and the illegal, with a foothold in the original culture of hip hop.
The work of graffiti artists in the prestigious Belgrade exhibition space was performed in real time, as an unpredictable performance in which the action itself is a message.
It redefines the meaning of the KCB Gallery from exclusive towards inclusive, so that the gallery space becomes an integral part of the street. The goal is to abolish the boundary between or conventional understanding of institutional and non-institutional space as crucial for the understanding of an artwork, and to point out the position of the viewer as an active participant in forming the meaning of visual contents.
This presentation connects two opposite parts of the city, the suburb and the centre, the subculture and the mainstream culture.
The author of the 2021 edition of the traditional annual exhibition Critics Have Chosen – critics' reception of contemporary visual art, continuously organized at the Art Gallery since 1967, is art historian Dragana Kovačić, the winner of the Lazar Trifunović Award for 2018.