58th October Salon | Belgrade Biennale 2021 announces new opening dates, new exhibition spaces and the list of artists
25.06.2021-22.08.2021, 00:00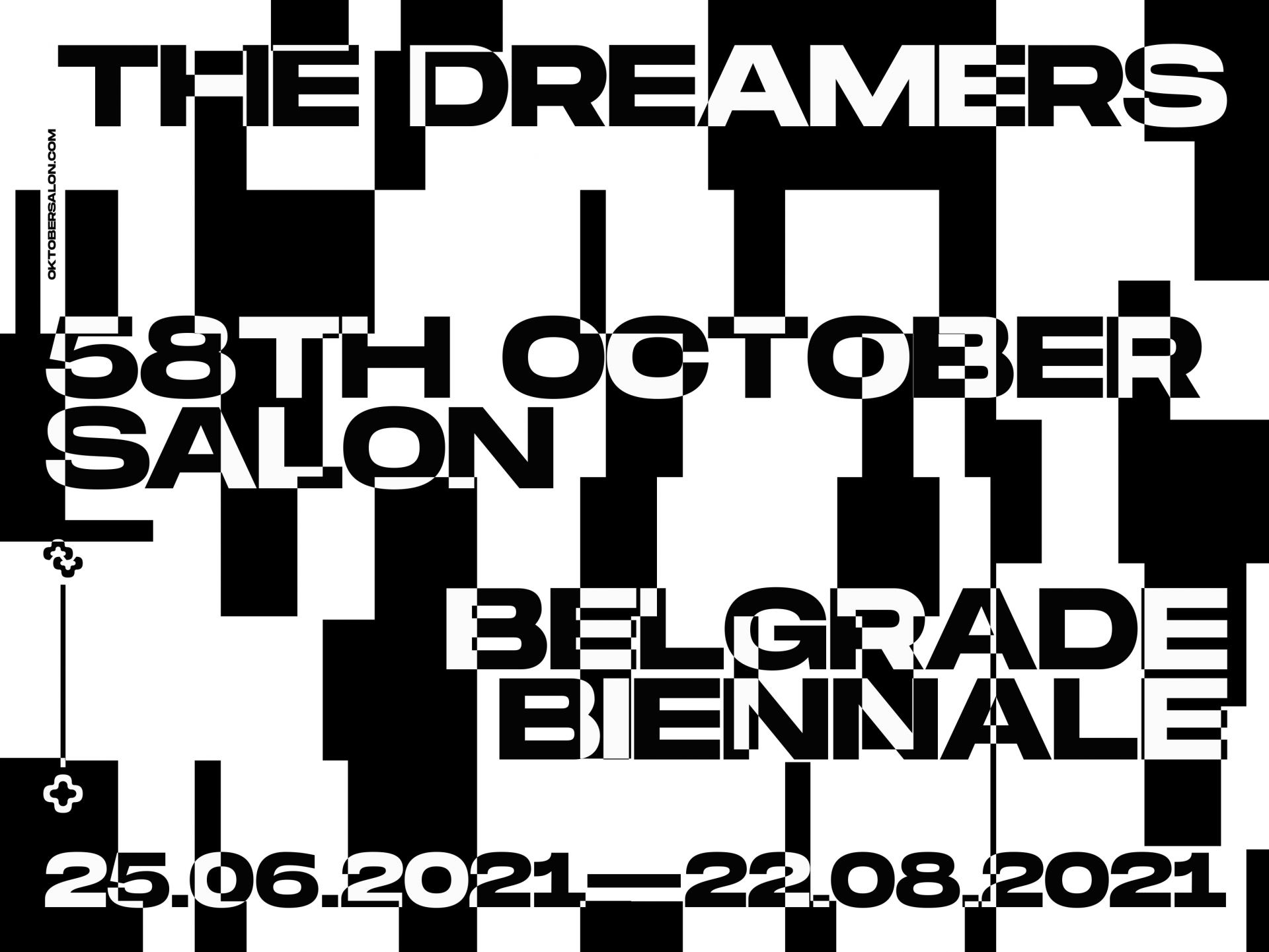 THE DREAMERS
58th October Salon | Belgrade Biennale 2021
58th October Salon | Belgrade Biennale 2021 announces new opening dates, new exhibition spaces and the list of artists
June 25 – August 22, 2021
Press conference | Friday, 25th June 2021
Opening | Saturday 26th and Sunday 27th June 2021
The largest part of the exhibition of the 58th October Salon – Belgrade Biennale – which includes over 140 works, 40 of which are new productions, while 20 are public interventions and various site-specific oeuvres – will be presented at the Belgrade City Museum in Resavska Street no. 40b, galleries of the Belgrade Cultural Centre, the Movie Theatre of the Belgrade Cultural Centre, the park of the Museum of Yugoslavia and a number of public spaces all over the city. It is planned for this year's edition of the Salon to involve television and radio platforms as exhibition venues.
It had been originally planned for the main exhibition to be held in the Belgrade City Museum building in Resavska Street, yet late last year, the venue was changed to the Museum of Yugoslavia, only to be replaced once more with the original location in Resavska Street. The opening was initially planned for 19th September last year, then moved to 16th October, then to 4th June 2021. The change of the main exhibition venue resulted in yet another postponement of the exhibition opening, to 25th June 2021.
The pandemic has made planning harder, especially when it comes to international events, while finding the adequate exhibition space has been a major challenge for the organisers.
With the reconceptualised outlook of The Dreamers and participation of 63 artists and artistic groups, the exhibition still features the complexity of our world and "the ability – now more than ever – to create Worlds and not only to inherit and live within existing ones". (Ian Cheng) By tracing the fundamental role of dreams in defining the most authentic spirit of the human being in every age and culture, the exhibition defines the world of dream as a timeless and universal space, capable of overcoming cultural, gender, religion, expression and language barriers.
The exhibition catalog, published as Serbian/English bilingual edition by the Cultural Center of Belgrade together with CURA.BOOKS, includes texts by the exhibition curators Ilaria Marotta and Andrea Baccin, as well as authors, researchers and philosopher: Fredi Fischli and Niels Olsen, Mahfuz Sultan, Melanie Chan, Giulia Bini, Ben Vickers, Anthony Huberman, Tarek Elhaik, Matthew Spellberg, Emanuele Coccia, Hans Ulrich Obrist, Ian Cheng, Sanja Bojanić, Saša Ilić and Vladimir Kulić. The catalog is supplemented by a large iconographic atlas of works and an original section dedicated to artist dreams, inspired by the book Sogni/Dreams published by Hans Ulrich Obrist and Francesco Bonami.
What follows is the list of the artists and artistic groups participating in the 58th October Salon – Belgrade Biennale:
Jean-Marie Appriou, Marija Avramović and Sam Twidale, Trisha Baga, Davide Balula, Cecilia Bengolea, Will Benedict, James Bridle, Dora Budor, Elaine Cameron-Weir, Ian Cheng, Claudia Comte, Sanja Ćopić, Matt Copson, Vuk Ćosić, Vuk Ćuk, Alex Da Corte, Jeremy Deller, Simon Denny, Nicolas Deshayes, DIS (Lauren Boyle, Solomon Chase, Marco Roso, David Toro), Aleksandra Domanović, David Douard, Cécile B. Evans, Cao Fei, Cyprien Gaillard, Nenad Gajić, Camille Henrot, Mauro Hertig, David Horvitz, Klára Hosnedlová, Marguerite Humeau, Than Hussein Clark, Pierre Huyghe, Invernomuto (Simone Bertuzzi and Simone Trabucchi), Alex Israel, Melike Kara, Nadežda Kirćanski, Josh Kline, Oliver Laric, Mark Leckey, Hannah Levy, Hana Miletić, Ebecho Muslimova, Katja Novitskova, Precious Okoyomon, Wong Ping, Sonja Radaković, Jon Rafman, Anri Sala, Bojan Šarčević, Max Hooper Schneider, Augustas Serapinas, Igor Simić, Marianna Simnett, Emily Mae Smith, Colin Snapp, Daniel Steegmann Mangrané, Diamond Stingily, Jenna Sutela, Nora Turato, Nico Vascellari, Jordan Wolfson, Guan Xiao.
Video Teaser "The Dreamers"
CREDITS:
Video by: Bartosz Druszcz
Soundtrack by: Mauro Hertig
;