Concert of the COLLUVIO Chamber Music Academy 2021
17.08.2021., 20:00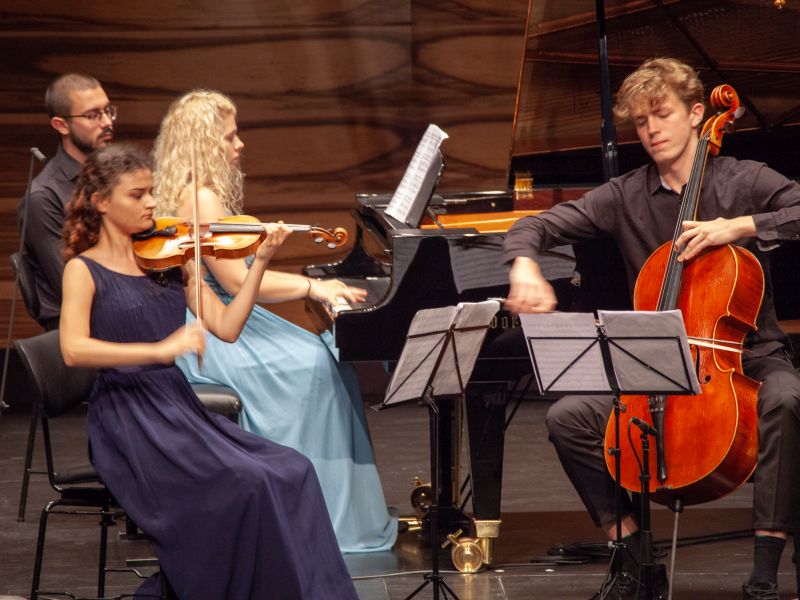 20 years of the COLLUVIO Chamber Music Academy – Master classes for chamber music including an international tour. Concert is supported by the Austrian Cultural Forum.
According to the health and safety guidelines for suppression of the epidemic, the number of attendees in the venue is reduced. It is important to book your seat by e-mail damjana.njegic@kcb.rs or by phone 011 2622 058 not later then noon at the day of the concert.
Since 2001 annual auditions for between 9 and 11 promising young musicians from all over Europe have been held for the colluvio Chamber Music Academy. Master Classes are held in Gut Hornegg, Styria, Austria, followed by an international concert tour that encompasses venues in the home countries of the participants.
The specialty of this meeting of differing cultural spheres is that the young musicians first get to know each other in Gut Hornegg, have never played together and then, within 10 days, are in a position to give live performances of ambitious chamber music works. Two factors enable them to do so: their high musical level plus the special "colluvio Method".
Program:
Ludwig van Beethoven
Piano trio in B-flat major, op. 11, "Gassenhauer"
Johannes Brahms
First movement of the Piano quartet No. 1 in G minor, Op. 25 (Allegro)
Pēteris Vasks
Episodi e canto perpetuo (1985)
Antonín Dvořák
Piano quintet No. 2 in A major, Op. 81
Master Classes directed by:
Yuri Kot (Ukraine) Professor for piano at the National Music Academy Kiev
Olivera Milić-Hirscher (Serbia) Professor for violin, Special School for Talented Young Musicians, Ćuprija, Serbia
Meinhard Holler (Austria) Private cello professor in Munich, Germany
Claus Christian Schuster (from 1984 to 1993 pianist in the Vienna Schubert Trio, and later until 2012 in the Altenberg Trio Vienna) will work with the young artists and round off their performance.
The chosen musicians:
Janick Čech (17), piano, Czech Republic/Germany, University of Music and Performing Arts Munich
Jelena Horvat (18), violin, Serbia, Yehudi Menuhin School in London
Özgür Deniz Kaya (19), violoncello, Turkey, Yehudi Menuhin School in London
Gorka Plada (19), piano, Spain, the Hanns Eisler School of Music Berlin
Assia Weissmann (24), violin, Russia/Germany, University of Music and Dance Cologne
Gabriel Coman (23), violoncello, Austria/Romania, University of Music and Performing Arts Graz
Ruslan Strogiy (29), piano, Russia, Sibelius Akademie in Helsinki
Itam Simón Gutiérrez Núñez (30), 1. violin, Chile, University of Music and Performing Arts Graz
Israel Ignacio Gutiérrez Vildosola (25), 2. violin, Chile, University of Music and Performing Arts Graz
Samuel Sedano (26), viola, Spain, University of Music and Performing Arts Graz
Sebastián Mendoza (23), violoncello, Colombia, University of Music and Performing Arts Graz
Performance of the last year participants: