IVANA TOMANOVIĆ presents MITAR SIMIKIĆ ● UGLJEVIK
14.10.2021-18.11.2021, 12:00-20:00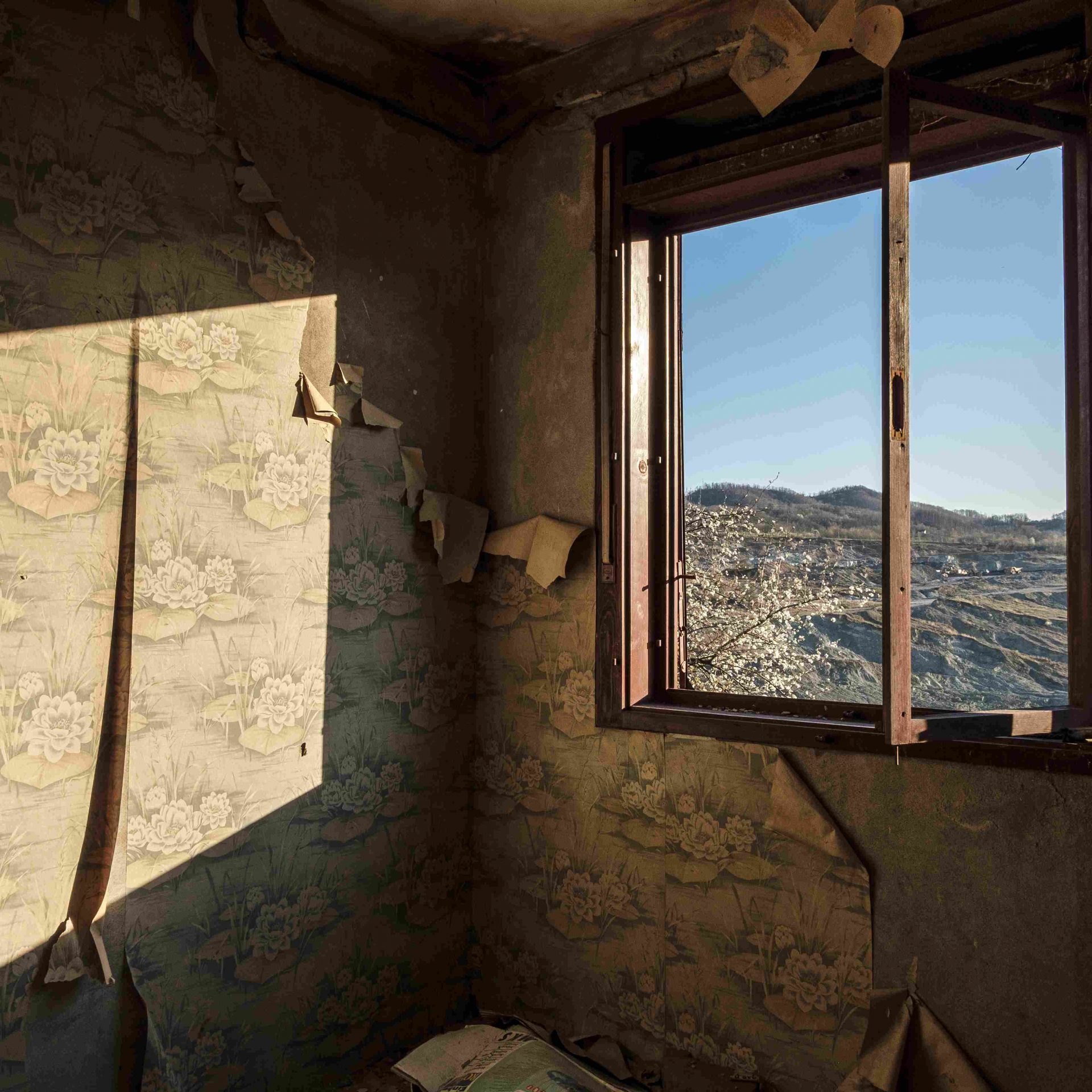 IVANA TOMANOVIĆ presents
MITAR SIMIKIĆ ● UGLJEVIK
October 14 – November 18, 2021
Artget Gallery | 20th year
In the 20th jubilee season of the Artget Gallery, in which the artistic directors of the Gallery in the previous decade re-map the domestic scene with one selected exhibition, Ivana Tomanović presents Mitar Simikić with a delicate documentary story Ugljevik.
Photographic fragments
Photography is an unusual medium. Almost everything related to it is associated with accuracy, precision, truth. It is determined by the – mechanical, today electronic – nature of the camera that produces images. And everything in a photograph looks real, accurate, clear; like reality itself. But this reality is "fragmented" into pieces which, arranged in a certain sequence, can create a narrative, sometimes more and sometimes less real.
The very name – Ugljevik (derived from the Serbian word for coal) bears a clear definition of a town next to a mine. Envisaged as a "perfect place", where everyone would have the same home, same job, same standard of living, i.e., all would be equally happy and prosperous. The communist idealism and socialist practice. For a while, it seemed to work well; everything seemed possible. But reality always appears suddenly and without announcement, ready to destroy what has been seemingly solidly built. Everything is clearly shown in Mitar Simikić's photographs; all is "readable", understandable and highly precise. The square format additionally strengthens the visual form and gives stability to the composition. The focus is always on one, main, element, usually placed in the centre. Regarding the artistic qualities, his photographs are simple, refined, brought almost to the level of symbols. Their documentary quality is based on a forensic approach, where the author re-records the situation – what is happening in front of his lens, i.e., a landscape that changes and disappears, crooked and "broken" houses which, like wounded beasts, cling to the ground collapsing under them…, he tries to preserve the memories which will be swallowed by earth one day…
Time and space – the two backbones of photography intertwine here like the wind swirling around and drawing us into these silent testimonies of someone's life. Just like a photo album that attempts to tell the story of a family, of someone's history, these photographic fragments tear away memories and, like engraved letters on tombstones, remind us of the time that inevitably passes. So, the pictures come one after another, with no chronology, with no clear order; the scenes of different lives, histories and contexts intertwine; only the landscape remains more or less the same. And the landscape, like a hungry beast, swallows everything in its way, because this hybrid monster is a monstrous combination of an artificial landscape that man creates / destroys and the "natural" nature – a pleonasm that ceases to be one. Before our eyes there is a struggle between man and nature, history and the present, presence and oblivion.
Mitar Simikić is a narrator. He builds the story slowly, often returns to it; he is interested in details, describes the situation but also the atmosphere, gets into the intimate subtly so as not to disturb anything. Like a chronicler, he records the facts, fragments of this strange reality in front of him, subconsciously realizing that only his photographs will save it from oblivion. But rather than history, this is a story of constant change, a metaphor for turbulent life and the fate of people in this area. Of a constant state of exile, of cutting and denying the roots that are deeply ruined by the fragile weaving of the "inner landscape" of people who are persistently trying to anchor themselves in this restless and unpredictable land.
Due to the expansion of the mine, Mitar's grandfather moved out of his house in Stari Ugljevik in the late 1980s. His home has long been somewhere "under the ground". Many houses are waiting their turn.
Ivana Tomanović
…………………………………….
Mitar Simikić (1986) is a documentary photographer. He finds inspiration in the unknown and the feeling of possibility that is created within it and has an interest in photo stories in the form of series and long-term projects, a reality photography that examines social values. Simikić's photographs express emotions and perceive people, the environment and situations in a personal way. He works spontaneously and intuitively – adapting to changes in light, atmosphere and circumstances; animated by unplanned, temporary encounters with people and places in their state at that very moment. His goal is to create a space in which the audience can feel empathy for his subjects and get involved in their stories. A couple of seemingly contradictory motives are at the heart of his practice: a desire for order and simplicity and a fascination with the small details of the subject. Simikić is often entirely preoccupied with the stories he records. This obsession with detail is sometimes embedded in his photographs that reflect the complexity of his surroundings. In other cases, he distils the extremes of visual and sensory information into bare, graphically accurate images.
Mitar Simikić completed his undergraduate studies at the Academy of Arts in Bijeljina, Graphic Design Department (Bosnia and Herzegovina) and master studies at the Academy of Arts in Novi Sad, Photography Department. He has participated in several documentary photography workshops, including Civic Engagement Workshop, BOLD Academy (2020); VII Agency, Sarajevo Academy seminar for Narrative and Documentary Practice (2019–2020); Noor-Nikon Masterclass in Belgrade (2015); Focusing Democracy – Documentary Photography, Youth Centre CK13, Novi Sad (2013). He has won several awards, and his documentary stories have been shown at numerous exhibitions in this region.
Ivana Tomanović (1971, Novi Sad) holds a master's degree from the Academy of Film and Television (FAMU) in Prague, Photography Department; currently a PhD student in the field of fine arts at the Academy of Arts in Novi Sad. From 2001 to 2015, she was an editor in ReFoto – magazine for the culture of photography (Belgrade); currently teaches photography at the Academy of Arts of the University of Novi Sad and the Academy of Arts of Alpha University in Belgrade. In 2016 exhibition season, she was the art director of the Cultural Centre of Belgrade's Artget Gallery. She lectures regularly on the theory of photography and participates in numerous panel discussions at festivals, workshops and congresses dedicated to photography and visual arts. So far, she has published over three hundred articles in ReFoto, exhibition catalogues, books, magazines, newspapers.
• Accompanying program
Thursday, November 4th
19:00 – Conversation between Ivana Tomanović and Mitar Simikić: Contemporary Documentary – A Narrative Without Events and Actors