Petar Popović, flute and Aleksandar Đermanović, piano
17.01.2022., 19:00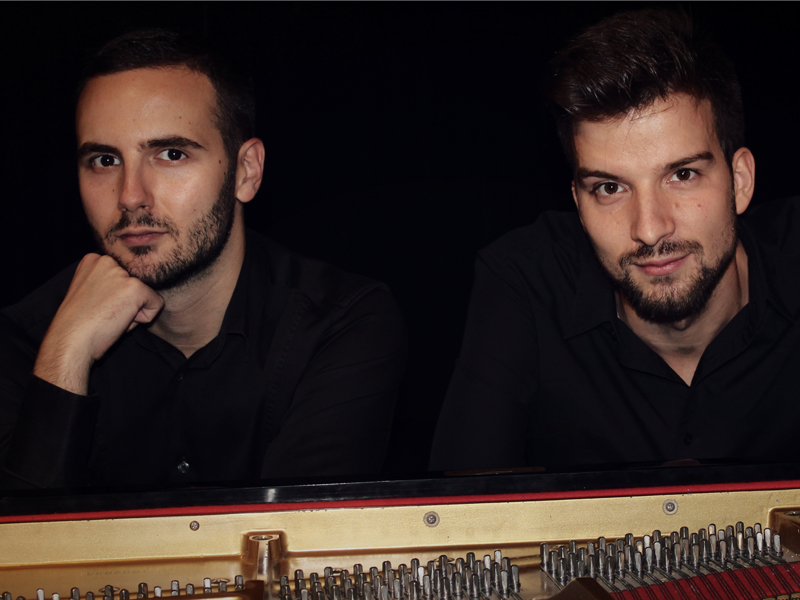 Petar Popović is a a teaching assistant for flute at the Academy of Arts in Novi Sad and olds the position of solo flute at the RTS Symphony Orchestra in Belgrade. Pianist Aleksandar Đermanović, an Associate Professor at the Academy of Arts, will join him for the performance of pieces by J. S. Bach, F. Schubert and K. Penderecki.
According to the health and safety guidelines for suppression of the epidemic, the number of attendees in the venue is reduced. It is important to book your seat by e-mail damjana.njegic@kcb.rs or by phone 011 2622 058 not later then noon at the day of the concert.
Program:
Johann Sebastian Bach
Sonata for flute & keyboard in G minor, BWV 1020
Franz Schubert
Variations on "Trockne Blumen" for flute & piano in E minor, D. 802
Krzysztof Penderecki
Flute Concerto
Biographies:
Petar Popović currently holds the position of solo flute at the RTS Symphony Orchestra in Belgrade. He is also a teaching assistant for flute at the Academy of Arts in Novi Sad, Serbia, where he is presently on his Doctoral studies under the mentorship of Professor Laura Levai Aksin. He gained his Bachelor at the Academy of Arts in Novi Sad in 2013, studying under Professor Laura Levai Aksin. He specialized in Germany at the Hochschule für Musik Mainz where he completed his master's studies (2013-2015) in the class of Professor Dejan Gavrić, and pursued his Konzertexamen (2015-2017) in the same class. In parallel to this, he completed his second master's degree (performance practice, from 2015-2017) at the Hochschule Luzern – Musik in Switzerland in the class of Professor Primin Grehl. He was the finalist of the Saverino Gazzelloni International Flute Competition (2019), the semi-finalist at the 7th Krakow International Flute Competition (2017), the 1st prize winner of the Petar Konjović International Flute Competition (EMCY) in Belgrade (2014), a semi-finalist of the Israel International Flute Competition (2013), and also two-times first prize winner of the Davorin Jenko International Flute Competition in Belgrade (2011, 2013). During the 2014/2015 season he occupied the position of 2nd flute with the Staatsorchester Mainz in Germany, and in 2016/2017 held the same position with the Musikkollegium Symphonic Orchestra of Winterthur, Switzerland. He has performed with Ensemble of Lucerne Festival Academy, Symphony Orchestra of the Tiroler Festspiele Academy in Austria, Deutsche Kammer-Virtuosen from Berlin, and also with the Swiss Youth Symphony Orchestra. He has performed throughout Europe in venues such as Tonhalle Zurich, Kultur und Kongresszentrum Lucerne (KKL), Herkulessaal Munich, Kultur Casino Bern, Kultur- und Kongresszentrum Liederhalle in Stuttgart, Assembly House in Norwich, England, etc. Petar has played as a soloist with the RTS Symphony Orchestra, Kamerata Novi Sad string orchestra and Orchestra of the Mainz School of Music. He also performed and held recitals in England, Switzerland, Germany, Luxembourg, Austria, Poland, Israel, Hungary, Croatia and Serbia. He held a Masterclass at the "Young Musician's Summer Academy 2021" at the University of Debrecen, Hungary. In 2018 he was a member of the organizational team of the International Forum for Flute and Piano in Luxembourg. He took part in several contemporary music festivals in Lucerne, such as: Akademie der zeitgenössischen Musik, Szenenwechsel, Exil alsünstlerische Notwendigkeit and also Eine Frage der Zeit. He further enriched his knowledge by attending numerous masterclasses held by renowned soloists and pedagogues, such as: Renate Greiss – Armin, Barthold Kuijken, Mario Caroli, Jean-Claude Gérard, Robert Dick, Gaby Pas-Van Riet, Wally Hase, Karl-Heinz Schütz, Carlo Jans, Gergely Ittzés, Christina Fassbender, Sarah Louvion, Nataša Marić, Jürgen Franz, etc. Throughout his studies he received scholarships from various foundations: Deutschland-Stipendium Berlin, Lyra Foundation Zurich, Hirschmann Foundation Lucerne, Dositeja Belgrade – for studying abroad. He received the University of Novi Sad award for great accomplishments in the field of art, as well as the Little Prince and Useir Hadžibejli awards, both granted by the University of Novi Sad. He plays a Muramatsu flute, sponsored by the Érgata Foundation of Zurich.
Aleksandar Đermanović is a pianist currently on his Doctoral studies at the Academy of Arts in Novi Sad under the mentorship of Dr Dorian Leljak. He holds a position of an Associate Professor at the Academy of Arts in Novi Sad and a General Manager for the International Piano competition Memorial Isidor Bajić. He has finished a Postgraduate course at the Universitat Mozarteum in Salzburg studying with Jacques Rouvier and the highly prestigious Artist Diploma course at the Royal College of Music in London studying with Ian Jones and Dmitri Alexeev with both of whom he had previously finished his Master studies with distinction. During his time at RCM he has received generous financial support as an ABRSM scholar, Gary and Eleanor Brass Scholar and as a beneficiary of the Henry Wood Trust, Lee Abbey Award and a Leverhulme Postgraduate Studentship. After the studies he held a post as a Junior Fellow at the RCM being awarded the Anthony Saltmarsh Junior Fellowship in piano accompaniment for 2015/16 and has been selected as a Park Lane Young Artist for 2016/2017 with the violinist Eunsley Park. His early and undergraduate musical studies were undertaken in Serbia where his piano Professors were Tatjana Vukmanović and Dorian Leljak respectively, after starting to play the piano at the age of 11. He has performed throughout Europe in venues such as Rachmaninoff Hall (Moscow), in London at Wigmore Hall, St John's Smith Square, Royal Albert Hall, Steinway Hall, Amaryllis Fleming Concert Hall, Purcell Room, Cadogan Hall, Southbank Centre, St. Martin'-in-the-Fields and the French Institute as well as giving many performances at RCM, also at Kolarceva zaduzbina (Belgrade), Pump-room Hall (Bath), Concert Halls of Skandenborg and Viborg (Denmark), Hubad Hall (Ljubljana) and many more. He collaborated with conductors such as Gianluca Marciano, James Blair, Neil Thomson, Peter Bassano, Andrej Bursać, Aleksandar Kojić etc. and orchestras such as Young Musicians Symphony Orchestra, Royal Tunbridge Wells Symphony Orchestra, City of Rochester Symphony Orchestra, Locrian ensemble, Novi Sad Academy Orchestra, Camerata Academica. Aleksandar won numerous competitions as a soloist, a chamber musician and as a composer including Third Prize at the San Donna di Piave Piano competition in Italy (2017), Third Prize at the Sheepdrove intercollegiate piano competition (UK, 2015), First Prize and a Laureate title at Serbian Republic Competitions (2005, 2007), Memorial Isidor Bajić (2008), Moscow International Festival of Slavic Music – he was the only award winner (2008) and Memorial Dr.Vojislav Vučkovič as a soloist; Serbian Republic Competitions (2006 – violin and piano, 2008 – piano duo); Children Composers SCG (2005) as a composer. Aleksandar appeared on Serbian National television RTS2 on Ad libitum and on RTV on Novosadske razglednice. As an EPTA Serbia representative (European Piano Teachers Association) his composition is to be published in London by Faber Music. As a composer he has attended a masterclass with Aleksandra Vrebalov and his Woodwind Quintet was subsequently premiered in Serbian Parliament and in the Pavle Beljanski Art Gallery and was aired on the RTV Radio in Novi Sad. He played for a concert at the French Institute in London which was recorded by the BBC3 Radio. His concert with James Blair and the YMSO at the St John's Smith Square Hall was recorded and published as a CD. He performed at the Gala opening of the International piano competition IX Isidor Bajić Memorial, with Gianluca Marciano and the Vojvodina Symphony Orchestra performing Prokofiev's 3rd piano concerto. In February 2019 he played on a concert with the Royal Tunbridge Wells Symphony Orchestra performing the Brahms Piano Concerto no 1 under Neil Thomson.  He recently performed Beethoven's fifth Piano Concerto with the with the Voyvodina Symphony Orchestra and Maestro Aleksandar Kojić.