THIS IS (NOT) THE REPUBLIC OF UŽICE!
26.05.2022-07.07.2022, 12:00-20:00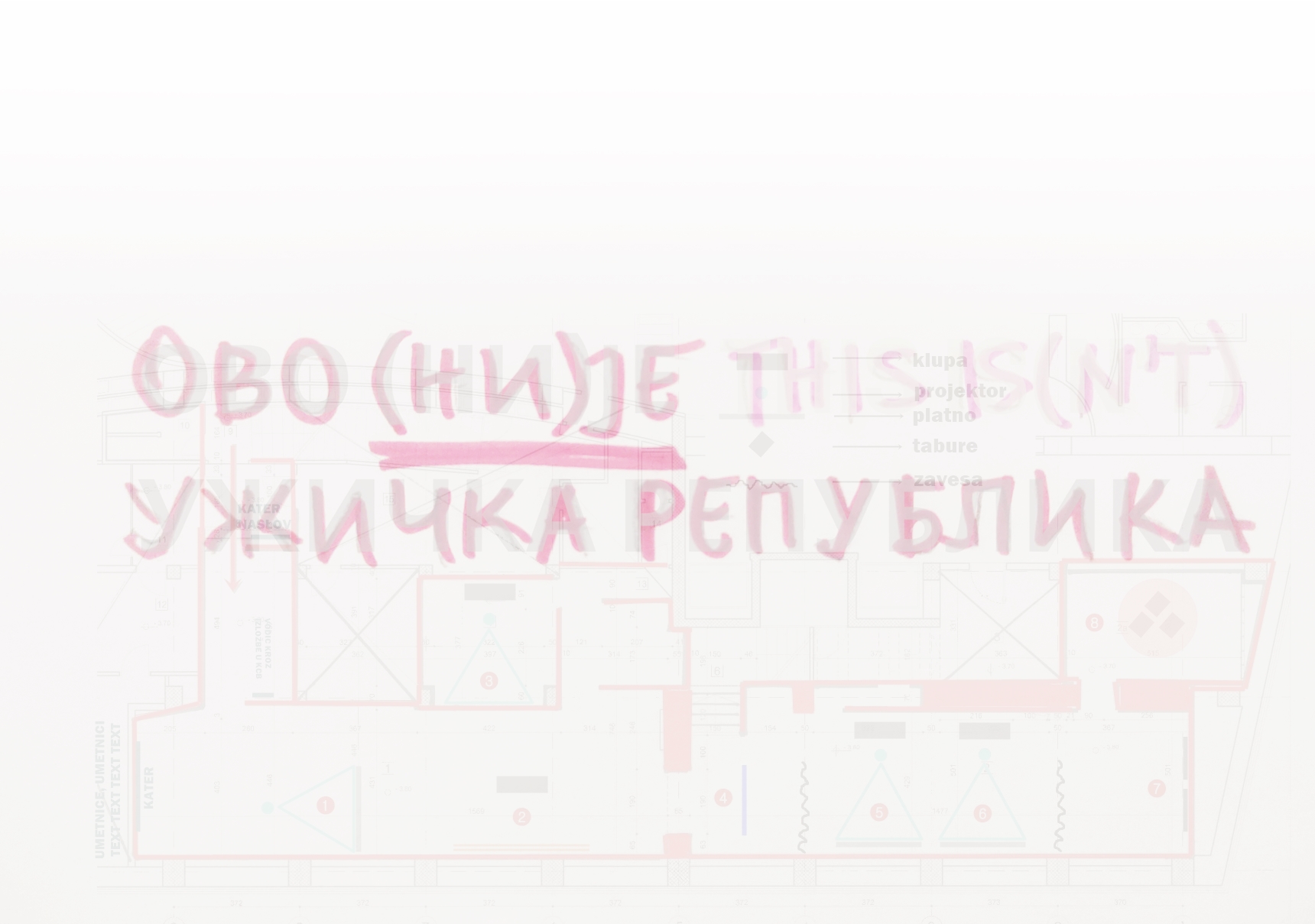 Aleksandar DIMITRIJEVIĆ
Miloš GAVRILOVIĆ
Dejan KLEMENT
Era MILIVOJEVIĆ (from the collection of the New Moment Gallery)
Tanja OSTOJIĆ (from the collection of the October Salon)
Nikola RADOSAVLjEVIĆ
Ljiljana ŠUNjEVARIĆ
Miloš VUČIĆEVIĆ
*The pieces/artists selected and contextualised by: Aleksandar Dimitrijević, Zorana Đaković Minniti, Katarina Kostandinović
How relevant the artistic practice of the artists born in Užice is for the contemporary visual scene of the region, as well as Europe (since some of them already live and work abroad), is best evidenced by their continuous, often self-organised work around the Reflektor Gallery and Association of Visual Artists of Užice, as well as by the "Jelena Šantić" Award that they received a couple of years ago for their courage and the breakthrough that they had made in the creation of a new local artistic community. At this exhibition, this community is complemented with works by Tanja Ostojić and Era Milivojević who, through their personal action, have shown through their own example how artists can make permanent breakthroughs and endure in the process of rethinking the role of an artist in the society.
The point of departure in conceptualising this exhibition has been territory, i.e. place of birth and common experience as a potential for collective action. Conceptually, it would be easy to unify the idea by making a reference to the liberated, or partly liberated WWII territory called the Republic of Užice. However, with the title which negates this connection, yet not entirely, we actually wish to draw attention to the danger inherent in transformation of the character of this liberation, which can in time become a foundation of an entirely different paradigm. Though being varied in their themes, all the pieces presented in the exhibition engage precisely and critically with this transformative and hypocritical character of the system that we live in.
So, the exhibition presents a possible "cross-section" of the contemporary visual art scene of the city of Užice. The pieces that the artists contributed to the exhibition are not exclusively connected to the local context, even though it has served as a sort of foundation and point of departure for further consideration of the very concept of an exhibition creation. The issues that the presented works aim at concern artistic production, position and role of artists in the society and all those crises and troubles that we repeatedly encounter – migrations, different forms of discrimination and violence.
Although the exhibition has been planned for the next year, due to frequent and unexpected changes and the sudden invitation for the Belgrade Cultural Centre to be not only the organiser, but also the author of the concept for the 59thOctober Salon, we decided for every free/freed up slot and venue in our regular program to be now dedicated to local artists.
Guided visits and conversations with the artists are to be organised during the exhibition, while their exact time will be subsequently announced.
After the exhibition opening, the plan is for the e-catalogue of the exhibition to be made available for downloading from the KCB website.
Biographies of the artists:
ALEKSANDAR DIMITRIJEVIĆ. Born in Užice in 1977. Graduated from the Academy of Arts in Novi Sad in 2004, under the mentorship of Professor Milan Blanuša, and received MA degree in 2010. In 2020, he finished his doctoral artistic project at the same Academy. He has exhibited (since 2004) at 30 solo and more than 150 group exhibitions, both in Serbia and abroad. He received a number of awards for his work. His work have been included in numerous domestic and international collections (Museum of Contemporary Art of Vojvodina, October Salon Collection, Telenor Collection, Rene Block Collection, ImagoMundi Benetton Collection, Arter Collection Istanbul, Collection of the City of Belgrade), as well as in many private collections (Belgrade, Rome, Los Angeles, Amsterdam, Rotterdam, Barcelona, Berlin, Munich, Hanover, Copenhagen, Oslo, Vienna, etc.). He is a founder of the Užice Association of Visual Artists, as well as of the Art Association Reflektor (Reflektor Gallery). He lives and works in Užice. www.dimitrijevica.com
MILOŠ GAVRILOVIĆ. Born in Užice in 1993, graduated painting from the Academy of Arts in Novi Sad in 2017, under the mentorship of Professor Bosiljka Zirojević Lečić. He finished an MA programme under the same mentor in 2019. By now, he has had 5 solo exhibitions in Novi Sad, Užice and Belgrade, and participated in more than 20 collective exhibitions in Serbia and abroad. He participated in a number of international artistic colonies and workshops. He currently lives and works in Novi Sad. He is a member of the Užice Association of Visual Artists (UVUU) and Association of Fine Artists of Vojvodina (SULUV).
DEJAN KLEMENT. Born in 1989 in Belgrade, attended the Marina Abramović Institute and graduated from the painting department of the Faculty of Contemporary Arts in Belgrade. He most frequently creates in the forms of experimental video and performance. He has actively exhibited his work since 2008. He presented his works in more than 50 solo and group exhibitions and art festivals in 15 countries.
ERA MILIVOJEVIĆ. Born in Užice in 1944. Graduated from the Faculty of Fine Arts in Belgrade, under the mentorship of Professor Stojan Ćelić. Since his very beginnings, Milivojević developed along the specific trajectory which merged conceptual art with his pronounced individualism. As one of the six members of the famous informal group which created art in early 1970s under the auspices of the Student Cultural Centre's Gallery (together with Raša Todosijević, Marina Abramović, Zoran Popović, Neša Paripović and Gergelj Urkom), he actively participated in what art critics at the time called "a radical shift" in the fine art scene, which led to the emergence of a "new artistic practice". In 1989, he became a member of the Association of the Fine Artists of Serbia. For his work, he received award at the 39thOctober Salon, Studio B award "From April to April" for the exhibition of the year (1995), Grand Prix of the City of Belgrade for 2005, etc. He held the status of the meritorious artist whose artistic practice had been recognised as unique and valuable in both local and international context. He died in Belgrade in 2021.
TANjA OSTOJIĆ. Born in Užice in 1972. An interdisciplinary and performance artist living and working in Berlin since 2003. She is internationally recognised as a pioneer of the institutional gender critique and for her work in the fields of socially and politically engaged feminist art and public space art.  Her artistic work has been subject to numerous theoretical analyses, and included in many books, catalogues and anthologies. Ostojić attended the University of Art in Belgrade, and École Regionale des Beaux-Arts Nantes, France and was awarded the Albert Einstein Scholarship for her interdisciplinary research at the University of Art in Berlin. She exhibited at solo and group exhibitions in the country and abroad. Her pieces have been included in important art collections: Museum of Applied Art in Vienna, Contact Collection Vienna, Museum of Contemporary Art in Ljubljana, Museum of Contemporary art in Belgrade, Neuer Berliner Kunstverein, Berlin, etc. https://tanjaostojicshop.wordpress.com
NIKOLA RADOSAVLjEVIĆ. Born in Užice in 1991, graduated from the Faculty of Applied Arts in Belgrade, department of applied graphics, atelier for graphics and books in 2014. He received a number of awards for his graphic art and drawings, participated in almost 200 group exhibitions and organised 35 solo exhibitions in the country and abroad. He finished and MA programme in fine art graphics at the same faculty in 2015. He received his PhD from the Faculty of Applied Arts in Belgrade, department of applied arts and design in 2020, his thesis dealing with art books and new media graphic practice[MM1] s.
LjILjANA ŠUNjEVARIĆ. Born in 1979 in Užice. She graduated and received her PhD from the Faculty of Fine Arts in Belgrade, department of painting. She has actively exhibited in Serbia and abroad since 2000. She has received numerous awards for her drawings. Her works have been included in many artistic collections, including that of the Museum of Contemporary Art in Belgrade, CC Požega, CC Čačak, Gallery of Contemporary Art in Zrenjanin, City of Belgrade Collection, Collection of the National Museum in Kraljevo, National Museum in Aranđelovac, as well as a number of private collections. She works at the Faculty of Arts of the University of Priština, temporarily in Kosovska Mitrovica, as Associate Professor.
MILOŠ VUČIĆEVIĆ. Born in Užice in 1991. He graduated and finished an MA programme in painting from the Academy of Fine Arts in Trebinje. He is one of the founders of the Reflektor Gallery, as well as of the Videopark Contemporary Art Festival, where he holds the office of Director. He works within the BAL project Vienna, which he initiated in cooperation with the Cultural Platform Improper Walls Vienna, and LT art Vienna. His artistic approach to different media including video, performance and installation, mainly involves the existing political and social paradigms. Creation of a concept has the primary role in his works, as he attempts to position them as a reflection of the daily life. https://www.milosvucicevic.com/