Wedding Bellas, Nela Milic
14.07.2022-25.08.2022, 12:00-20:00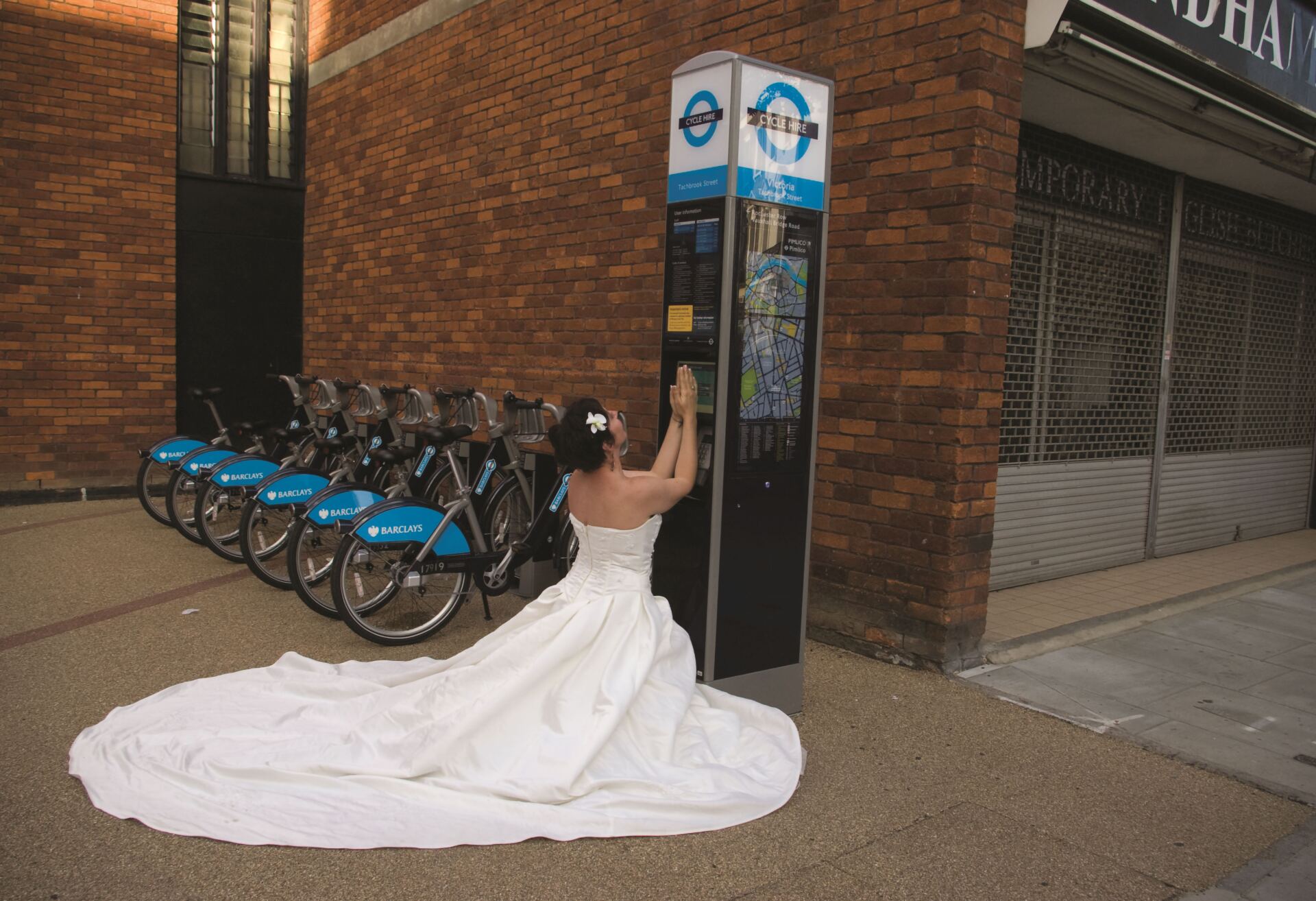 Art Gallery – Knez Mihailova 6
Exhibition Wedding Bellas
by Dr. Nela Milic
14.7 – 25.8. 2022.
These photographs are stories of twelve women who found themselves at different points in their life at time when they refused to leave. Many were rejected by their partners, landlords, employers or they have been denied by the state. The burden of these rejections caused them to escape into fantasy. Some of them did not find suitors or refused to marry for the sake of status, so they opted for equally stable, rooted and good looking 'Queen's subjects' – lamp post, tree, traffic sign – London landmarks…
I encountered this group of women in 2007. I wanted to capture them on photographs, but their dramatic life stories needed to be reflected differently than in documentary reportage and media where they are usually portrayed as victims – battered, bruised or crying, surrounded by poverty and children.
The project took place at and around the Migrants Resource Centre (MRC) and my home. The women are from various countries – Iran, Uganda, Zimbabwe, Ukraine, Iraq, Ethiopia, Bosnia, Turkey, Eritrea, Rwanda, Kurdistan, Lebanon and the UK… They were posing as on a fashion shoot, providing a touch of glamour rather than of a dreary everyday with the troubles they have to encounter – queuing for food vouchers, immigration control, bad press…
Wedding dresses are surrounded by other wedding iconography, but the image is not a joke – it is an event of desperation and illusion shot as on a true wedding ceremony. The paradox of this loss of reality due to pressure of life circumstances questions the situation the women are in – is it real or is it imaginary – a concept shared by the audience and by the person in the picture.
A bunch of brides hugging the street objects is not a wedding anyone thinks of as real, but it provides a neighbourhood spectacle and encourages debate about the impact of borders on human relationships and social changes of the areas we live in.
Dr. Nela Milic is a Senior Lecturer at Design School, London College of Communication, UAL.
For more information about the exhibition, please email nela011@hotmail.com 
Parallel programe
Saturday, July 16, 2022
13:00 – The tour around the exhibition by Nela Milić, artist and the author of the exhibition
Wednesday, July 20, 2022
10:00 – 13:00 – ON ARTIVISM
workshop in collaboration with the Group 484 with students and pupils
You can download Nele Milic's biography here.