Concerts of the COLLUVIO Chamber Music Academy 2022
15.08.2022., 20:00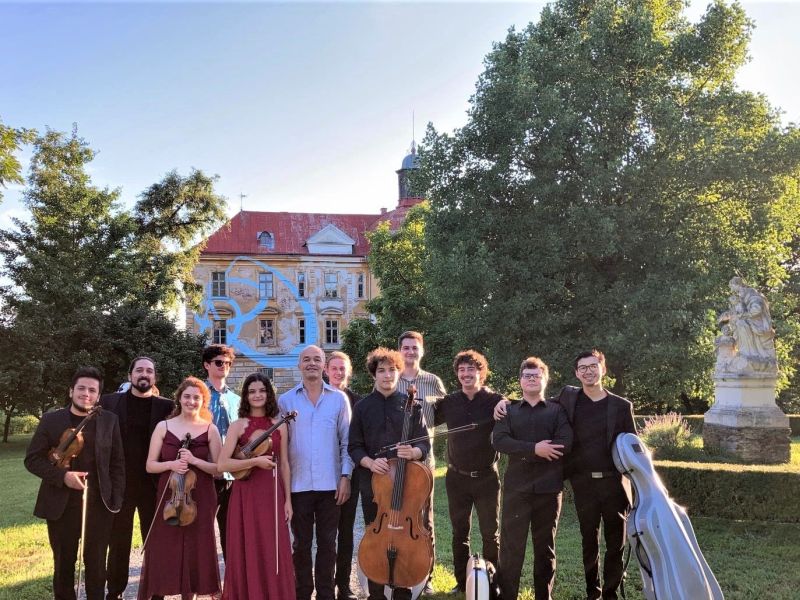 Young talents from all over Europe present masterpieces of chamber music in the following cities: Gut Hornegg – Vienna – Mertingen – Feldafing – Millstatt – Ljubljana – Budapest – Novi Sad – Belgrade. Last concert of the tour will be held at the Artget Gallery starting at 20:00.

Since 2001 annual auditions for between nine and eleven promising young musicians from all over Europe have been held for the Colluvio Chamber Music Academy. Master Classes are held in Gut Hornegg, Styria, Austria, followed by an international concert tour that encompasses venues in the home countries of the participants.
The specialty of this meeting of differing cultural spheres is that the young musicians first get to know each other in Gut Hornegg, have never played together and then, within ten days, are in a position to give live performances of ambitious chamber music works. Two factors enable them to do so: their high musical level plus the special "Colluvio Method".
More info
Program:
Johannes Brahms
Trio for piano, violin and cello No. 3 in C minor, Op. 101
Allegro energico
Maurice Ravel
Trio for piano, violin and cello
Modéré
Pantoum
Passacaille
Final
Rebecca Clarke
Trio for piano, violin and cello
Moderato ma appassionato
Andante molto semplice
Allegro vigoroso
Bohuslav Martinů
Trio for piano, violin and cello No. 2, H. 327
Allegro moderato
Andante
Allegro
Iryna Aleksiychuk
Trio for piano, violin and cello (Signs on the Water)
Andante meditativo
Allegretto scherzando
Adagio funesto
Allegretto placido
Allegro leggiero

Master Classes directed by:
Yuri Kot (Ukraine) Professor for piano at the National Music Academy Kiev
Olivera Milić-Hirscher (Serbia) Professor for violin, Special School for Talented Young Musicians, Ćuprija, Serbia
Meinhard Holler (Austria) Private cello professor in Munich, Germany
Claus Christian Schuster (from 1984 to 1993 pianist in the Vienna Schubert Trio, and later until 2012 in the Altenberg Trio Vienna) will work with the young artists and round off their performance.
The chosen musicians:
Darwin Chang (19), violin, Taiwan, New England Conservatory, Boston
Krzysztof Michalski (19), cello, Poland, Conservatoire Supérieur de Paris
Luminescence Trio Paris, students at the Conservatoire National Supérieur de Paris
Antonin Bonnet (21), piano, France
Raphaël Garac (20), violin, France
Albert Kuchinski (19), cello, France
Ezgi Göktürk (25), piano, Turkey, Sibelius Academy Helsinki
Weronika Weiss (20), violin, Poland, Chopin Music University Warsaw
Özgür Deniz Kaya (20), cello, Turkey, Royal College of Music, London
Ruslan Strogiy (30), piano, Russia, Royal Academy of Music, Stockholm
Staša Žikić (20), violin, Serbia, Faculty of Music in Belgrade
Lucija Mušac (22), cello, Croatia, Academy of Music in Zagreb