Angelina Nikolić, flute and Nemanja Egerić, piano
05.09.2022., 20:00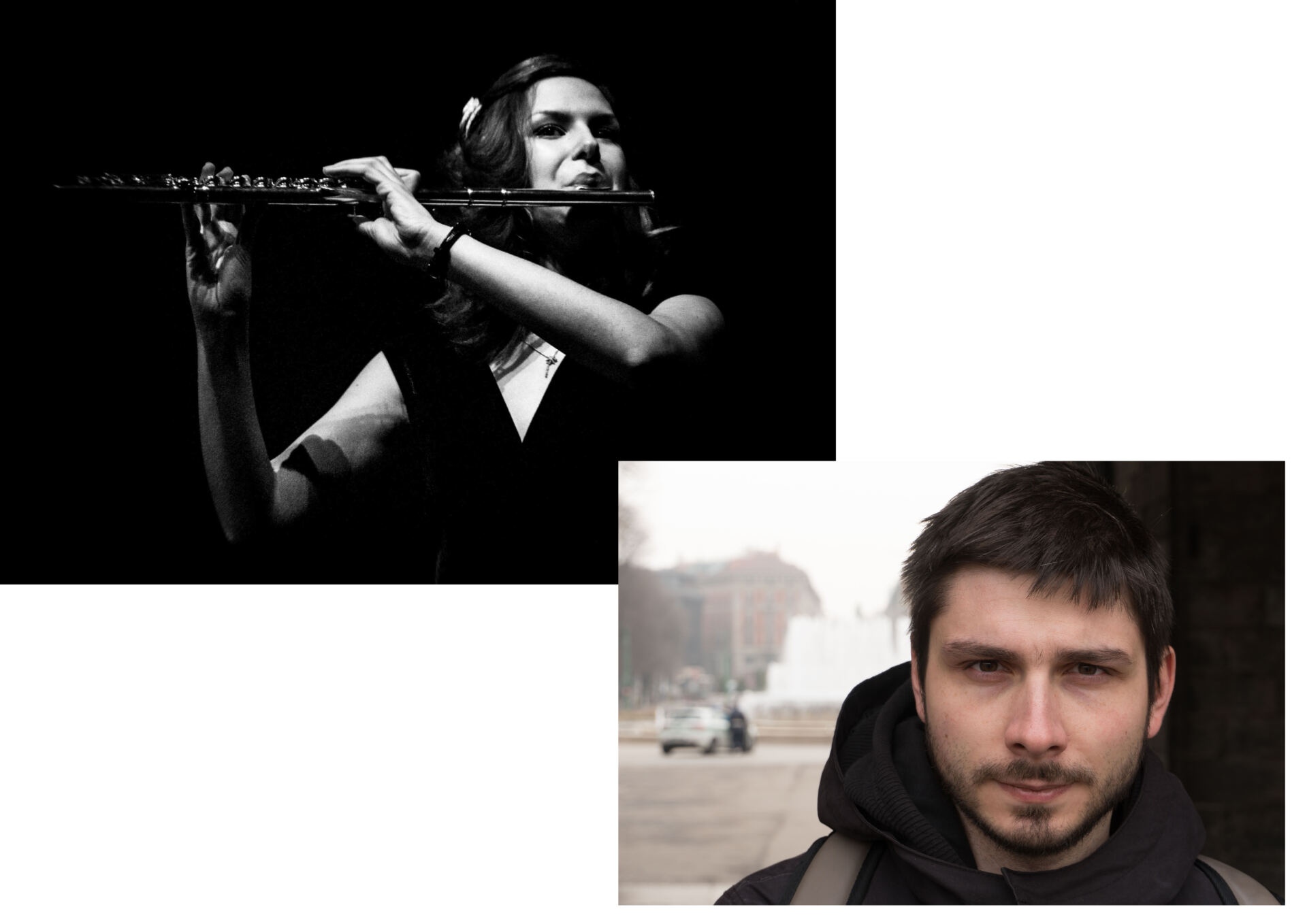 Members of this duo are flutist Angelina Nikolić and pianist Nemanja Egerić from Niš. They are performing together since 2019.
Program:
Claude Debussy
Bilitis
Pour invoquer Pan, dieu du vent d'été
Pour un tombeau sans nom
Pour que la nuit soit propice
Pour la danseuse aux crotales
Pour l'Égyptienne
Pour remercier la pluie au matin
Johann Sebastian Bach
Flute Sonata in B minor, BWV 1030
Andante
Largo e dolce
Presto
Sergei Prokofiev
Sonata for flute and piano in D major, Op.
Moderato
Scherzo – Presto
Andante
Allegro con brio
Duo Sirinks
Angelina Nikolić, flute
Nemanja Egerić, piano
Biographies:
Nemanja Egerić (1991, Kraljevo) graduated and completed master diploma for piano at the Faculty of Arts in Niš in the class of prof. Miroslav Dacić. He has finished, in 2018, the post-graduate studies in the class of famous pianist Bruno Canino at the academy Scuola di Musica di Fiesole in Florence. From 2016 he has been attending Ph.D. studies for the classical piano perfomance at the Faculty of Music in Belgrade in the class of professor Maja Rajković.
Nemanja has participated on numerous music competitions where he received prestige prizes: 2nd prize at the International piano competition Davorin Jenko (Belgrade, 2016) 1st prize with the maximum score (100) on 9th Revue of music talents for solo category (Veliko Gradište, 2016). Laureate at the International piano competition ULJUS (Smederevo, 2017), 1st prize at the International piano competition Klavitas (Smederevo, 2017); Laureate of the Contemporary music festival ReConstruction 2 in category of solo performance (Belgrade, 2019); 2nd at the International Piano Competition Davorin Jenko (Belgrade, 2019).
In 2015 Nemanja appeared as a soloist in the piano concerto Nights in the Gardens of Spain by Manuel de Falla with Niš Symphony orchestra of Niš conducted by maestro Zoran Stanisavljević. He has performed many solo recitals: Milano, Florence, Štip (Macedonia), Belgrade, Novi Sad, Niš, Kragujevac, Čačak, Ub, Vrnjačka Banja, Leskovac, Negotin, Trstenik, Paraćin, and Kraljevo (Serbia). Since 2015 he has been a member of piano duo Stevan Nemanja with a pianist Stevan Spalević with whom has won the International competition Davorin Jenko in 2016 in Belgrade, while in the same year Stevan Nemanja duo won the 9th Revue of music talents for chamber category (Veliko Gradište, Serbia) with highest score. In October of 2016 he performed premiere of solo and duo compositions of the Serbian composer Vladimir Djenader. From 2018 duo Stevan Nemanja started giving concerts with ensemble of two pianos and percussion from which the first concert was in of 2018 at the International music festival Musica al Ponte in Florence. In September of 2018, he has given a recital at the International festival Piano City in Novi Sad, Serbia where he has given the Serbian premier of the work Tombeau de Messiaen for piano and electronics of Jonathan Harvey. From 2019 he has been working as a piano accompanist at the voice, strings, guitar and percussion department at the Faculty of Arts in Niš, Serbia.