19th International Festival "Ars vivendi clavicembalum" – ALEXANDER GERGELYFI
05.11.2022., 18:00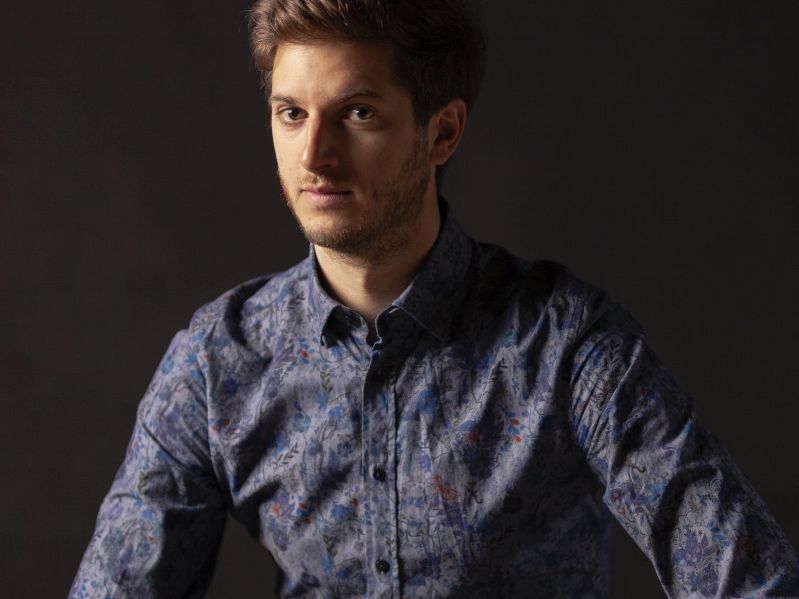 Alexander Gergelyfi, lecturer at University of Music and Performing Arts at Graz will play at the opening evening of the 19th edition of the festival Harpsichord, Living Art – Ars vivenid clavicembalum.
This concert is organized in collaboration with Austrian Culutral Forum in Belgrade.
photo by: Maria Otter
Program:
Wolfgang Amadeus Mozart (1756–1791)
Fantasie in D minor, KV 397/385g
Johann Jacob Froberger (1616–1667)
Suite XI in D major
Allemande faite sur l'Election et Couronnement de Sa Majesté Ferdinant le Quatrième Roy des Romains, et se joüe lentement a la discretion (Allemande for the election and coronation of His Majesty, the Roman King Ferdinand IV. and to play with highest sensitivity)
Courante faite au joür de naissance de la Jeune Princesse Imperiale (Courante for the day of the birth of the Young Imperial Princess)
Sarabande faite sur le couronnement de sa Majeste Imperiale l'Imperatrice Eleonore, née duchesse de Mantoue (Sarabande for the coronation of her Imperial Majesty the Empress Eleonore, born Duchess of Mantua)
IV Gigue
Georg Muffat (1653–1704)
Passacaglia in G minor
from: Apparatus Musico-Organisticus Ivictissimo Leopoldo I. Imperatori […] ", Salzburg 1690

Johann Joseph Fux (1660–1741)
Harpeggio [e Fuga] in G major, E 114
Menuet IX in G minor, E 126
Franz Mathias Techelmann (1649–1714)
Alamand: dell'Allegrezze alla Liberazione di Vienna. in C major
from: Toccate . Canzoni . Ricercari, et altre / Galanterie per suonare d'organo et / Cembalo. […]
Simon Gamper (1987)
Entgleisung (Derailment)
unheilvoll (ill-omened)
aussichtslos (forlorn)
schwerwiegend (fatal)
Johann Michael Steinbacher (1700–1750)
Preludè and Capricio in A minor
from: Parthia / Cembalo / Auth: Sig: Johann Mich el Steinbacher
Georg Friedrich Händel (1685–1759)
Suite No. 5 in E major, HWV 430, edited with ornaments by Gottlieb Muffat (1690–1770)
Prélude – Allemande – Courante – Aria
from: Suites Des Pieces Pour le CLAVECIN Composées Par G. F. HÄNDEL et mises dans une autre applicature pour la facilité de la main. Par Theophile Muffat, Vienna 1736.
aratus Musico-Organisticus Invictissimo Leopoldo I. Imperatori […] ", Salzburg 1690
Biography:
Born in Linz (Austria), Alexander Gergelyfi studied Historical Keyboard Instruments and Performance Practice of Early Music with August Humer, Brett Leighton (Linz/Austria), Eva Maria Pollerus, Michael Hell (Graz/Austria) and Aline Zylberajch (Strasbourg/France).
In the class of Menno van Delft (Hamburg/Germany) he finalised his studies with a Master's degree. Together with baroque cellist Gerhart Darmstadt he founded the Baroque Chamberorchestra of the Hochschule für Musik und Theater Hamburg. Besides he was organist at St. Nicolaus in Hamburg-Alsterdorf.
Currently Alexander Gergelyfi is a member of il Gusto Barocco, the Stuttgart Baroque Orchestra, with whom he performed in the Monteverdi-cycle at the Nationaltheater Mannheim (Germany). He has already released two studio albums with Ensemble Verbotene Frucht. The awardwinning first album Morbides mit Charakter was released in November 2018 and the followup Liebe auf den ersten Schluck was released in February 2022. From 2014 to 2017 he played with the Berlin based and several times awarded band nexus baroque.In the recent past he performed as soloist, chamber- and orchestra musician with Hofkapelle Graz, L'Orfeo, Barucco and recreationBAROCK under Jordi Savall. Numerous audio and video recordings document his artistic work.
With great joy and vigour, he pursues a teaching position at the University of Music and Performing Arts at Graz. He is a lecturer for clavichord, historical thoroughbass, literature studies and historical forms of speech.
Undreamed-of doors and paths opened up for him through the research and development of Austrian music from the 17th and 18th centuries related to his "Admont" clavichord. A pleasant preoccupation that will keep him busy for a long time beyond this recording. His first solo CD "Sapperlot!" will be released in November 2022 on Carpe Diem Records.
Together with his familiy Alexander Gergelyfi lives in Vienna and always for the moment.