5. BEOSEF – Belgrade High School Short Film Festival
25.11.2022., 18:00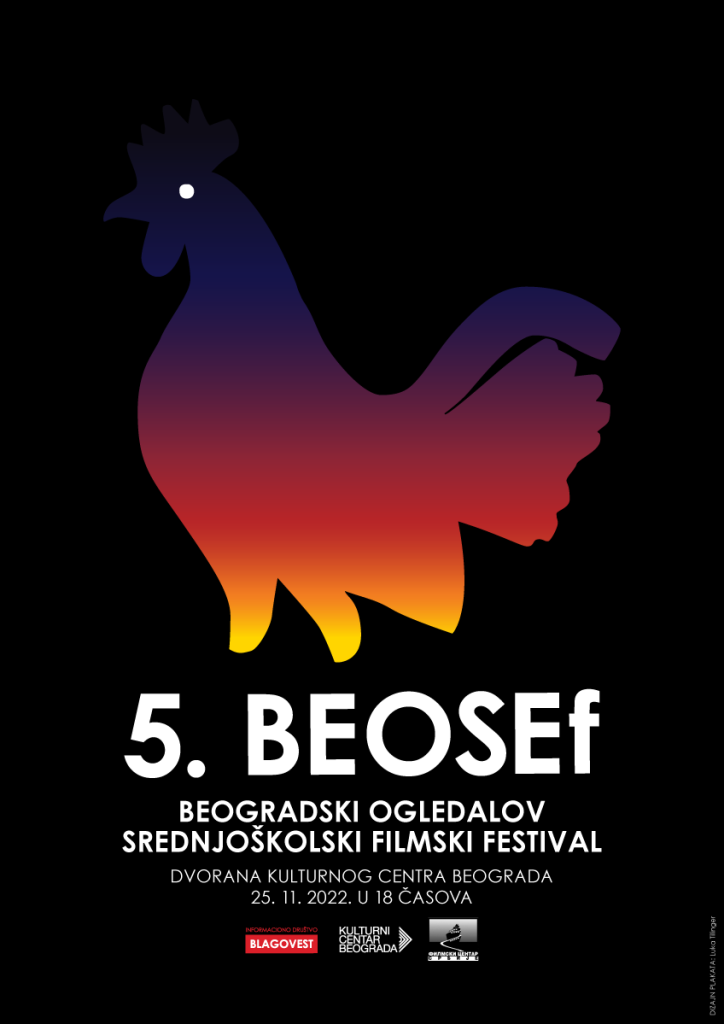 5. BEOSEF – Belgrade High School Short Film Festival
The Cultural Centre of Belgrade
November 25th 2022
18h
---
The festival is space and time, a training ground where high school students practice their creative courage. This year, 12 films from nine schools and from six cities of Serbia, Republika Srpska and Montenegro were included in the selection.
The first prize went to the film DODIRNI ME by Natalija Veličković (School of Design, Belgrade), the second prize to the film TOUCH REALITY, by Tanja Denčić from Pirot Gymnasium, and the third prize to the film VILI KONJIC by Anglelina Marković (High School "Artmedija", Belgrade). The "Golden Rooster" statue of BEOSEF belonged to the winning school "School of Design" from Belgrade.
The awards were decided by: screenwriter Ivan Velisavljević, student of film and television production at FDU Belgrade Teodora Dmitrović and editor of the film program of the Cultural Center of Belgrade Ivan Aranđelović.
At the screening of the films and award ceremony, the authors of the films will talk about how they realized their ideas and the evaluations of the films by the members of the jury will be presented.
5. BEOSEF – BELGRADE HIGH SCHOOL FILM FESTIVAL
PROGRAM
⇒  STEP (6′)
Andreja Rodić
Law and clerical school "Dimitrije Davidović", Zemun
Mentor: prof. Anika Lehki
⇒  TOUCH ME (2′)
Natalija Velicković
School of Design, Belgrade
Mentor: prof. Marija Popović
⇒  A FRIEND FROM ANOTHER GALAXY (8′)
Božidar Marđokić and Anes Škrijelj
High School of Economics and Hospitality, Bar
Mentors: prof. Mirjana Savićević and Prof. Snezana Kerndl
⇒  PRESENCE IN TIME (10′)
Petar Adamović, Edin Bajrami, Aleksa Jovanović, Sara Vasić, Tamara Matejić, Aleksandar Đorđević
School of Pharmacy and Physiotherapy, Belgrade
Mentors: prof. Bojana Lukić Milošević, prof. Ana Anić, prof. Radmila Panzalović and prof. Sanja Đuričić
⇒  VILIN KONJIC (11′)
Angelina Markovic
"Artmedija" High School, Belgrade
Mentor: prof. Aref Zaabi
⇒  BURY ME (7′)
Kitty Kadvanj
Gymnasium with student dormitory for talented students "Boljai", Senta
Mentors: prof. Gabor Međeri and prof. Miklos Farkas
⇒  THE GAME (6′)
Lazar Mašanović, Jovana Šobić, Spiro Ognjenović
High School of Economics and Hospitality, Bar
Mentors: prof. Mirjana Savićević and Prof. Snezana Kerndl
⇒  TOUCH OF REALITY (3′)
Tanja Denčić
Gymnasium, Pirot
Mentors: prof. Marko Filipović and Prof. Miloš Sokolović
⇒  WHAT NOW (3′)
Teodora Ružić
Gymnasium, Derventa
Mentor: prof. Saša Veselinović
⇒  SAFETY ON SOCIAL NETWORKS (5′)
Tijana Marković, Jovana Stevanović, Katarina Drobić
School of Economics, Bijeljina
Mentor: prof. Marjana Đorđić
⇒  CHOKAN RULER (16′)
Andor Ballo
Gymnasium with student dormitory for talented students "Boljai", Senta
Mentor: prof. Gabor Međeri and prof. Miklos Farkas
OUT OF COMPETITION
PAŠ (partner schools)
⇒  VRT (10′)
Prof. Danica Ilić
"Filip Višnjić" Gymnasium, Bijeljina