11. FESTIVAL OF CONTEMPORARY GERMAN FILM GOETHEFEST / 11.12.2022.
11.12.2022., 19:00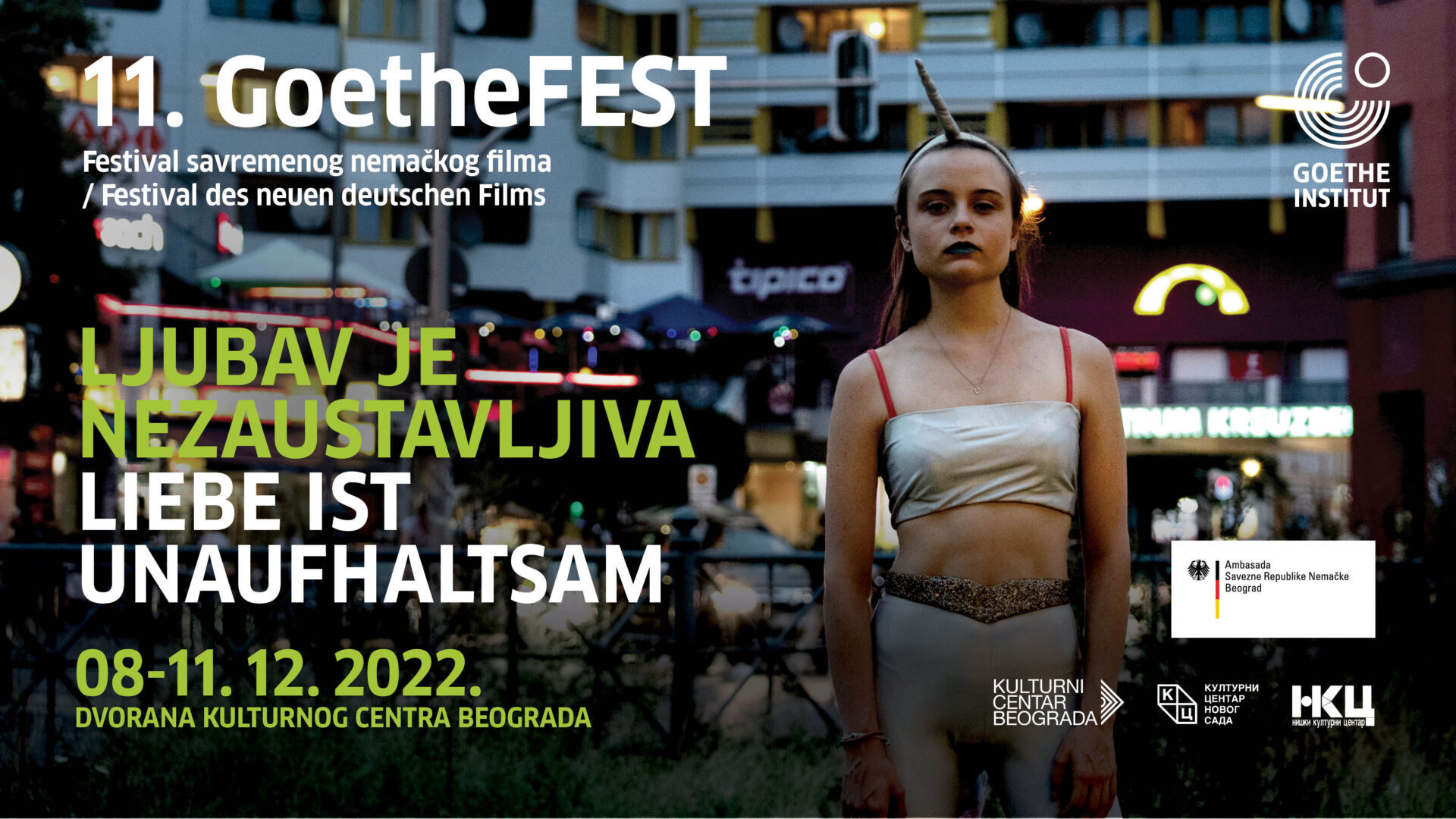 11. FESTIVAL OF CONTEMPORARY GERMAN FILM GOETHEFEST
DECEMBER 8th – 11th, 2022
The Cultural Centre of Belgrade
---
Ticket price 200 dinars
SUNDAY, DECEMBER 11
19.00
A E I O U: A QUICK ALPHABET OF LOVE / AEIOU – DAS SCHNELLE ALPHABET DER LIEBE
Germany, France, 2022, 105'
Director: Nicolette Krebitz
Cast: Sophie Rois, Milan Herms, Udo Kier, Nicolas Bridet, Lilith Stangenberg…
Love story of a speaking skills teacher and her student.
Festivals: Berlin, Jerusalem, Reykjavik, Thessaloniki
21.00
TRÜMMERMÄDCHEN – DIE GESCHICHTE DER CHARLOTTE SCHUMANN
Director: Oliver Kracht
Cast: Laura Balzer, Valerie Tscheplanowa, Anna Gesa-Raija Lappe, Katja Plodzistaya, Lara Feith, Lena Urzendowski, Till Wonka, Henning Flüsloh, Philipp Karner…
Hunger, rubble, soldiers returning from war: young Charlotte is pregnant, but her beloved Ludwig doesn't want her or his child. In order to win him over and avoid the impending disgrace, she signs up for the "Fräuleinkurs" by the actress Gloria Deven who had been an aspiring star under the Nazis, but is now banned from working. But Gloria isn't interested in reviving the coquetry that had become unnecessary during the war. Instead, she awakens in her students a longing for something that has been denied them for too long: freedom.