IRANIAN DOCUMENTARY FILM FESTIVAL / 23.12.2022
23.12.2022., 18:00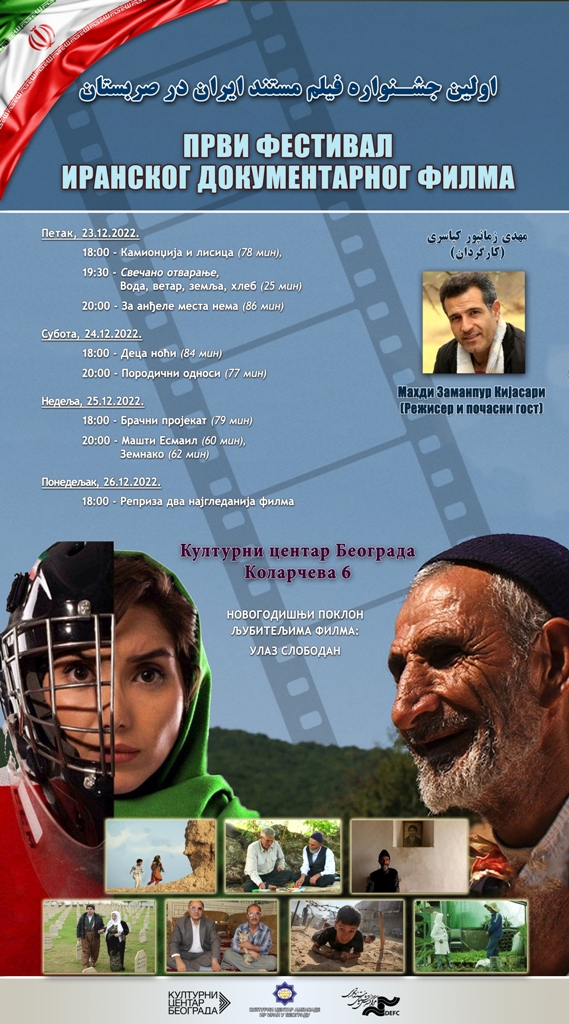 IRANIAN DOCUMENTARY FILM FESTIVAL
The Cultural Centre of Belgrade
23. – 25. DECEMBER 2022.
---
Free entrance
FRIDAY, DECEMBER 23
⇒   18.00
TRUCKER AND THE FOX / Ranande va rubah
Iran, 2013, 79'
Director: Arash Lahooti
Suffering from bipolar disorder and inconsolable grief over the death of his pet fox – the star of his amateur short film – a truck driver decides to shoot a donkey romance with a new fox cameo. The film is a loving portrait of the truck drivers who sit out in the parking lot to watch their colleague's films of animal fables.
⇒   19.30
FESTIVAL OPENING
WATER, WIND, DUST & BREAD / Ab, bad, zamin va nan
Iran, 2021, 25'
Director: Mahdi Zamanpoor Kiasari
The poetic documentary depicts scenes from the everyday life of Abolfazl, a young boy who is missing both hands. Despite that, Abolfazl lives a full life with his family and friend Setayesh in a palm orchard near the Afghan-Iranian border. Both belong to a group of children who live stateless in Iran, which poses another major disadvantage for their future.
* Director Mahdi Zamanpoor Kiasari is a special gest of the festival
⇒   20.00
NO PLACE FOR ANGELS / Jayi Baraye Fereshteha nist
Iran, 2020, 86'
Director: Sam Kalantari
The documentary "No Place for Angels" tells the gripping story of the national Iranian women's hockey team for the first time. It is about the stories of the national Iranian women's hockey team and the major events that take place in their lives. The film depicts the hopes, fears and dreams of these girls, as well as the problems and the difficulties in their way to go participate at Asian games.