IRANIAN DOCUMENTARY FILM FESTIVAL / 24.12.2022
24.12.2022., 18:00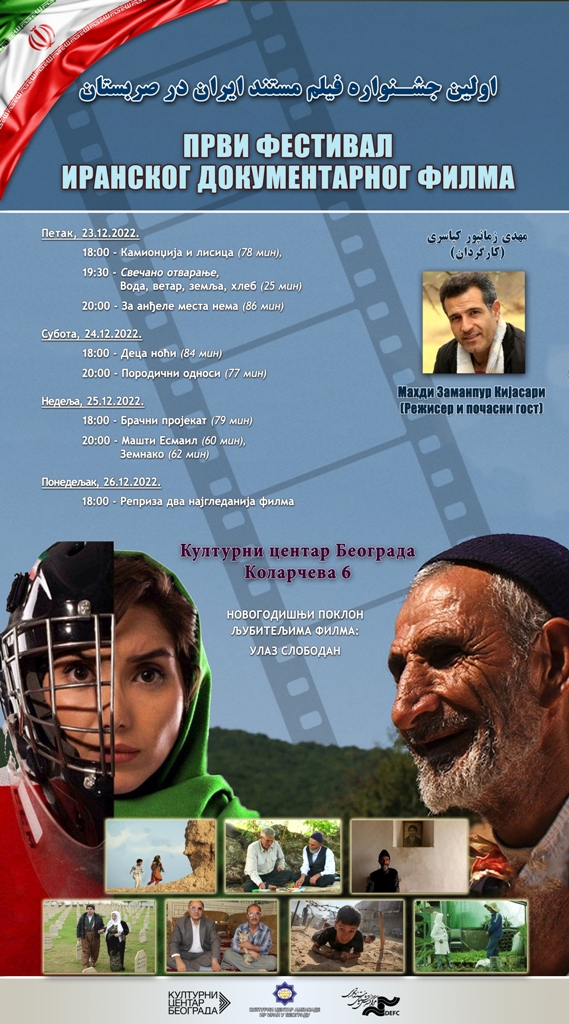 IRANIAN DOCUMENTARY FILM FESTIVAL
The Cultural Centre of Belgrade
23. – 25. DECEMBER 2022.
---
Free entrance
SATURDAY, DECEMBER 24
⇒   18.00
CHILDREN OF THE NIGHT
Iran, 2020, 87'
Director: Behrouz Nouranipour
In a refugee camp in South East Turkey in 2017, a small gang of five unaccompanied boy soldiers, aged between 13 and 15, have formed a de facto family. But these children, from Pakistan originally, are not just the victims of war — they are some of its most ruthless perpetrators, vulnerable kids weaponised by ISIS in madrassas are raised as "bombs of anger". Through exceptional access and research, this chilling documentary paints a portrait of children conditioned to kill and asks the audience to find empathy for murderers who believe that pity is an unforgivable weakness.
https://mubi.com/films/children-of-the-night-2020/trailer
⇒   20:00
FAMILY RELATIONS
Iran, 2019, 77'
Director: / Nasser Zamiri
More than fifty relatives gather on a narrow terrace for a family photo. Right at the start, the director asks those who don't want to be part of the film to go. Half of them leave the picture. What follows is the tragicomic retelling of an Iranian family saga in which everything revolves around the head of the family: "Haji Baba", the father. As is so often the case, it is a matter of inheritance. And this is an excellent study of authoritarianism. The filmmaker tries to keep his bearings in a jungle of conflicting statements, giving every family member a stage, and using lots of humour.