IRANIAN DOCUMENTARY FILM FESTIVAL / 26.12.2022
26.12.2022., 18:00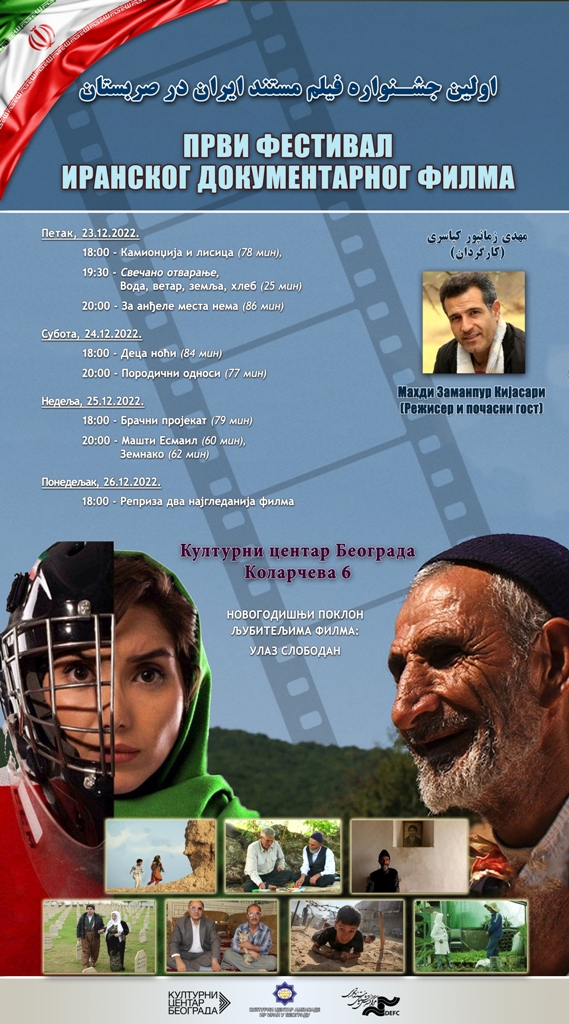 IRANIAN DOCUMENTARY FILM FESTIVAL
The Cultural Centre of Belgrade
23. – 25. DECEMBER 2022.
---
Free entrance
MONDAY, DECEMBER 26TH

⇒   18.00
WATER, WIND, DUST & BREAD
Iran, 2021, 25'
Director: Mahdi Zamanpoor Kiasari
The poetic documentary depicts scenes from the everyday life of Abolfazl, a young boy who is missing both hands. Despite that, Abolfazl lives a full life with his family and friend Setayesh in a palm orchard near the Afghan-Iranian border. Both belong to a group of children who live stateless in Iran, which poses another major disadvantage for their future.
MASHTI ESMAEIL
Iran, 2014, 60'
Director: Mahdi Zamanpour Kiasari
Mashti Esmaeil spends most of his time in his farm where he cultivates rice, located within a three-hour walking distance from his house. With an uplifting degree of independence, despite his blindness, he proves in this affectionate portrait to be a serene and wise man with an incredible sense of humor. A gracious tribute to a certain predisposition to happiness.
* Director Mahdi Zamanpoor Kiasari is a special gest of the Festival