Sam Jury and Anton Ochirov • THIS YOU MUST REMEMBER
09.12.2022-14.01.2023, 12:00-20:00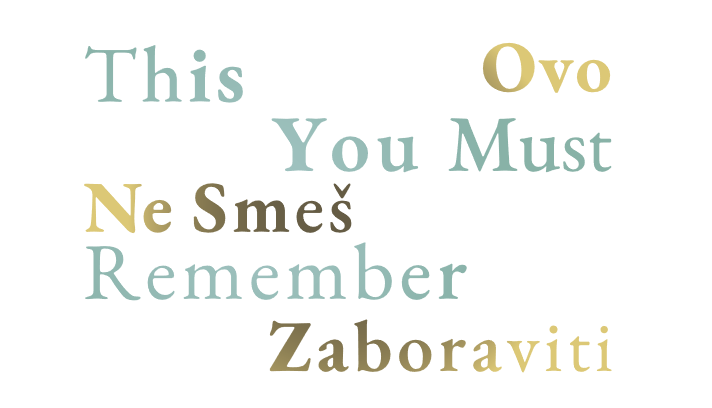 Podroom Gallery, Cultural Centre of Belgrade
Opening: Friday, December 9th at 7 p.m.
9. 12. 2022 – 14. 1. 2023
Saturday, December 10th at 1 p.m.
Open-format artist talk won the topic "Potential of Art in the Post-conflict Context"
This You Must Remember
Sam Jury & Anton Ochirov

This You Must Remember is a multi-media exhibition featuring a major new film installation by British filmmaker Sam Jury with composer Rob Godman and poetic works by Abkhazia-based Anton Ochirov. This You Must Remember explores notions of suspended trauma and the slow violence of prolonged aftermath in post conflict Abkhazia, a de facto state in stasis since the Georgian-Abkhaz war (92/3).The external image of Abkhazia is most often reflected through the ruins and detritus of war that scar its cities and landscape. The film creates a counter narrative, drawing from the personal recollections of those who remain, who knew those ruins as homes and schools, as places of work and enjoyed places of leisure. Their memories, reworked into narrative scripts, are retold by them through voice and acting performance, interleaved with historical footage and imagery of the place as it looks today. What emerges is an alternative form of documentary exploring notions of fragmented memory and psychological truth – a close-looking narrative that unfurls the traumatic process of ruination and the notion that any society's stability is an enduring condition.
In 'A Camera in Abkhazia', Jury creates a film triptych which will be split across three wall-based monitors, mounted in portrait. Each will show unscripted 'post-cards' – observational static camera shots of contemporary Abkhazia scrolling on a 20 minute-long durational loop.
Ochirov's text will take the form of book pages, made object-like atop of lightbox plinths. Written as both standalone texts and poetic responses to Jury's filmed observations, Ochirov's work will also observe the everyday, drawn from ordinary conversations of modern Abkhazia. In this orchestration, the visuals and poems will hold no prescribed reading, but coincide at points unique to each viewer's perspective and moment of encounter.
Film by Sam Jury
Sound by Rob Godman
Poetic works by Anton Ochirov
Co-produced with SKLAD Cultural Space and Asida Butba, Abkhazia
With support from the Arts Humanities Research Council and the University of Hertfordshire, UK
ABOUT:
Asida Butba is co-founder of and a curator at SKLAD, the first contemporary art space in Abkhazia. SKLAD is a self-organized initiative, working at the conjunction of art, education and international cooperation with the aim of providing the best structure to support the capital Sukhum/i's creative minds in the context of scarce resources and international isolation. Since it's opening in late 2015 it has been home to 30 local and international art exhibitions and more than 250 public events such as film screenings, artist talks, lectures and workshops. These include /Back to the Archives/(2018), /Deletion Marks/(2017) /and Games in the Open Air/(2016). SKLAD has hosted 25 artists from across the globe and from 2016 has worked in partnership with the Swiss Artas Foundation.
Rob Godman is a composer, sound designer and programmer. As well as his concert hall and gallery pieces, he has worked on large-scale public art, music and sound design projects, projecting sound and light onto many of the world's most iconic buildings throughout Europe and Australia. The relationship between art and science, interdisciplinary methods and spatial properties of sound are central to his arts practice. In addition to his composing projects, his book chapter "Echeia" – an early example of assisted resonance in Roman Theatres" will be published in Brill's 'A Companion to the Reception of Vitruvius' in 2023.
Sam Jury is an artist filmmaker who works across the forms of moving image, sound and installation. Much of her work is concerned with the ability of film to reflect and impact on psychological states. Recent film screenings include the 56th Ann Arbor Film Festival, USA, the Whitechapel Art Gallery, UK, the Bienal de la Imagen en Movimiento, Argentina and the multi-channel installation To Be Here at the Broad Art Museum/MSU, USA. In 2018 she won the UK's Research in Film (RIFA) Award, presented by the Arts Humanities Research Council and in 2021 she was nominated for the Jarman Film Award.
Anton Ochirov is a poet and graphic designer who graduated from the Moscow Academic Art School. His poetry has been published in magazines such as Vozdukh and Critical Mass and translated into numerous languages including Polish, Bulgarian, Finnish and Romanian. He is the author of two books, namely Erasers (2008) and Palestine (2010). In 2008 he was short-listed for the Andrei Bely Literary Prize in Poetry. He lives and works in Sukhum/i, Abkhazia.