Duo EDIT
30.01.2023., 20:00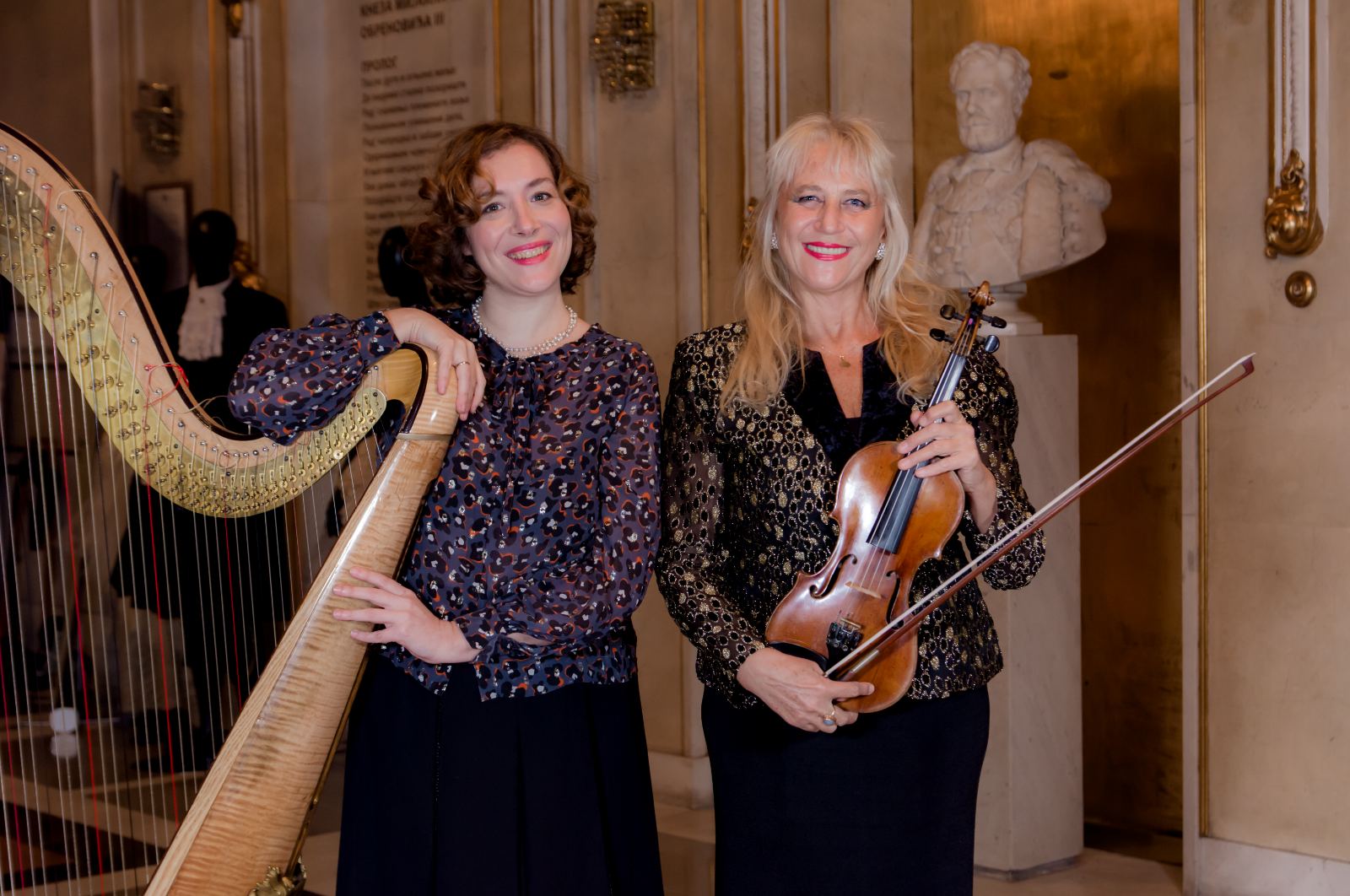 Violinist Edit Makedonska and harpist Gorana Ćurgus founded Duo EDIT in 2011. The repertoire of the duo is very diverse, from virtuous works, popular classics, evergreen music, as well as works by Serbian composers.
Program:
Edvard Grieg
Solveig's Song
Giacomo Puccini
Nessun dorma, aria from Opera Turandot
Ermenegildo Carosio
Ritorna!
Pietro Mascagni
Intermezzo from Cavalleria Rusticana
Pyotr Ilyich Tchaikovsky
Violin solo from ballet Swan Lake
Ennio Morricone
Love Theme
Walter Gross
Tenderly
Bedrich Smetana
Vltava
Biographies:
Duo Edit exists since 2011 and has so far achieved a number of notable performances: at the opening of the Harp Festival in Belgrade, festivals in UB, Pančevo, Novi Knezevac, Sofia, and many others. The repertoire of the duo is very diverse, from virtuous works, popular classics, evergreen music, as well as works by Serbian composers, some of which have been specially written for this duo. Duo performs with the support of Serbian association of music authors (SOKOJ), Association of music artist (UMUS), Serbian harpists` association, etc.
Edit Makedonska (Sofia, Bulgaria) comes from a musical family. She began to study violin with her mother Diana Rapondzhijeva-Stojanović, and finished the Faculty of Music in Belgrade where she studied with professor Fern Rašković. She completed her master's degree in violin and chamber music at the Academy of Music, Dance and Fine Arts in Plovdiv (Bulgaria), where she studied with prof. Nedjalcho Todorov, and was his assistant. She also received a Diploma in vocal performance from the "Mokranjac" Music School in Belgrade, and completed the School for Ballet in Sofia.
She has worked as the professor of violin at the "Josif Marinković" and "Vladimir Djordjević" music schools in Belgrade, and as the professor of violin and sight-reading at the Belgrade Academy of Fine Arts.
As concertmaster, she has been engaged by the Macedonian Opera and Ballet in Skopje, the Operas of Varna and Plovdiv, the Terazije Theatre in Belgrade, the Belgrade Philharmonic, the Symphony Orchestra of Radio-Television Serbia, the Belgrade Soloists directed by Vojkan Borisavljević and the Simfonieta directed by Aleksandar Vujić. Edit is the Principal Concertmaster of the National Theatre in Belgrade since 2003, and a member of the orchestra since 1980.
She is the founder of the String Quartet "Edit" (2000), with which she has performed at concerts and festivals in Serbia and Bulgaria, as well as at the National Theatre where her quartet took part in performances of chamber opera "Romance" by Igor Rankovic (conductor Djordje Stanković) and opera "Don Quixote" by Jules Massenet and arranged by conductor Angel Šurev, which has been performed under his artistic direction for two years at the stage "Raša Plaović. Edit Makedonska has given numerous concerts as a soloist and concertmaster throughout the former Yugoslavia, Europe and South Korea and Japan. In her repertoire she puts a special attention to Serbian authors, contributing significantly to the preservation and development of the Serbian musical heritage. She has recorded for radio and television, and has been active as a composer of children's music (music on the poems Apple and the Butterfly and Sasha, a Gypsy Dog from the children's fairytale books written by Princess Elizabeth of Yugoslavia).With the orchestra of the National Theatre she premiered the composition "Balada o polju" ("Ballad about a field") for violin and chamber orchestra written by Mirjana Živković, subsequently performed by the "Ljubica Marić" Chamber Orchestra, and for which Edit Makedonska personally has give the theme to the author. She is a member of the Association of Musical Artists of Serbia (UMUS), the Association of Performing Artists of Serbia, and is the former president of the Association of the Orchestral Artists of Serbia.
Gorana Ćurgus studied harp at the Faculty of Music in Belgrade, where she graduated and received a master's degree with prof. Milica Baric. For many years she has been a regular collaborator to Belgrade Philharmonic, Vojvodina Symphony Orchestra, Serbian broadcast orchestra and other renowned orchestras. Since year 2000, she is a principal harpist of the National Theater`s Opera orchestra. She had received many awards at republic and federal competitions, the international competition "Petar Konjović" and others. She had received the Golden Angel Award for the best young musician in Serbia in 1994. She was a member of the music – conceptual group Secondhanders with whom she took part in projects: Performance for Music (2009), Tender, tender, tenderly (2011), 6 (not so) easy pieces (2011), Irritations (2012), Tri(p)bina (2014) and many more. In recent years she has been collaborating with mezzosoprano Natasa Jovic-Trivic  as well as oboist Marija Lazic. They performed at Belgrade Philharmonic Orchestra`s Hall, the National Theater Museum`s Hall, UK Parobrod…  With harpist Milan Zarić she performed Serbian premiere the demanding Stockhausen composition for two harps and voices "Joy" in 2015, and in 2017 she performed a world premiere of Sonata for Harp and Flute by Ivan Jevtic, with the flutist Vanja Djordjevic. In recent years, she has been involved in the organization of various cultural events, including community art events, within the MOTO organization.