Promotion of Stefan Arsenijević's book "A little above the ground" about the films of Srđan Karanović
09.02.2023., 19:00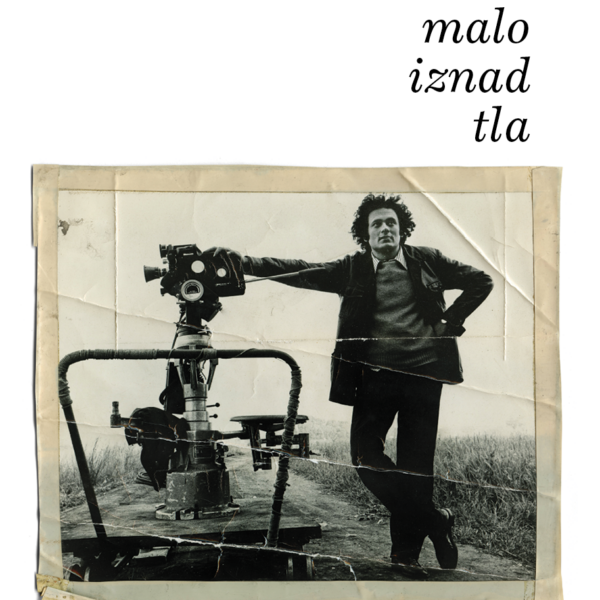 Promotion of Stefan Arsenijević's book "A little above the ground" about the films of Srđan Karanović
Thursday, February 9th 19:00
The Cultural Centre of Belgrade Movie Theatre
---
The promotion of the book A little above the ground – Srđan Karanović about his films by the author Stefan Arsenijević, published by the Film Center Serbia (FCS), will be held on Thursday, February 9 at 7 p.m., in the Theatre of the Cultural Center of Belgrade. FCS publishing editor and book editor Miroljub Stojanović, critic Srđan Vučinić, whose essay on Karanović's films is also in the book, Srđan Karanović and Stefan Arsenijević will speak at the promotion. Entrance is free!
After the talk, as a sort of cinematic treat, the audience will have the exclusive opportunity to watch Karanović's short graduate film from Prague Neblbni (Don't) from 1968 on the big cinema screen, in which Goran Marković plays the main role, and which many consider to be a forerunner series Grlom u jagode, and then the cult TV movie Pogledaj me, nevernice from 1974.
"I have always liked the books written by the authors themselves about their films, or they talked with their colleagues about the creation of those works. From them, perhaps, I learned the most about the relationship between life, chance and film", says Karanović and adds: "When the Film Center of Serbia suggested that we do something similar to my monograph, I invited Stefan Arsenijević, my former student, today my friend and already known director, to help. That's when everything started…"
"We didn't want to make a classic monograph", says the editor of the book, director Stefan Arsenijević and explains: "We wanted a living word, a personal testimony, an interaction between two colleagues and friends. We talked slowly and thoroughly, film by film, over a span of almost two years. This book is a distillate of those exciting conversations, full of interesting anecdotes, but also a lived insight into the art of filmmaking and our environment. I think that when you read this book, you can have a more complete impression, both of his films, and of Karanović as a person and a director. I believe that the book is easy to read, precisely because it is in dialogue form and can be interesting for anyone who likes Karanović's films. And there are many of them."
The editor of the book, Miroljub Stojanović, points out: "The book that is in front of you, and which the Film Center Serbia is proud of, is not only a valuable cinematographic testimony that looks at the great film career of Srđan Karanović in stages, with many lesser-known details. It is, above all, a book by two inspired interlocutors, who make what they have to say to each other playful, witty, intriguing, inspiring, and…above all, insider. Stripped of all limitations, the cinematography speaks through their conversation in an unforgettable way."
The book A little above the ground – Srđan Karanović on his films consists of eleven conversations in which Karanović talks openly and honestly with fellow director Stefan Arsenijević about his feature films and the series Grlom u jagode. The interviews chronologically follow Karanović's filmography, presenting valuable first-hand insight into the creation of these films, the creative process, the art of directing, the dilemmas, obstacles and decisions he made as a director. About Karanović's need to always be different from film to film.
This book also talks about a turbulent era, viewed from a special, personal and professional angle, about a country and its cinematography, which no longer exist. During the promotion, Karanović and Arsenijević will sign the book, which will be available for purchase at a special discount.
Srđan Karanović is one of the most important film directors in this region. His now iconic films such as Petrijin venac, Miris poljskog cveća, Grlom u jagode, Nešto između, Virgin or Rage were awarded at the most important world festivals, won the most important domestic awards, were screened are in cinemas all over the world, and even decades after their creation, they enjoy great popularity among audiences.