Luka Lopičić, accordion – NEW DATE
09.06.2023., 19:00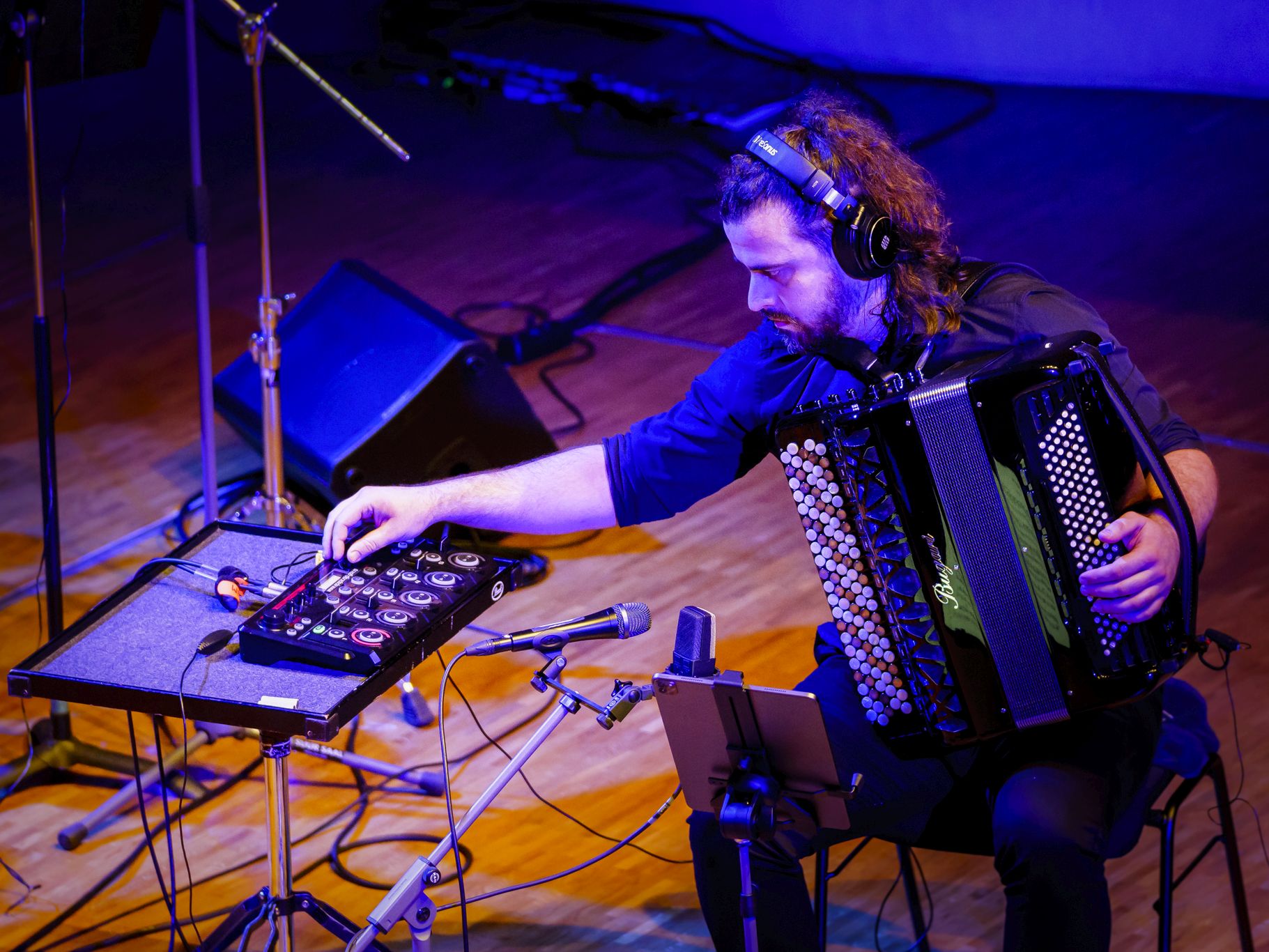 The concert is organized in cooperation with the Belgrade City Museum.
Program:
Milica Ilić
Na kraju sveta… u kafani…
Dragana Jovanović
Porto Lopicino
Branka Popović
Where do the icebergs go?
Tatjana Milošević
Geometrija jednog sna
Ana Krstajić
Pyrite 'Cube crystal which emits fire'
Maja Bosnić
Concentrate β 13.46Hz for solo accordion and Brain Waves application
Arshia Samsaminia
Freq.Exp II for solo accordion and electronics
Biography:
Luka Lopičić, DMA (1990), completed his doctoral studies in chamber music at the Faculty of Music in Belgrade (mentorship: Full Professor Ljudmila Popović, MA). He obtained his master's and undergraduate degrees at the Faculty of Philology and Arts in Kragujevac, in the class of Full Professor Radomir Tomić. He was a scholarship holder of the Fund for Young Talents "DOSITEJA" of the Government of the Republic of Serbia, and upon completion of his undergraduate studies, he was declared the best student of the Department of Music Arts. He enrolled his doctoral studies together with his colleagues from the accordion trio "Assahra", which became the first ensemble in the history of the Faculty of Music composed exclusively of accordions.
Luka Lopičić has won over thirty awards at national and international competitions.
He has performed as a soloist, member of chamber ensembles and orchestras in the most prestigious concert halls in the country and abroad (Estonia, Norway, United Arab Emirates, China etc.). Most notable orchestras with which he collaborated as a soloist and/or member of the orchestra are as follows: Symphony Orchestra of Radio Television od Serbia, Belgrade Chamber Orchestra "Ljubica Marić", Chamber Orchestra "Muzikon".
Luka collaborates intensively with composers whose works he premieres.
He is also the author of numerous lectures that are based on the application of acting methods during the process of the interpretation of a musical piece. He has cooperated with various higher education institutions, of which the following stand out: Estonian Academy of Music and Theatre (Talin, Estonia), Faculty of Music (Belgrade, Serbia), Music Academy of the University of East Sarajevo (Bosnia and Herzegovina, entity Republic of Srpska), Faculty of Philology and Arts (Kragujevac, Serbia).
Additionally, he is a regular participant in numerous Belgrade theatre plays. Some of the most notable plays in which he has participated are: Oedipus the King and The Development Path of Bora Šnajder (Yugoslav Drama Theatre, Belgrade, Serbia), M.I.R.A. (BITEF Theatre, Belgrade, Serbia), The Italian Straw Hat (Boško Buha Theatre, Belgrade, Serbia) etc.
Luka Lopicic's musical versatility and skills are as well transferred to his music making and performance in the context of popular genres. He performed with popular Belgrade bands such as Maika and Zemlja Gruva at the most prestigious festivals in the country and abroad.