Concerts of the COLLUVIO Chamber Music Academy 2023
15.08.2023., 19:00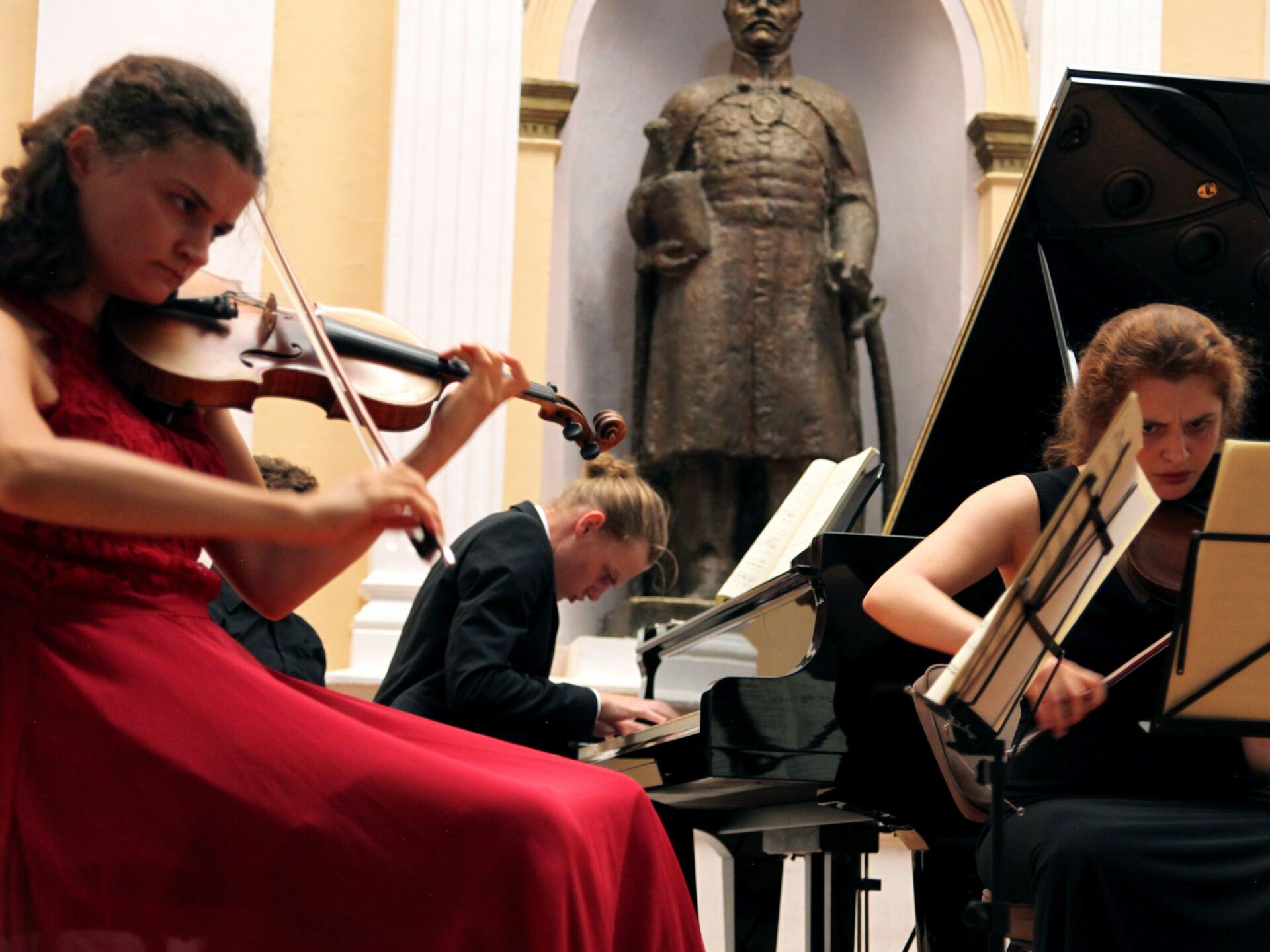 Young talents from all over Europe present masterpieces of chamber music in the following cities: Gut Hornegg, Metlika, Ljubljana, Feldafing, Vienna, Veszprém, Budapest, Belgrade. Last concert of the tour will be held at the SASA Gallery (35 Kneza Mihaila Street) starting at 19:00.
Since 2001 annual auditions for between nine and eleven promising young musicians from all over Europe have been held for the Colluvio Chamber Music Academy. Master Classes are held in Gut Hornegg, Styria, Austria, followed by an international concert tour that encompasses venues in the home countries of the participants.
The specialty of this meeting of differing cultural spheres is that the young musicians first get to know each other in Gut Hornegg, have never played together and then, within ten days, are in a position to give live performances of ambitious chamber music works. Two factors enable them to do so: their high musical level plus the special "Colluvio Method".
"Together in Europe" and polishing prerequisites in Chamber Music performance
The speciality of meeting participants from differing cultural backgrounds. – The young musicians get to know each other first at Gut Hornegg, have never played together before and are able after 10 days to bring the most challenging chamber music works to a high standard of performance. Two factors make this possible: their high musical standard coupled with the specially tailored "colluvio" method.
More info
Master Classes directed by:
Yuri Kot (Ukraine) Professor for piano at the National Music Academy Kiev
Olivera Milić-Hirscher (Serbia) Professor for violin, Special School for Talented Young Musicians, Ćuprija, Serbia
Meinhard Holler (Austria) Private cello professor in Munich, Germany
Claus Christian Schuster (from 1984 to 1993 pianist in the Vienna Schubert Trio, and later until 2012 in the Altenberg Trio Vienna) will work with the young artists and round off their performance.
Program:
Ludwig van Beethoven (1770-1827)
Piano Trio in E flat major, op. 70/2
Poco sostenuto – Allegro ma non troppo
Allegretto
Allegretto ma non troppo
Finale – Allegro
Veronika Voloshyna, piano
Anna Perl, violin
Clara Eglhuber, cello
Felix Mendelssohn Bartholdy (1809-1847)
Piano Quartet No. 3 in B minor, Op. 3
Allegro molto
Andante
Allegro molto
Allegro vivace  
Tabea Streicher, piano
Naz İrem Türkmen, violin
Nađa Komlenić, viola
Owen Sørbye Davis, cello
Gabriel Fauré (1845-1824)
Piano Quartet No. 2 in G minor, Op. 45
Allegro molto moderato
Allegro molto
Adagio non troppo
Allegro molto
Petar Krokar, piano
Frédéric Pouliot, violin
Elías Zaabi Sáez, viola
Hyunah Pyo, cello
The selected musicians:
Tabea Streicher (19), piano, Germany/Hungary, Berlin University of the Arts (studying with Markus Groh)
Naz İrem Türkmen (17), violin, Turkey, Istanbul State Conservatoire (studying with Aslı Erdal) and University of Music and Theatre Munich (studying with Sonja Korkeala)
Nađa Komlenić (17), viola, Serbia, Special School for Music Talents Ćuprija, Serbia (studying with Olivera Milić-Hirscher)
Owen Sørbye Davis (17), cello, Norway, Young Talent Programme of the Barratt Due Music Institute Oslo (studying with Louisa Tuck)
Veronika Voloshyna (27), piano, Ukraine, Franz Liszt Academy of Music Weimar (studying with Grigory Gruzman)
Anna Perl (22), violin, Germany, University of Music and Performing Arts Vienna (studying with Alexandra Soumm)
Clara Eglhuber (22), cello, Germany, Berlin University of the Arts (studying with Konstantin Heidrich)
Petar Krokar (24), piano, Croatia, Academy of Music Zagreb (studying with Ruben Dalibaltayan) and Ferenc Liszt Academy Budapest (studying with Klára Würtz)
Frédéric Pouliot (22), violin, Canada, Schulich School of Music of McGill University (studying with Violaine Melançon)
Elías Zaabi Sáez (25), viola, Spain/Tunisia, HKU Utrecht Conservatorium (studying with Mikhail Zemtsov)
Hyunah Pyo (21), cello, Korea, Robert Schumann Hochschule Düsseldorf (studying with Pieter Wispelwey)