Andrei Kavalinski, trumpet and Kristina Bjelopavlović Cesar, piano
06.05.2017., 20:00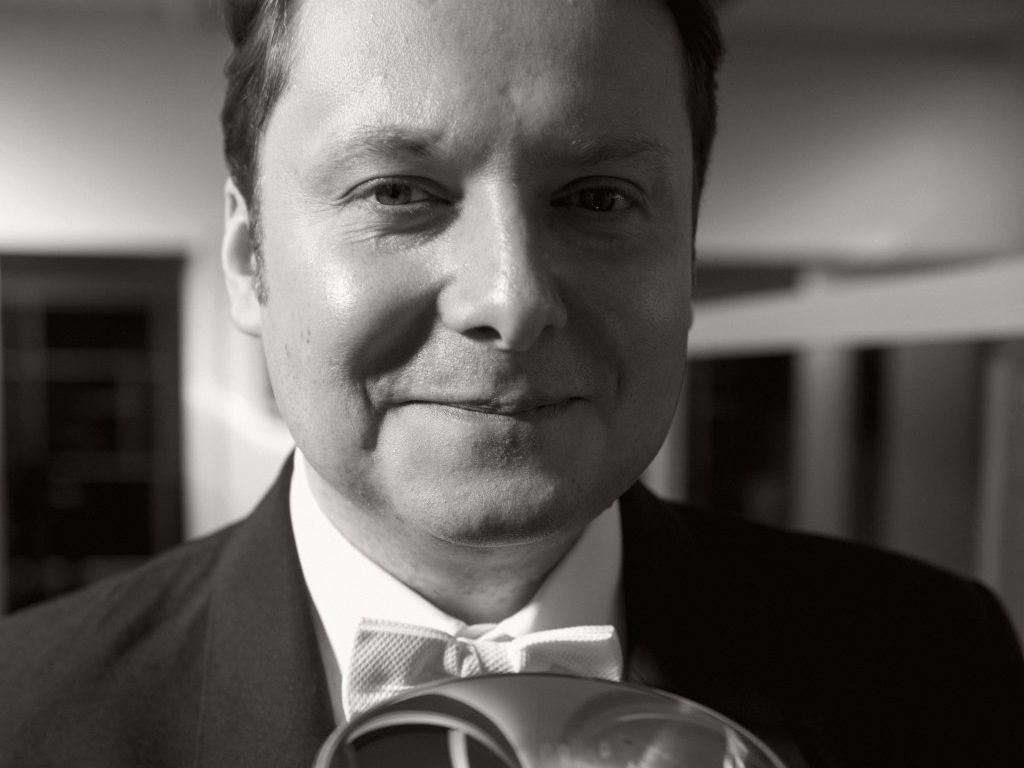 Kavalinski possesses the artistry to illuminate the trumpet in every aspect. – Badische Zeitung. On May 6th he will perform for the first time in Belgrade, in the great atmosphere of the Old Palace (2 Dragoslava Jovanovića street). Entrance is free.
International Trumpet Soloist, Solo Trumpet of the Orchestre National de France, Kavalinski is a Van Laar Trupets Artist.
Concert is organized by the Cultural Centre of Belgrade and Velikogoricki Brass Festival with the support of the Van Laar Trumpets.
Program:
Otto Ketting (1935–2012)
Intrada for solo trumpet (1958)
Georg Philip Telemann (1681–1767)
Sonata in D major, TWV 44:1
Sinfonia – Spirituoso
Largo
Vivace
André Jolivet (1905–1974)
Concertino (1948)
Sergei Vasilenko (1872–1956)
Concert-Poème in C minor, Op. 113
Allegro drammatico
Molto sostenuto, quasi adagio
Allegro vivace
Biographies:
Andrei Kavalinski (1977) is one of the most famous and remarkable trumpeter of his generation. He combine technical and musical versatility with unique interpretative style. His trumpet playing was rewarded by numerous prizes and awards. Among his last success he was a winner of the most famous international Competitions such as Citta di Porcia (Italy), Festival de Musique de Toulon (France), Maurice André (Paris, France), Ellsworth Smith, ITG, Grand Prix in Bad-Säckingen (Germany) and Tromp Muziek Biennale (Eindhoven, Netherlands). Andrei Kavalinski is also winner of Timofei-Dokshizer-Award (Moscow, Russia), Richard Wagner Stipendienstiftung and Karlheinz-Stockhausen-Prize (Kürten, Germany).He studied the trumpet at the Hochschule für Musik in Karlsruhe under Prof. Reinhold Friedrich and Prof. E.H. Tarr and passed the diploma examination (Konzert Examen) in 2005 with highest possible marks. Andrei continued his studies at the Amsterdam Conservatorium with Prof. Peter Masseurs and with composer Karlheinz Stockhausen in Kürten, Germany.
Kavalinski has toured Europe, South-America, Asia and Russia as a soloist and as a chamber music partner. Apart from the Orchestre National de France, where he plays solo trumpet, he has appeared with the Orchestra of the Bolshoi State Theater, "Moscow Virtuosi" Chamber Orchestra, the Ensemble Orchestral de Paris, the Brabants Orchestra, the Kyoto Chamber Orchestra, the Lithuanian Chamber Orchestra, the Dortmunder Philharmoniker, the Orchestra di Padova e del Veneto, the Darmstadt State Orchestra, the Belorussian State Philharmonic Orchestra  and the Orchestra of the Belorussian State Opera amongst others.
Andrei Kavalinski has appeared on many world famous stages such as a Carnegie Hall, Vienna Musikverein, Salzburger Festspielhaus, Royal Concertgebouw Amsterdam, Boston Symphony Hall, Moscow State Conservatory, La Scala Milan, Seoul Arts Center Concert Hall, Megaron Athens Concert Hall, Salle Pleyel and the Concert Hall of the National Center for the Performing Arts in Beijing. Kavalinski plays frequently as a soloist and chamber musician at music festivals. He gave recitals at the Schleswig-Holstein Music Festival (Germany), the Prague Spring International Festival (Czech Republic), the Grachtenfestival Amsterdam, the Festival of Flanders (Belgium), the International Festival Stuttgart ECLAT, the International Festival Belorussian Musical Outumn, Ars Musica – Contemporary Music Festival (Belgium) and others.
Nowadays Andrei Kavalinski is considered as one of most versatile musicians of his profession. His enormous repertoire includes works from baroque, classic and romantic as well as those of contemporary composers such as P.M. Davies, E. Denisov, S. Gubaidulina, A. Pärt, H.W. Henze, G. Ligeti, K. Stockhausen, T. Takemitsu and B. A. Zimmermann. Many composers have dedicated Kavalinski their work. He has recorded many works including the works of the modern composers for Deutsche Grammophon, Deutschland Radio Berlin, WDR 3, Klara (Belguim), EXQI TV (Belgium) and others. Andrei Kavalinski gives worldwide masterclasses and is a Hub van Laar Trumpet Artist.
Croatian pianist Kristina Bjelopavlović-Cesar is described by critics as a musician who is in charge of the stage and has abilities of pianistic ingenious performance. She is imaginative and her interpretation is charming and has warm and crystal sound. She posses energy and temperament of music talent. Her concerts are valued as concerts to remember and as critics say, we have the star on pianistic sky.
She won numerous competitions and awards among which are also stipendium of city of Zagreb and the award of the University rector. She entered the Music academy with 16. and at the same institution she did her postgraduate studies. She has played with all significant orchestras in Croatia and has also recorded piano concertos by Croatian composers Bombardelli and Papandopulo for the recording house ORFEJ.
She is most wanted performer of her generation and performs at every venue or festival of importance in Croatia as well as with eminent musicians of Croatian classical scene.
Exhibition of VAN LAAR TRUMPETS
Artget Gallery, 5 Square of the Republic
Saturday, 6th May – 15.00–18.00
Sunday, 7th May – 10.00–12.30
Master Class of ANDREI KAVALINSKI
Artget Gallery, 5 Square of the Republic
Sunday, 7th May – 10.00–12.30
Hub van Laar founded his company in 1990 in Margraten, near Maastricht, on the border triangle to the Netherlands, Germany and Belgium. Beginning as a workshop for brass wind instruments, the company expanded rapidly under the direction of Hub van Laar and Heidrun Jöchner to become an enterprise of world repute. Due to the increasing demand for our instruments we launched a new branch in Markneukirchen in 2010, in the heart of the so-called "Music Corner" ("Musikwinkel") in Vogtland, Germany, which has a rich historical tradition in the making of musical instruments. Our team of experts build brass wind instruments in a traditional way, using the most modern technologies. Hub van Laar is bound by tradition and is committed to achieving the highest standards, and every instrument undergoes rigorous testing before it leaves the workshop. As a result, musicians from the most renowned orchestras, big  bands and ensembles all over the world are among our customers. A new trumpet or flugelhorn is certainly not something one buys every day, and musicians develop a special relationship with their instrument. This is why Hub van Laar attaches great importance to individual and intensive contact with his customers, so they can  find "their" perfect trumpet or flugelhorn.