Opening of 17th International Festival "Days of Organ": BACH AND BEYOND – Martin Schmeding
27.06.2017., 20:30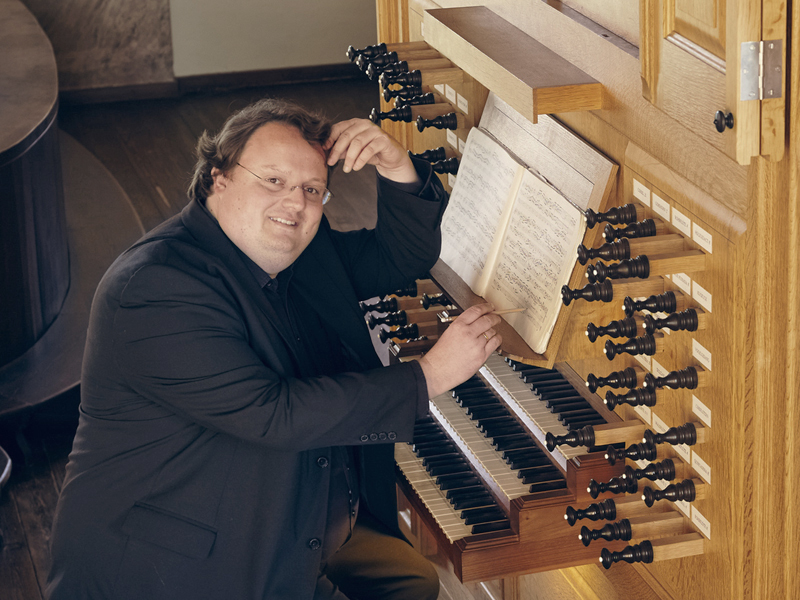 Opening concert of the Festival Days of Organ / Dies organorum is organized in collaboration with the Goethe-Institut Beograd as the final event at Reformationsjubiläum 2017.
BACH AND BEYOND
Organ Works Based on Luther Chorales from 17th to 20th Century
Johann Sebastian Bach (1685–1750)
Prelude in E flat Major, BWV 552
Dieterich Buxtehude (1673–1707)
Choral Fantasia on Nun freut euch, lieben Christen g'mein, BuxWV 210
Felix Mendelssohn-Bartholdy (1809–1847)
Andante and Finale from Reformation Symphony, Op. 107
based on Luther chorale Ein feste Burg ist unser Gott

Petr Eben (1929–2007)
Walpurgisnacht from Faust (1987)
with Luther chorale Aus tiefer Not
Johann Sebastian Bach
Canonic Variations on Vom Himmel hoch, BWV 769
Ernst Pepping (1901–1981)
Toccata on Mitten wir im Leben sind
Max Reger (1837–1916)
Choral Fantasia on Ein feste Burg, Op. 27
Biography:
Martin Schmeding (1975, Minden, Westphalia) studied church music, music education, recorder and organ (soloist diploma in both instruments), choir and orchestra conducting, harpsichord, and music theory in Hannover, Amsterdam and Düsseldorf. Thanks to his teachers Ulrich Bremsteller, Lajos Rovatkay, Dr. Hans van Nieuwkoop, Jacques van Oortmerssen and Jean Boyer he is part of the important German organ tradition as well as of the French tradition and the Dutch historical organ movement. After receiving eight first prizes in the federal competition for young musicians, he was a prize winner in many competitions, among them the Mendelssohn Bartholdy in Berlin, the Pachelbel in Nuremberg, the Ritter in Magdeburg, the Böhm in Lüneburg, the Competition of the German music universities in Hannover/Mannheim, the German music competition in Berlin/Bonn, and the Musica antiqua in Bruges/Belgium.
Martin Schmeding was a choir director and organist of the Nazareth Church in Hannover. Between 1999 and 2004 he worked in two most important places of church music in Germany: In 1999 he was appointed as the successor of KMD Prof. Oskar Gottlieb Blarr at the Neander Church in Düsseldorf. As a titular organist at the Kreuzkirche in Dresden, a place with a more than 700 year old tradition of church music, Martin Schmeding worked from 2002 until 2004.
After holding teaching posts in Hannover, Leipzig, Weimar, and Dresden, he has taught as an organ professor at the University of Music in Freiburg since 2004, where he is also the chair of the church-music and organ department. His students from all over the world are prize winners at well renowned international competitions. Martin Schmeding has made numerous radio and CD recordings, among them the complete organ music of F. Schmidt, J. Brahms, F. Mendelssohn Bartholdy, as well as the first recordings on a period instrument of the complete music for pedal piano by R. Schumann and of the organ version of the Goldberg Variations by J. S. Bach on a baroque instrument. He has written for many publications and has given concerts as a soloist, chamber musician and with orchestras all over the world, including at important festivals such as the Bach-Fest in Leipzig, the Bachwochen Thuringen, the Chamber-Music Platform in Brunswick, the Organ Days in Merseburg. Martin Schmeding is also active as a guest-lecturer at master-classes at home and elsewhere, publishes articles and music editions for important magazines and publishers. In 2009, he was awarded the Prize of the German Record Critics, and in 2010 he got one of the most important European music prizes – the Echo Classic Instrumentalist of the Year – Award for J. S. Bach, Goldberg Variations (Organ Version). Since 2013 he has been a titular organist and choir director of the Ludwig's Church Freiburg.