17th International Festival "Days of Organ": Pavel Kohout
04.07.2017., 20:30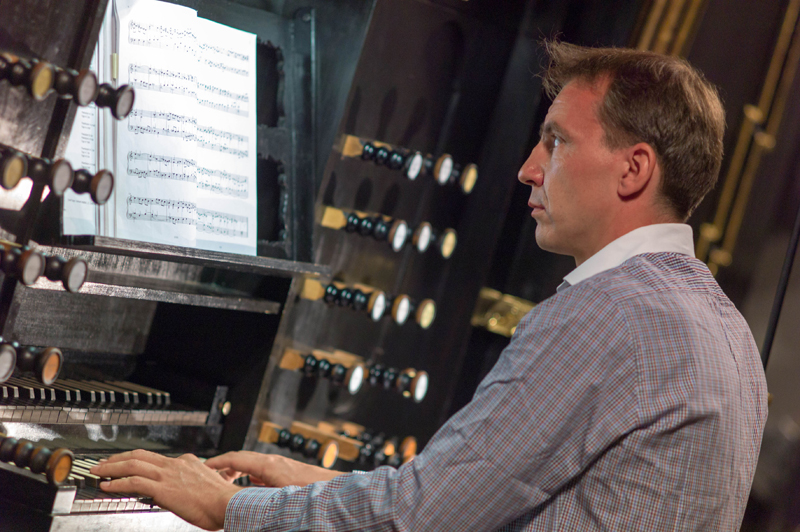 Program:
Johann Sebastian Bach (1685–1750)
Prelude and Fugue in G Major, BWV 541
Choral prelude on Nun komm, der Heiden Heiland, BWV 659
Brandembourg Concerto No. 3 in G Major, BWV 1048
(transcription for organ by Omar Caputi)
Allegro
Adagio cadenza
Allegro
César Franck (1822–1890)
Cantabile, M. 36
from Trois Pieces pour Grand Orgue (3 Pieces for Organ)
František Musil (1852–1908)
Sonata Solemnis
Allegro moderato
Canon – Andante
Fuga – Energico
Bedřich Smetana (1824–1884)
Vltava (The Moldau), symphonic poem of cycle My Country
(arr. for organ by Barbara Bannasch)


Biography:
The Czech concert organist Pavel Kohout gained world recognition as a brilliant organ virtuoso for his exceptional sense of music, enormous technique and natural interpretation. He performs across all of Europe, Russia, Asia, Australia, New Zealand and the United States.
Pavel graduated from the Prague Conservatory and the Faculty of Music at the Academy of Performing Arts in Prague under the guidance of Jaroslav Tůma. In 1999 he continued his studies in historical organ technique at the Conservatorium van Amsterdam, with renowned specialist Prof. Jacques van Oortmerssen. In 2010, he got a doctor philosophiae degree in historical performance practice of the South German and Czech baroque organ music at the Academy of Performing Arts in Prague.
Early on in his career, at the age of 24, he won the prestigious First Prize and the J. S. Bach Prize at one of the world's largest international organ competitions – Musashino, Tokyo (2000). This opened to him all kinds of concert venues around the world: famous concert halls, universities, cathedrals and churches. Today Pavel is regarded as one of the finest European concert recitalists. He won additional First Prizes at international competitions in Ljubljana in 1995 and 1998, Vilnius in 1999, as well as several other major prizes and diplomas at international organ competitions in Prague, Poznan, Kaliningrad, Brugges and Lübeck, including the Dancing Angel Prize awarded by the European Union of Music Competitions for Youth.
Pavel teaches international master classes and lectures worldwide, acts as a competition juror and cooperates with Czech National Radio on the project Historical Organs. He works with numerous world radio and TV stations, preparing new music editions and recordings on CD: performances on the Mundt organ (1673) in the Church of Our Lady of Tyn in Prague (the city's oldest organ) and the Katzer & Weltzel organ (1738) in Prague's Loreto; historical instruments of Bohemia and Moravia and Baroque organs in Slovenia.
Find more about his recordings and concerts at http://www.pavelkohout.org/.