18th International Festival "Days of Organ": KALEVI KIVINIEMI
24.06.2018., 20:30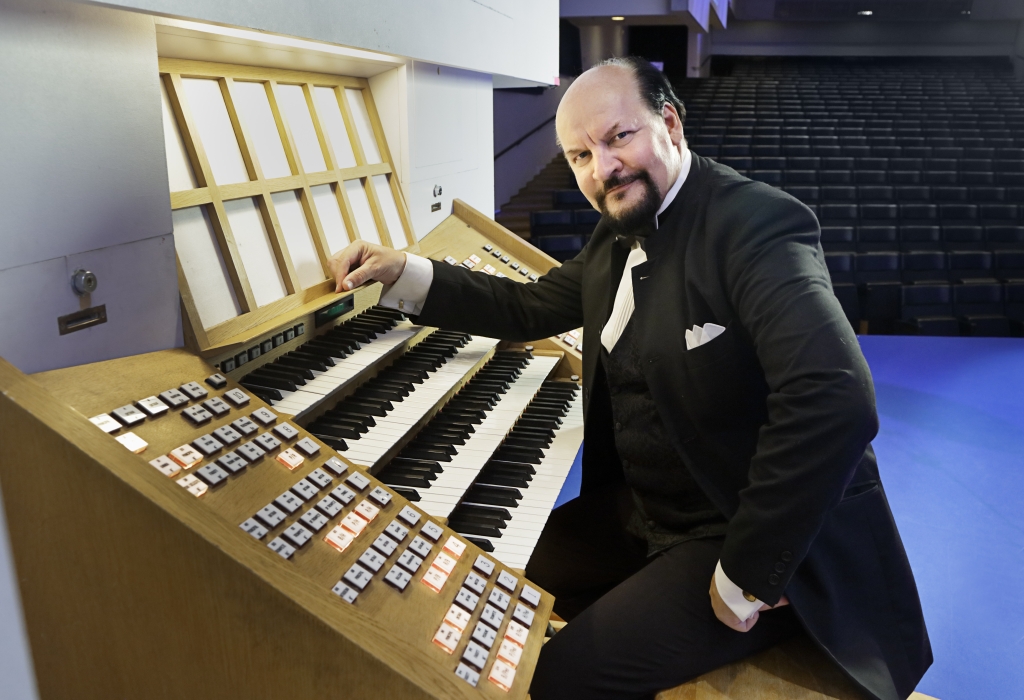 Kalevi Kiviniemi, a world-renowned concert organist from Finland who have had about 100 concerts last year all over the world, will open this year Festival. International critiques count Kiviniemi among the most influential musicians of our time.
Photo: Heikki Tuuli
Program:
Kalevi Kiviniemi (1958)
Toccata, théme et variations
Michel Corrette (1707–1795)
The Nightingale
Claude Balbastre (1724–1799)
Theme and variations
Eduardo Torres (1872–1934)
Saetas (organ pieces inspired by the Andalusian mystic folklore)
Manuel de Falla (1876–1946)
Fire Dance from Love, the Magician
Aram Khachaturian (1903–1978)
Adagio from Spartacus
Sabre Dance from Gayaneh
Kalevi Kiviniemi
Improvisation War – Finland 1918
Oskar Merikanto (1868–1924)
Prayer
Jean Sibelius (1865–1957)
Finlandia, Op. 26
Biography:
Kalevi Kiviniemi is a world-renowned concert organist who has last year been invited e.g. to Notre Dame Paris, Leipzig Gewandhaus, Tchaikovski Hall in Mscow, Sejong Art Center in Soul, Korea and Merseburg Dom. In addition to this he had about 100 other concerts last year.
Kiviniemi's discography includes more than 160 titles, including recordings made on historical organs in the USA, Japan, the Philippines, Australia, Italy, France, Switzerland and Germany. Many of his recordings have won awards, and he has two gold records, and one platinum. In 2001, Kiviniemi received the Janne Prize for the best Finnish solo disc, and in 2009, the State Prize for Music in Finland, the most coveted music award in the country. In 2012, he was named Chevalier OCM, and in 2014 he received the Pro Cultura Tavastica et Fennica Award in Helsinki.
Kiviniemi specializes in French music and has given recitals at Notre Dame Cathedral, St. Sulpice, and Basilique Sainte-Clotilde in Paris. He has also made recordings on the historical Cavaillé-Coll organs in Orléans, and Rouen.
Kiviniemi has been touring in Europe, the USA, Japan, Russia, Asia, Australia and the Philippines. In addition to solo recitals and chamber music concerts, Kiviniemi has appeared with major orchestras such as the Moscow Chamber Orchestra, and the Moscow Symphony Orchestra. He has served on the juries of international organ competitions (Nuremberg 1996, Capri 1998, Speyer 2001, Korschenbroich 2005, St. Albans 2013, Strasbourg 2016), and has given master classes at places such as Ruhr University in Bochum and Sibelius Academy in Finland. Kiviniemi was the artistic director of the Lahti Organ Festival for eleven years, from 1991 to 2001. In recent years Kiviniemi has collaborated intensively with the composer Aulis Sallinen. Kiviniemi has made several television performances, including one at Notre Dame in Paris in 2000.
International critiques count Kalevi Kiviniemi among the most influential musicians of our time.
More about Kalevi Kiviniemi at his official web page