18th International Festival "Days of Organ" – DUO NENAD ĐUKIĆ and AURORE BAAL
04.07.2018., 20:30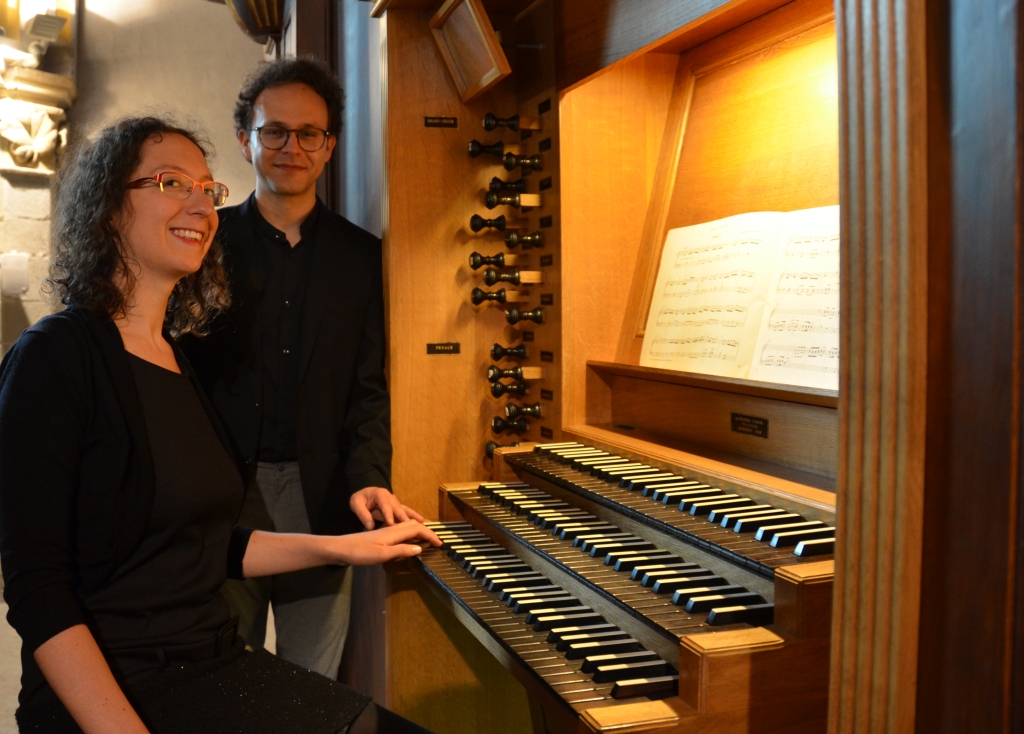 At the closing concert organ duo Nenad Đukić (Serbia/Switzerland) and Aurore Baal (France/Switzerland) will present famous Nutcracker Suite of P. I. Tchaikovsky arranged for organ four hands. This concert is organized in collaboration with Embassy of Switzerland in the Republic of Serbia.
Program:
Wolfgang Amadeus Mozart (1756–1791)
Fantasia in F minor for organ four hands, KV 608
Padre Davide Maria da Bergamo (1791–1863)
Elevazione in D minor
Aurore Baal
Jasques Vogt (1810–1869) / Paul Haas (1866–1943)
Fantasie – orage
Nenad Đukić
Pyotr Ilyich Tchaikovsky (1840–1893)
Nutcracker Suite for organ four hands
Miniature Ouverture
March
Dance of the Candy Fairy
Russian Dance – Trepak
Arab Dance
Chinese Dance
Dance of the Reed-Flutes
Waltz of the Flowers
Biographies:
Aurore Baal (1989, Caen) is a French organist, pianist, harpsichordist and composer. Aurore completed her Bachelor in Music Education, Master in Musicology and  earned an organ diploma with Yves Lafargue at the Conservatory in Lyon. She received the Prix de spécialisation in piano in Mâcon with Bruno Robiliard. At the Schola Cantorum Basiliensis Aurore completed the Bachelor in Early Music Performance with an organ major under Prof. Wolfgang Zerer's tutelage (2014), and Masters in Music Education majoring in organ with Professors Jörg-Andreas Boetticher and Wolfgang Zerer (2016). In 2015 she received the Prix de spécialisation, orgue symphonique in Strasbourg by Prof. Daniel Maurer. She is currently finnishing a Masters of Organ Performance in the Basel Hochschule with Martin Sander. She got the first prize in the Organ competition of Epinal (2014) and in the Paul-Hofhaimer Competition in Innsbruck (2016).
Since 2007 she has worked as a piano teacher, as a choral musical director and accompanist, and she has organised numerous musical projects. In 2012, Aurore took up a permanent position in Dagmersellen, Switzerland, as a church musician. She has performed in France, Germany, Italy, Luxembourg and Switzerland as both a soloist and an accompanist.
After studying the piano at the Conservatoire de Neuchâtel (CH) in the class of Paul Coker and Sylviane Deferne, Nenad Đukic entered Kei Koito's organ class at the Haute Ecole de Musique de Lausanne (CH) and obtained a Bachelor and a Master in Performance.
He did further studies at the Schola Cantorum Basiliensis (CH) in the organ class of Wolfgang Zerer. Nenad also studied the harpsichord with Jovanka Marville at the HEMU Lausanne and obtained the Certificate of Advanced Studies (CAS).
He attented masterclasses with L. F. Tagliavini, O. Latry, P. van Dijk, E. Wiersinga, M. Bouvard and Y. Bouvard.
He has a passion for baroque and chamber music. Nenad played in the Organ Marathon recitals during the Bach Festival of Lausanne (2007). He regularly takes part in concerts at the Academy of Baroque Music in Sarlat (France), Cathedral – Martinikerk in Groningen and Walburgiskerk in Zutphen (Neetherlands). He has played with the ORJP (Orchestre des jeunes professionnels romand), conducted by Dominique Tille, for Bach's St John Passion during the festival Concerts Bach in Lutry.
Nenad Djukic is involved in the life of many parishes: he is the organist at the Reformed Church of Belmont – Lutry and of Crissier. He teaches the piano at the music school La Clé de Sol in Bercher (VD). He teaches music at Beausobre secondary school in Morges. Since 2011, he is organist of the Chapelle Vocale et Instrumentale de Lutry.
In 2017, he was appointed organist of the Temple de Lutry, famous for its acoustic, architecture and organ. Nenad Djukic plays for church services, organizes organ concerts and promotes the organ. He conducts the orchestra and the choir for special celebrations.