19th International Festival "Days of Organ": PAVEL KOHOUT
28.06.2019., 20:30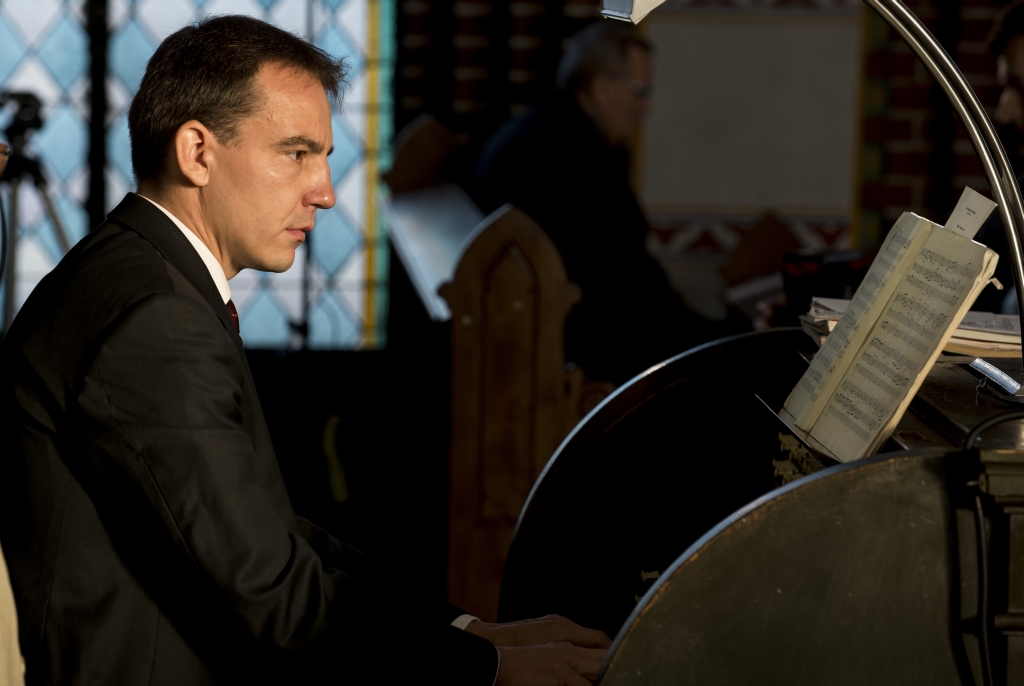 The Czech concert organist Pavel Kohout gained world recognition as a brilliant organ virtuoso for his exceptional sense of music, technique and natural interpretation. Concert is organized in collaboration with the Embassy of the Czech Republic in Belgrade.
Program:
Johann Sebastian Bach (1685–1750)
Prelude and Fugue in E Minor, BWV 548
Choral prelude Liebster Jesu, wir sind hier, BWV 731
Guy Bovet (1942)
Fugue on theme Pink Panther
Dieterich Buxtehude (1637–1707)
Prelude in F Major, BuxWV 145
Antonio Vivaldi (1678–1741)
organ arrangement: J. S. Bach, BWV 593
Concerto in A minor, op. 3, No. 8 (RV 522)
Allegro
Adagio
Allegro

Bedřich Antonín Wiedermann (1883–1951)
Notturno
Maurice Duruflé (1902–1986)
Prelude and fugue on name Alain, Op. 7
Biography:
The Czech concert organist Pavel Kohout gained world recognition as a brilliant organ virtuoso for his exceptional sense of music, enormous technique and natural interpretation.
Already in the age of 24, he became First Prize, Gold Medal and J. S. Bach Prize Winner at prestigious Int. Organ Competition in Musashino-Tokyo, one of the world´ s largest international music competitions, opening him all kind of concert venues, famous concert halls, universities, cathedrals, churches world-wide and is regarded today as one of the finest European concert recitalists. He won additional First Prizes at international competitions in Ljubljana 1995 and 1998, Vilnius 1999 and several other major prizes and diplomas at international organ competitions in Prague, Poznan, Kaliningrad, Brugges and Lübeck, including the "Dancing Angel" Prize awarded from the European Union of Music Competitions.
Pavel Kohout performs widely as solo concert organist, orchestra soloist in all countries of Europe, USA, Asia, Japan, South Korea, Australia and New Zealand. He appeared on international music festivals in Praha, Paris, Moscow, Amsterdam, Jerusalem, New York City, as well as at prestigious concert venues like Berlin Concert House, Sydney and Melbourne Town Halls, Suntory Hall Tokyo, International House of Music in Moscow, cathedrals of Notre Dame de Paris, Bordeaux, Lisbon, Berliner Dom, Freiburger Münster, Stanford and Cornell University and many others.
Pavel Kohout is a graduate of the Prague Conservatory and the Music Faculty of the Academy of Performing Arts in Prague, under the tutelage of Prof. Jaroslav Tůma and Doc. Anna Machova. He continued his studies in historical performance practice with renowned specialist Prof. Jacques van Oortmerssen at the Amsterdam Conservatory. In 2010 he obtained degree doctor philosophiae in historical performance practice of the South German and Czech baroque organ music at the Academy of Performing Arts in Prague.
Pavel Kohout teaches in form of international master-classes and lectures worldwide, act as competition juror, cooperates with Czech National Radio on the project "Historical Organs" and other world radio and tv stations, preparing new music editions and recording on CDs. His CD records including the oldest Prague´s historical organ (Mundt 1673) in the Church of Our Lady of Tyn in Prague, Katzer & Weltzel organ (1738) in Prague´s Loreto, a CD collection of tree remarkable historical instruments of Bohemia and Moravia, CD of Baroque organs of Slovenia.
FOTO © IVANMALY.CZ