19th International Festival "Days of Organ": CHRISTIAN BISCHOF
26.06.2019., 20:30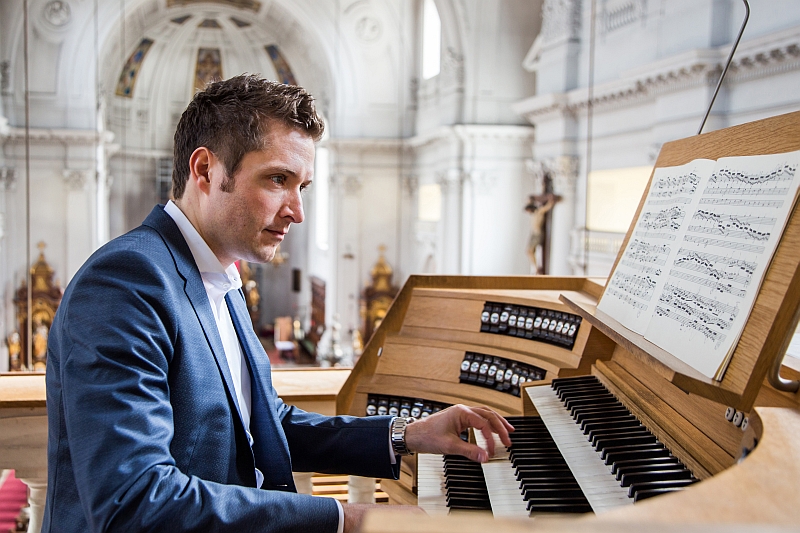 Festival will be opened by organist and choir director at the large parish church of St. Margaret in Munich, Christian Bischof. Program of his concert is based on German music tradition of 19th century. Concert is organized in collaboration with the Goethe-Institut Beograd.
Program:
Anonymus (Spain, 17th century)
Batalha de 6. tom
Johann Kaspar Kerll (1627–1693)
Capriccio sopra il Cucu
Felix Mendelssohn Bartholdy (1809–1847)
Organ Sonata No. 1 in F minor, Op. 65/1
Allegro moderato e serioso (Was mein Gott will, das g'scheh' allzeit)
Adagio
Andante (Recitativo)
Allegro assai vivace
Robert Schumann (1810–1856)
from Four Sketches for Pedal Piano, Op. 58
III Lebhaft (F minor)
IV Allegretto (D flat major)

Max Reger (1873–1916)
Chorale Fantasia on Straf mich nicht in deinem Zorn, op.40/2
Biography:
Christian Bischof is one of the young rising stars of organ and church music in Europe today. Grown up in Bamberg, he has been organist and choir director at the large parish church of St. Margaret in Munich since 2013. In addition he is also in demand as an international concert organist and is the artistic director of the Kammerchor Nürnberg.
Because of his earliest musical training at the music school of the Regensburg Cathedral Choir Bischof sees his musical roots in vocal music. After graduating from that school he studied church music and organ at the State University for Music in Würzburg and at the Conservatory of Piteå in Sweden. As a scholarship recipient from the Academic Endowment of the German Bishops' Conference, he completed his studies in 2011 and took the esteemed Artist Diploma in Organ Performance. Among his most influential teachers are Christoph Bossert (organ), Hans-Ola Ericsson (organ), Zsolt Gárdonyi (organ, music theory), Jörg Straube (choral conducting), and Markus Bellheim (piano).
After several years of church music activities in Bamberg, Landshut and Würzburg, Christian Bischof worked at the Basilica of the Benedictine Abbey Scheyern since 2012. In 2013 he became organist and choir director at the large parish church of St. Margaret in Munich. He brought to life several concert series as artistic director. In 2011 he contributed significantly to the renovation and tonal enrichment of the great organ in St. Augustine Church Würzburg.
In his prolific concert activity Christian Bischof focuses on early music as well as the repertoire of the German Romantic era – most particularly that of Max Reger – and also the works of Olivier Messiaen.
Numerous concerts as conductor and organist with famous instrumentalists, ensembles and choirs have taken him to many important places, festivals and organ instruments of most European countries. He is dedicated to historical performance practice and works with original sound ensembles such as the "Concerto München". Christian Bischof has performed several times in the "American Guild of Organists" and "Conference of Organ" in the USA, has been an Artist in Residence at Michigan University, a lecturer in masterclasses, and a juror in competitions. In 2017, a concert tour took him for the first time to the concert halls of Russia. He also works as a Certified Organ Expert (Orgelsachverständiger).