BINA & PLATFORM OF FUTURE ARCHITECTURE / Urban talks / May – October 2020 Program Creative Europe 2018/2021
26.09.2020., 19:00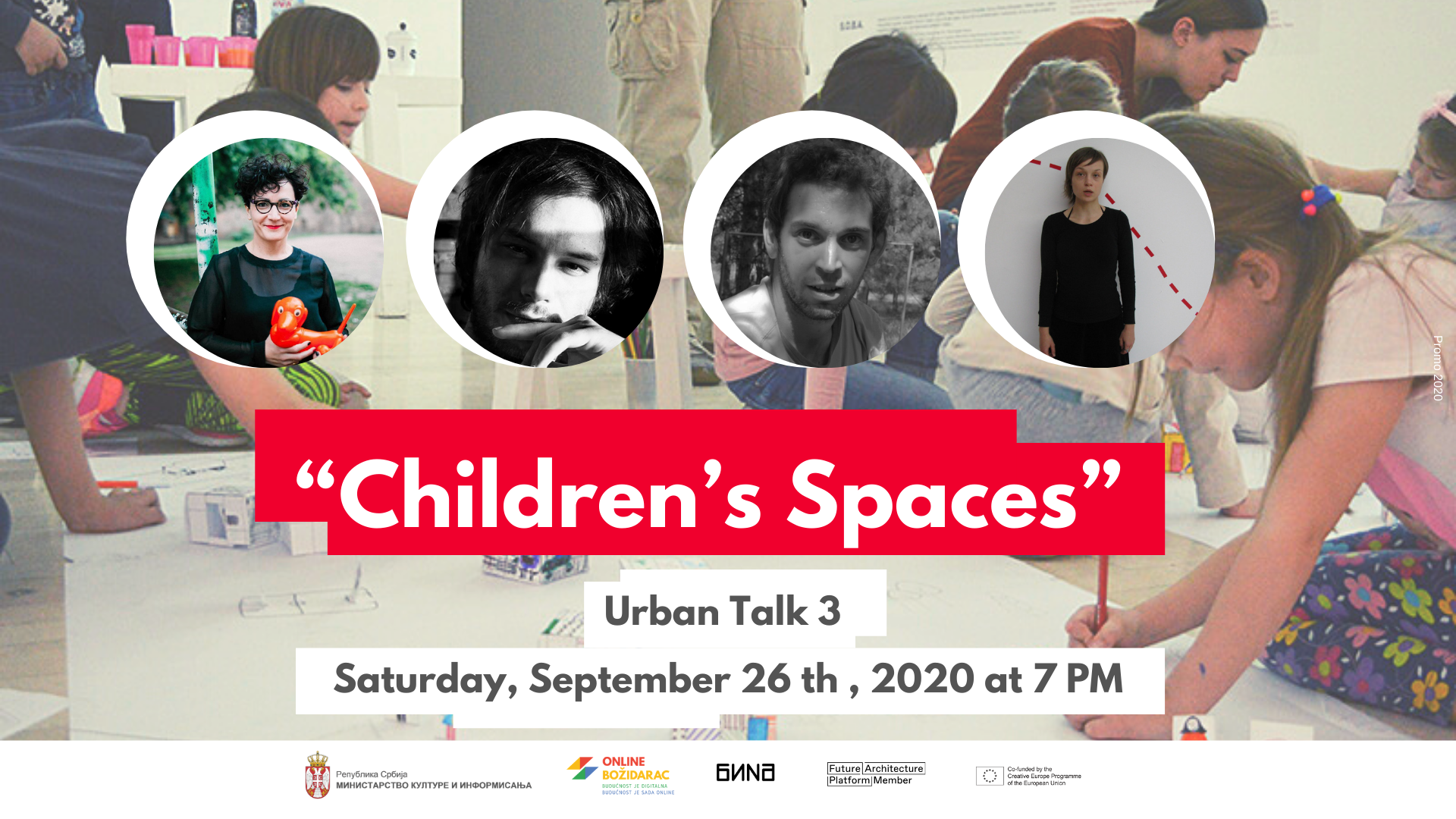 BINA & PLATFORM OF FUTURE ARCHITECTURE / Urban talks / May – October 2020
Program Creative Europe 2018/2021
Urban Talk 3 – Children's Spaces
BINA and Božidarac Digital hereby invite you to attend the Urban Talk 3 "Children's Spaces"
Saturday, September 26th, 2020 at 7 PM
Online Bozidarac Digital
Duration: 120min
Language: English
Please find a registration link here
Panel participants will discuss the topic of children's space design. Why the participatory process is important for their work as designers, architects and educators and whether it is a sustainable, successful, "healthy" city – a city tailored to /designed for children. By taking care of children's needs, do we solve problems of all citizens and other challenges in planning a modern city?
Talk is led by Danica Jovović Prodanović and Tatjana Vukosavljević, BINA team
Participants:
Iza Rutkowska, Wrocław  / PO / izarutkowska.com
Stefan Radošević, Luka Višnjić – AΔA O:TVORENO, Belgrade / RS / ada-otvoreno.wixsite.com/home
Tijana Jovanović Petrović – Kid Hub, Belgrade / RS / kidhub.rs
Museum of Science and Technology, Belgrade / RS / muzejnt.rs
For more about Urban Talks events check out the Urban Talks calendar.
======================
The Future Architecture Platform brings together 26 institutions and organizations from 22 European countries with the intention of presenting visions of the future architecture from the perspective of a generation of professionals just entering the scene and is going to be responsible for the future of the built environment we will live in. The purpose of the platform is to present the work of selected authors in as many countries as possible, and by doing so to establish new contacts and forms of cooperation with the selected authors and between organizations, members of the platform. http://futurearchitectureplatform.org/
Within The Future Architecture Platform, the exhibition Belgrade Energy Spots – BINA 2016 has been dealing with neuralgic points of the city of Belgrade, trying to map places that need new energy and purpose. Belgrade Outskirts – Envision Future  – BINA 2017 Conference focuses on the future of Belgrade rural municipalities. With BUS STOP FACELIFT – BINA 2018 we go a step further, from general to specific and we choose one suburb – LEDINE to realize the reconstruction of the existing bus stops. Urban Talks – BINA 2020 is organizing 5 independent talks about the city, in Belgrade, Novi Sad and Niš. http://www.bina.rs/