Concert "Good Vibrations"
28.09.2020., 20:00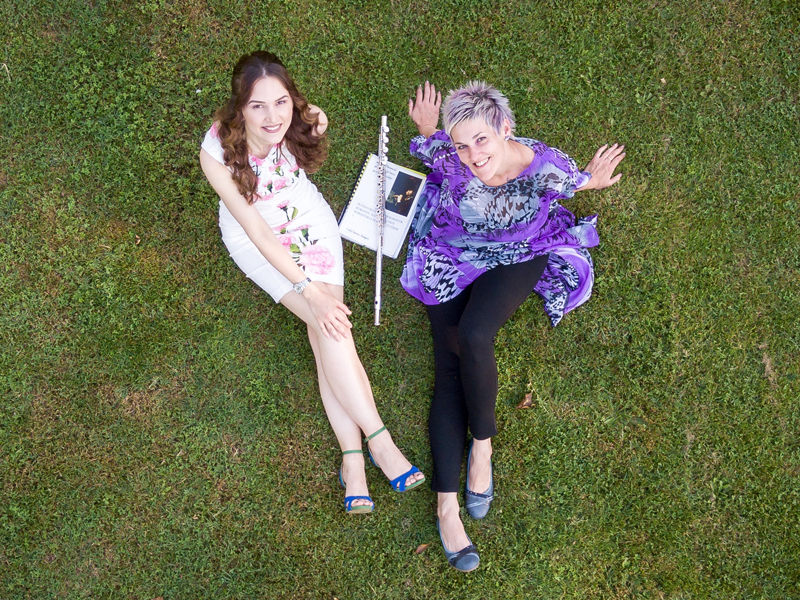 Flutist Sonja Čule and pianist Jovana Branković will play concert program titled "Good Vibrations" and perform for Belgrade audience best-known pieces for flute and piano.
Because of the health and safety guidelines for suppression of the epidemic, number of attendees in the Artget Gallery is reduced to 25, so it is important to book your seat by e-mail lidija.maric@kcb.rs or by phone 011 2622 058 till noon at the day of the concert.
We remind you that it is necessary to wear safety masks and to keep 1.5 meters apart from each other during your stay in the Cultural Centre of Belgrade.
Program:
Carl Philipp Emanuel Bach
First movement of Concerto for flute, strings & continuo in D minor, H. 484.1
I Allegro
Otar Taktakishvili
Sonata for flute and piano in C major
Allegro Cantabile
Aria: Moderato con moto
Allegro scherzando
Claude Debussy
Clair de lune from the Suite bergamasque, L. 75
Robert Dick
Lookout for flute alone
Ian Clarke
Hypnosis for flute & piano
Franz Doppler
Fantaisie hongroise, for flute & piano
Biographies:
Sonja Čule (Zagreb, 1980) began her music education in Banja Luka, and continued studying flute with Ljubomir Dimitrijević in Belgrade. During her schooling, she performed both as chamber and solo musician, and achieved notable results at several national and international competitions. She graduated from the flute department of the Academy of Arts in Banja Luka in 2007 and received her master's degree in 2012 with Laura Levai-Aksin at the same institution. In 2008, in cooperation with the American-Bosnian Cultural Foundation from Sarajevo, Sonja performed with several other young musicians at Carnegie Hall in New York City.  She is a regular participant in events such as the Days of Vlada S. Milošević and the World Music Day, and has been performed in music halls all around Bosnia and Serbia. With her colleagues from the Academy of Arts, Sonja premiered Claude Boling's Jazz Suite for flute, piano, double bass, and drums in Banja Luka and Prnjavor. Sonja is currently teaching flute at the Academy of Arts at the University of Banja Luka, as an associate professor.
Jovana Branković (1994) graduated piano at the Academy of Arts in Banja Luka in 2018 with Snježana Popović-Vuleta, and she is currently attending master studies at the University of East Sarajevo in the class of prof. Zoran Jančić. During her studies, she attended master classes with Aleksandar Serdar, Aleksandar Milošević, Aleksandar Papar (Italy) and Biljana Jakšić-Radovanović. As a soloist and a member of chamber ensembles, she has performed at various events, student concerts and competitions. Jovana is a member of the chamber ensembles Jodezo (two flutes and piano) and Stedajo (piano duo) with which she has won numerous international awards in Italy, Macedonia, and Serbia. She is currently working as a piano teacher at the music school Vlado Milošević in Banja Luka.