Milana Smiljanić, violin and Dinko Blagojević, piano
14.09.2020., 20:00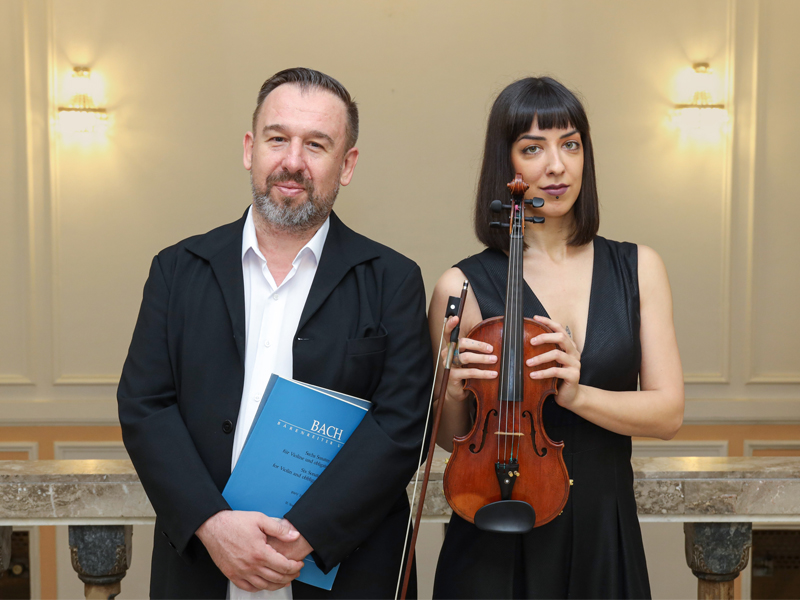 Milana Smiljanic and Dinko Blagojevic successfully collaborate for a long time. They give concerts regularly in Banja Luka and in the region. On this occasion they will perform best-known sonatas for violin and piano.
Because of the health and safety guidelines for suppression of the epidemic, number of attendees in the Artget Gallery is reduced to 25, so it is important to book your seat by e-mail lidija.maric@kcb.rs or by phone 011 2622 058 till noon at the day of the concert.
Program:
Johann Sebastian Bach
Sonata for violin & keyboard No. 6 in G major, BWV 1019
Allegro
Largo
Allegro
Adagio
Allegro
Wolfgang Amadeus Mozart
Sonata for violin & piano No. 25 in F major, K. 377
Allegro
Theme with 6 Variations. Andante
Tempo di Menuetto
César Franck
Sonata for violin & piano in A major, FWV 8
Allegretto ben moderato
Allegro
Recitativo – Fantasia. Ben moderato – molto lento
Allegretto poco mosso
Biographies:
Milana Smiljanić (Sarajevo, 1989) studied Music school Vlado Milosevic in Banja Luka, and continued her studies at Academy of Arts in Banjaluka. She graduated with a master's degree at the same university in 2019. Whilst being a student, Milana performed at numerous concerts and manifestations across Bosnia and Herzegovina, Serbia and Montenegro and achieved rewards at different competitions for young musicians in the region. Milana is a member of Banja Luka Philharmonic Orchestra, ensembles Bandeon Square and Palladio String Quartet, which she actively performs with in throughout Bosnia and Herzegovina and abroad. From 2010 to 2016, she has been working as a professor of violin at the Music school Vlado Milošević. In 2016 she started working as an assistant at the Academy of Arts of the University of Banja Luka.
Dinko Blagojević (Gradiška,1975) finished the elementary music school in Gradiška, and the secondary music school in Banja Luka and Zemun, with Branka Kuzmanović and Zorana Grbić. He graduated at the Faculty of Music in Belgrade with Nevena Popović, and received his master's degree at the Academy of Arts in Banja Luka with the same professor.
During his schooling, he performed as a soloist and a member of chamber ensembles at various music manifestations, and he has won numerous awards and diplomas at competitions in Serbia and abroad.
From the first days of his professional engagement in Banja Luka, he participated in a series of performances and thus contributed to the city's musical and cultural life. He actively works with the Serbian Singing Society Jedinstvo and the women's city choir Lira from Gradiška. He is currently working as an associate professor at the piano department of the Academy of Arts in Banja Luka.
We remind you that it is necessary to wear safety masks and to keep 1.5 meters apart from each other during your stay in the Cultural Centre of Belgrade.