Trio Igor Lazić, Jelena Dimitrijević and Marko Bogdanović
21.09.2020., 20:00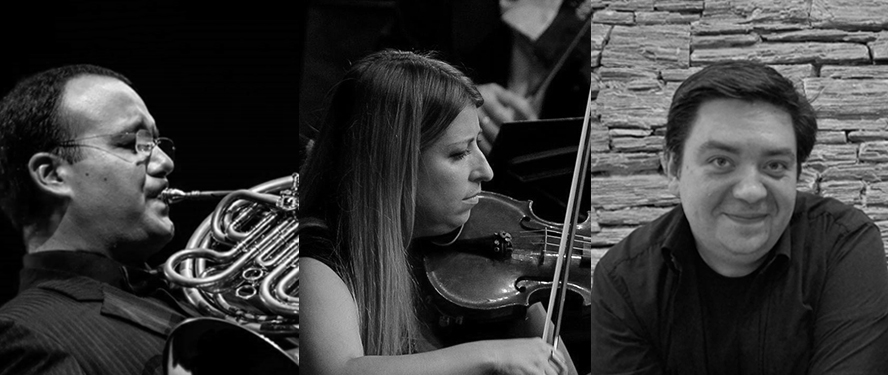 Program:
Carl Reinecke
Trio for piano, oboe & horn in A minor, Op. 188 (version with violin)
Allegro moderato
Scherzo – Molto vivace
Adagio
Finale –  Allegro ma non troppo
Johannes Brahms
Trio for horn, violin & piano in E flat major, Op. 40
Andante
Scherѕo – Allegro
Adagio mesto
Finale – Allegro con brio
Biographies:
Igor Lazić (Belgrade) started playing the horn at the age of ten with Zoran Mrdjenovic. He studied at the Faculty of Music in Belgrade with Stjepan Rabuzin and continued his studies at the High School of Music in Trossingen (Germany) with Francis Orval, where he completed the highest level of studies (Solistische Ausbildung). Igor received his PhD in chamber music with the subject The timbre diversity of the horn in a chamber ensemble with wooden wind instruments. From 2001 to 2011 he was the solo hornist of the Belgrade Philharmonic orchestra and in that period, he worked with world famous artists such as Zubin Mehta, Sir Neville Mariner, Karl Anton Richenbacher, Nigel Kennedy, Sarah Chang, Maxim Vangerov, and many others.  Since 2003, Igor has been working at the Faculty of Music in Belgrade, currently teaching as an associate professor at the Department of Chamber Music. Igor performs as a soloist and chamber musician across the country and abroad.
Jelena Dimitrijević (Belgrade) graduated at the Faculty of Music in Belgrade, where she also obtained her master's degree with Jasna Maksimović. As a member of the World Youth Orchestra and the Youth Orchestra Gustav Mahler, Jelena has performed on tours throughout Europe and Asia. She holds several First prizes at the Republic Competition, as well as the special award of the international competition Petar Konjović. She is a permanent member of the ensemble of Isidora Žebeljan, as well as a part-time associate of the Belgrade Opera Orchestra, the Camerata Academic Orchestra from Novi Sad, and the Construction Site ensemble. As the leader of second violins of the No Border Orchestra, she participated in the production of the chamber opera Macbeth in collaboration with a South African director and singers. This performance has been very successfully performed at festivals around the world. Since 2006, she has been a member of the Belgrade Philharmonic Orchestra, and a concertmaster for two years as well.
Marko Bogdanović (Belgrade, 1982) graduated from the piano department of the Faculty of Music in Belgrade (2009), studying with Aleksandar Šandorov and Aleksandra Pavlović. He is currently attending his doctoral studies at the Department of Chamber Music with Ljudmila Popović. Marko has won awards at domestic and international competitions, the most important of which are the Second prizes at the Nikolai Rubinstein International Competition (Paris, 1997), the Frederic Chopin International Competition for Young Pianists (Rome, 1998), and the First prize at the Republic Competition in Belgrade (1999). During his schooling, he performed both as a soloist and a member of an ensemble in Serbia and abroad, including his most significant solo concert with the ensemble of the Serbian Army Stanislav Binički in 2008. Marko works as a piano teacher and piano associate at the music school Josif Marinković in Belgrade, and as a part-time artistic associate at the Music Academy in Cetinje. He is active as chamber musician and regularly performs in various ensembles.