20th International Festival "Days of Organ – Dies organorum": DALIBOR MIKLAVČIČ
11.10.2020., 20:00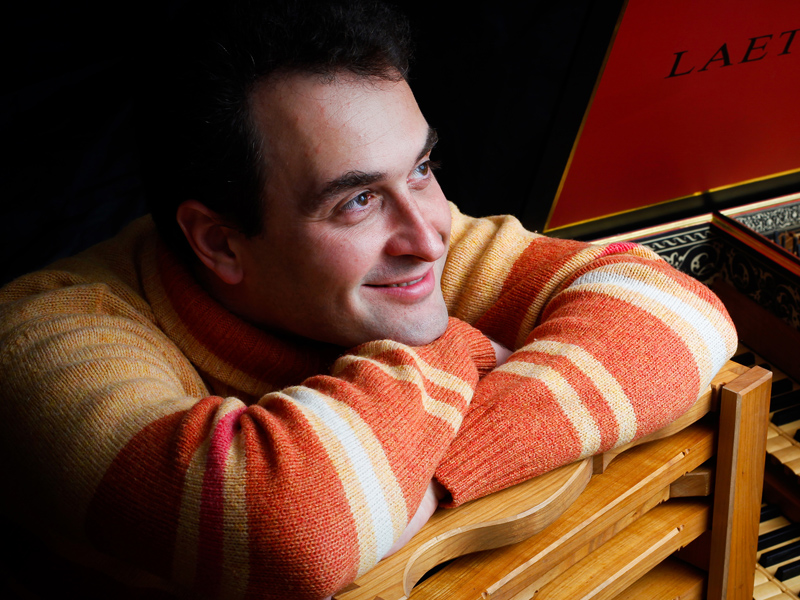 The opening of the 20th edition of the Days of Organ is an opportunity to recall the beginnings and to meet again with a friend, associate, and former selector of the Festival program, organist, and professor from Ljubljana, Dalibor Miklavčič.
Because of the health and safety guidelines for suppression of the epidemic, the number of attendees in the Blessed Virgin Mary Cathedral is reduced to 100, so it is important to book your seat by e-mail lidija.maric@kcb.rs or by phone 011 2622 058 till noon at the day of the concert.
We remind you that it is necessary to wear safety masks and to keep 1.5 meters apart from each other during your stay in the Cultural Centre of Belgrade.
Video is available here.
This year, entrance to the Blessed Virgin Mary Cathedral is possible only from the 66 Internacionalnih brigada street.
Program:
Paul Hofhaimer (1459-1537)
Salve Regina, Mater misericordiae
Performing with choir Vox Organalis
Eustache Du Caurroy (1549-1609)
3 Fantasies on Marian Hymn Une Jeune Fillette
a 3 (Une jeune fillette de noble coeur)
a 4 (Voisi l'ancelle du Sauveur Jésus-Christ)
a 5 (Mon âme magnifie Dieu mon Sauveur)
Performing with choir Vox Organalis
Johann Sebastian Bach (1685-1750)
Concerto for solo organ No. 1 in G major, BWV 592
Ordinario – Grave – Presto
Dalibor Miklavčič (1971)
Improvisation on given themes
Maurice Duruflé (1902–1986)
Prelude and fugue on name Alain, Op. 7
Jehan Alain (1911–1940)
Litanies, JA 119 (commemorating  the composer's  80th death anniversary)
Biography:
Dalibor Miklavčič (Ljubljana, 1971) studied organ and composition in Vienna (the University of Music and Performing Arts) before specializing in Early Music in Milan with Lorenzo Ghielmi. During his studies, he had won several prizes at European organ competitions (EMCY 1989 and 1992) and had performed around Europe and Asia. Dalibor is dedicated to research and interpretation on two peculiar instruments: pedal pianoforte and pedal harpsichord, for which performances he received positive reviews across Europe.  He currently works on the reconstruction of a pedal pianoforte from the 19th century. His organ CDs were acclaimed in the international press (Orgel International, Germany). Miklavčič has also recorded with mezzo-soprano Bernarda Fink and bass-baritone Marcos Fink. Miklavčič gives masterclasses at leading music institutions in Europe (Royal College of Music in London, Lübeck Academy of Music, Franz Liszt Music Academy in Budapest, Vienna Conservatory, School of Music and Drama at the University of Gothenburg …) and teaches at summer masterclasses all over Europe. He is a jury member of international organ competitions, such as 'Wettstreit an der Bachorgel' in Arnstadt. Miklavčič performs in a duo with baroque violinists (S. Standage, E. Onofri…) and as a keyboard soloist with 'Haydn Sinfonietta Wien' orchestra. Dalibor Miklavčič served as the President of the Slovenian Organ Society (2000-2005). Since 1995 he has designed 25 new organs for Slovene organ builders (including copies of internationally recognized instruments by Z. Hildebrand and A. Cavaillé-Coll) and has made a great effort to popularize organ music throughout the country by performing over 100 concerts which have been broadcasted on Radio Slovenia. As a visiting professor, in the period from 2006 to 2009, Miklavčič taught organ and improvisation at the University of Music in Graz. Since 2000 he has been a professor of organ at the Institute of St. Stanislav in Ljubljana, and since 2007, has been working as a lecturer at the Academy of Music of the Ljubljana University.
Dalibor Miklavčič and the Festival Days of Organ – Dies organorum
Dalibor Miklavčič was an important member of the team that founded the Festival Dies organorum. He performed at the first edition of the Festival on July 1, 2001, and held an intensive 4-day masterclass for organ students from Belgrade, preparing them for the final concert of the Festival. This became a tradition – the Festival had been closed with a concert by the participants of the Summer Organ School. In the first decade of the festival, Miklavčič was an advisor, program selector, lecturer, but above all – a friend. He was dedicated to the promotion of Days of Organ at the European music scene. After the first edition, he performed at the Festival in 2006, and 2007, and at the 10th jubilee edition in 2010. It has been a great honor to have Dalibor Miklavčič celebrating the 20th anniversary of the Festival with us, despite all the difficulties.
Festival "Days of Organ" is supported by the Ministry of Culture and Information of the Republic of Serbia.