20th International Festival "The Days of Organ – Dies organorum": PAVEL KOHOUT
15.10.2020., 20:00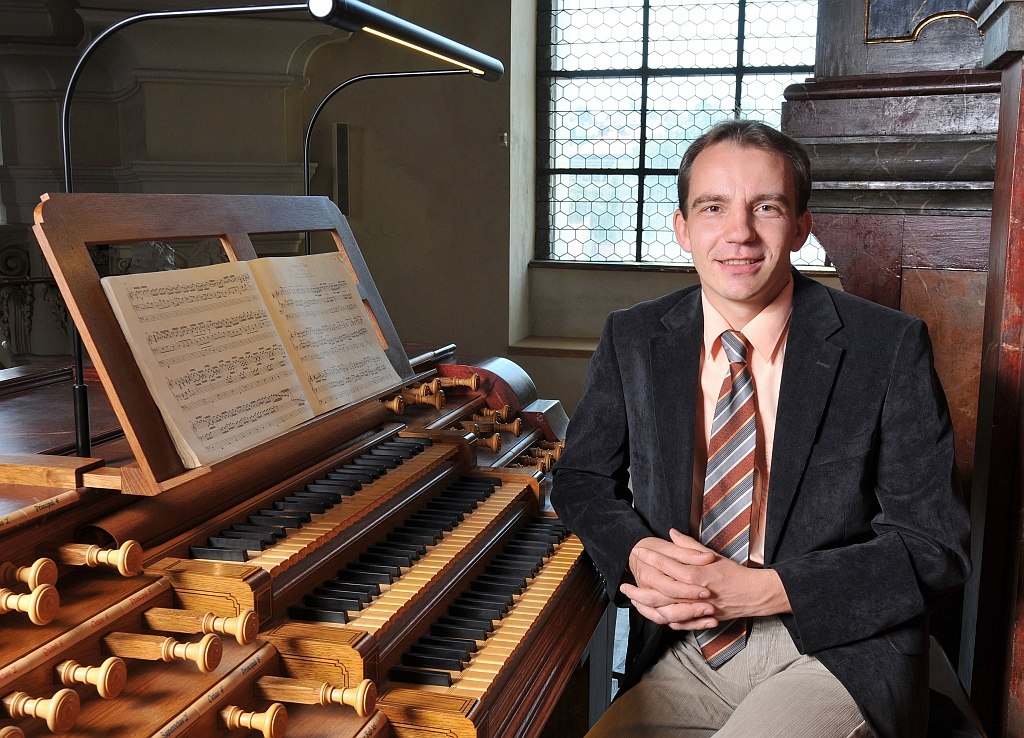 Czech organist Pavel Kohout has performed six times in Belgrade thus far, each time within the festival programme, presenting to the audience a diverse selection of virtuoso works and transcriptions of famous orchestral compositions. He chooses compositions by Czech authors with special care, promoting the Czech organ school. As a foreign musician who performed at Days of Organ the most, he will also present an interesting program at the jubilee edition of the festival.
Because of the health and safety guidelines for suppression of the epidemic, the number of attendees in the Blessed Virgin Mary Cathedral is reduced to 100, so it is important to book your seat by e-mail lidija.maric@kcb.rs or by phone 011 2622 058 until noon at the day of the concert. Recording of the concert is available at the Cultural Centre of Belgrade YouTube channel (here).
We remind you that it is necessary to wear safety masks and to keep 1.5 meters apart from each other during your stay in the Cultural Centre of Belgrade.
This year, entrance to the Blessed Virgin Mary Cathedral is possible only from the 66 Internacionalnih brigada street.
Program:
Johann Sebastian Bach (1685–1750)
Prelude and Fugue in E flat Major, BWV 552
Dietrich Buxtehude (1637–1707)
Ciacona in E Minor, BuxWV 160
Johann Gottfried Walther (1684–1748)
Organ Concerto in B Minor, LV 133 (after Vivaldi's Violin Concerto in E Minor, RV 275)
Allegro
Adagio
Allegro
Josef Klička (1855–1937)
Concert Fantasia on the symphonic poem Vyšehrad by B. Smetana, Op. 33
Luis Vierne (1870–1937)
Clair de lune, op. 53
César Franck (1822–1890)
Choral in A Minor, FWV 40
Biography:
The Czech concert organist Pavel Kohout gained world recognition as a brilliant organ virtuoso for his exceptional sense of music, astounding technique, and natural interpretation.
Already at the age of 24, he became First Prize, Gold Medal, and J. S. Bach Prize Winner at prestigious Int. Organ Competition in Musashino – Tokyo, one of the world´ uvući s largest international music competitions, opening the door to all kinds of concert venues, famous concert halls, universities, cathedrals, churches around the world. He is today regarded as one of the finest European concert recitalists. Pavel won additional First Prizes at international competitions in Ljubljana 1995 and 1998, Vilnius 1999, and several other major prizes and diplomas at international organ competitions in Prague, Poznan, Kaliningrad, Brugges, and Lübeck, including the "Dancing Angel" Prize, awarded from the European Union of Music Competitions.
Kohout performs widely as a solo concert organist, orchestra soloist in all countries of Europe, USA, Asia, Japan, South Korea, Australia, and New Zealand. He performed at international music festivals in Praha, Paris, Moscow, Amsterdam, Jerusalem, New York City, as well as at prestigious concert venues like Berlin Concert House, Sydney and Melbourne Town Halls, Suntory Hall Tokyo, International House of Music in Moscow, cathedrals of Notre Dame de Paris, Bordeaux, Lisbon, Berliner Dom, Freiburger Münster, Stanford and Cornell University and many others.
Pavel is a graduate of the Prague Conservatory and the Music Faculty of the Academy of Performing Arts in Prague, under the tutelage of  Jaroslav Tůma and Anna Machova. He continued his studies of historical performance practice with renowned specialist Jacques van Oortmerssen at the Amsterdam Conservatory. In 2010 he obtained a PhD in the historical performance practice of the South German and Czech baroque organ music at the Academy of Performing Arts in Prague.
Pavel Kohout teaches at international master-classes and gives lectures worldwide, acts as a competition juror, cooperates with Czech National Radio on the project "Historical Organs" and other world radio and tv stations, and preparing and recording new music editions. His CD records include performances at the oldest Prague´s historical organ (Mundt 1673) in the Church of Our Lady of Tyn in Prague, Katzer & Weltzel organ (1738) in Prague´s Loreto, a CD collection of tree remarkable historical instruments of Bohemia and Moravia, and CD of Baroque organs of Slovenia.
More info
Festival "Days of Organ" is supported by the Ministry of Culture and Information of the Republic of Serbia.