BINA & PLATFORM OF FUTURE ARCHITECTURE / Urban Talks / May – October 2020 Program Creative Europe 2018/2021
11.10.2020., 19:00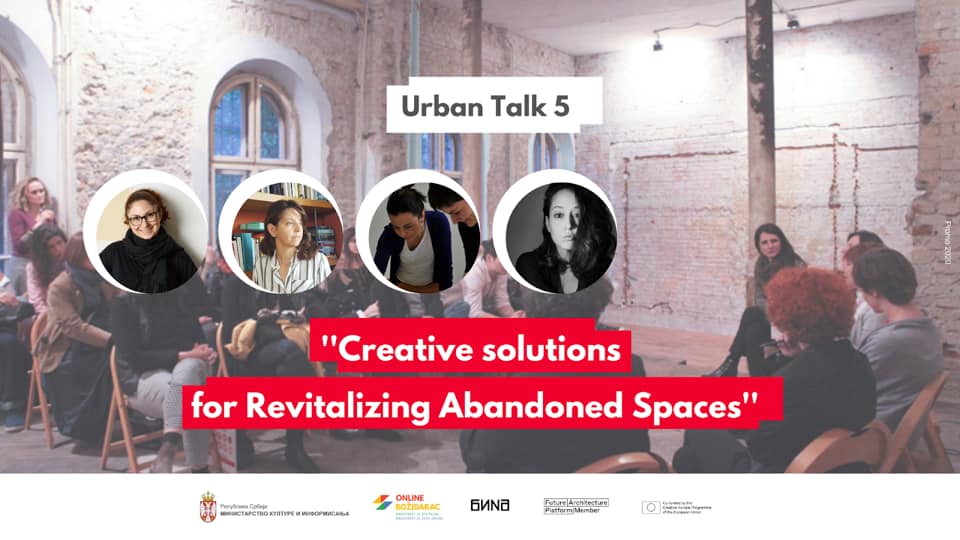 BINA & PLATFORM OF FUTURE ARCHITECTURE / Urban Talks / May – October 2020 Program Creative Europe 2018/2021
Urban Talk 5 – Creative solutions for Revitalizing Abandoned Spaces
BINA, DaNS and Bozidarac Digital hereby invite you to attend the Urban Talk 5 "Creative solutions for Revitalizing Abandoned Spaces"
Sunday, October 11th, 2020 at 7 PM
Online Bozidarac Digital
Duration: 120min
Language: English
Please find a registration link here
Panel participants will discuss the topic of the revitalization of spaces and cultural and social innovation. Small interventions with simple resources and innovative solutions are the perfect way to bring back to life neglected alleys, plazas, highways, buildings along with other different spaces and incorporate them into the cities' once again. Historic buildings are refurbished and adaptive reuse takes care of its new possibilities. Preserving cultural heritage enables the community to face its own historical development, to reflect on its knowledge and significance in this contemporary moment. Nurturing historical heritage opens up the possibility for intersecting different epochs of habitation and creativity.
The talk is led by Danica Jovović Prodanović, BINA and Violeta Stefanović, DaNS
Participants:
Silvia Tagliazucchi, Federica Rocchi – AMIGDALA, Modena, / IT / amigdalaperiferico.wordpress.com
Miljana Zeković, Višnja Žugić – Ephemera Collective, Novi Sad / RS / ephemeracollective.org
Maja Momirov – BAZA – platform for spatial praxis, Novi Sad / RS / mismobaza.org
For more about Urban Talks events check out the Urban Talks calendar.
The Future Architecture Platform brings together 26 institutions and organizations from 22 European countries with the intention of presenting visions of the future architecture from the perspective of a generation of professionals just entering the scene and is going to be responsible for the future of the built environment we will live in. The purpose of the platform is to present the work of selected authors in as many countries as possible, and by doing so to establish new contacts and forms of cooperation with the selected authors and between organizations, members of the platform.
Within The Future Architecture Platform, the exhibition Belgrade Energy Spots – BINA 2016 has been dealing with neuralgic points of the city of Belgrade, trying to map places that need new energy and purpose. Belgrade Outskirts – Envision Future – BINA 2017 Conference focuses on the future of Belgrade rural municipalities. With BUS STOP FACELIFT – BINA 2018 we go a step further, from general to specific and we choose one suburb – LEDINE to realize the reconstruction of the existing bus stops. Urban Talks – BINA 2020 is organizing 5 independent talks about the city, in Belgrade, Novi Sad and Niš.