Jovana Lazić (flute) and Marko Bogdanović (piano)
05.10.2020., 20:00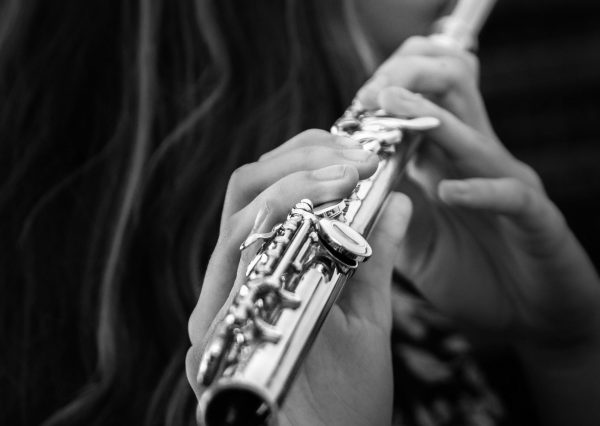 According to the safety guidelines regarding the current situation of the pandemic, this fall the Cultural Centre of Belgrade will start traditional concert season Concerts in Gallery under special conditions. Programs will be held every Monday at 20:00 in the Artget Gallery.
Because of the health and safety guidelines for suppression of the epidemic, the number of attendees in the Artget Gallery is reduced to 25, so it is important to book your seat by e-mail lidija.maric@kcb.rs or by phone 011 2622 058 till noon at the day of the concert.
We remind you that it is necessary to wear safety masks and to keep 1.5 meters apart from each other during your stay in the Cultural Centre of Belgrade.
Program:
Robert Schumann
Three Romances, Op. 94
Nicht schnell
Einfach, innig
Nicht schnell
Sergey Rachmaninoff
Vocalise, Op. 34/14
Robert Schumann
Adagio and Allegro, Op. 70
Paul Hindemith
Sonata for flute and piano
Heiter bewegt
Sehr langsam
Sehr lebhaft – Marsch
Biographies:
Jovana Lazić (Belgrade, 1985) graduated in 2009 from the Faculty of Music in Belgrade with Ljubiša Jovanović. During her studies, Jovana got acquainted with the technique of playing the traverso flute and became a permanent member of the Baroque Ensemble of the FMU. She won the scholarship of the Interlochen art camp in Michigan where she studied with renowned world professors. Since 2009 she has been playing the second flute and piccolo flute part-time in the orchestra of the Terazije Theater, and at the same time she collaborated with the Belgrade Philharmonic Orchestra.  In 2010, she has acquired the status of a freelance artist and since then has held numerous recitals in renowned galleries and cultural institutions in Serbia. She was performing the second flute and piccolo with the New Symphony Orchestra of the Makris Foundation, and with the orchestra of the National Theater. Jovana also participated in the premiere of Udo Zimmerman's opera Weisse Rose, part of the Sofia Perović's project.
Marko Bogdanović (Belgrade, 1982) graduated from the piano department of the Faculty of Music in Belgrade (2009), studying with Aleksandar Šandorov and Aleksandra Pavlović. He is currently attending his doctoral studies at the Department of Chamber Music with Ljudmila Popović. Marko has won awards at domestic and international competitions, the most important of which are the Second prizes at the Nikolai Rubinstein International Competition (Paris, 1997), the Frederic Chopin International Competition for Young Pianists (Rome, 1998), and the First prize at the Republic Competition in Belgrade (1999). During his schooling, he performed both as a soloist and a member of an ensemble in Serbia and abroad, including his most significant solo concert with the ensemble of the Serbian Army Stanislav Binički in 2008. Marko works as a piano teacher and piano associate at the music school Josif Marinković in Belgrade, and as a part-time artistic associate at the Music Academy in Cetinje. He is active as chamber musician and regularly performs in various ensembles.