17th International Festival "Harpsichord, Living Art": MEJ MANSOURI / MILAN POPOVIĆ
17.11.2020., 18:30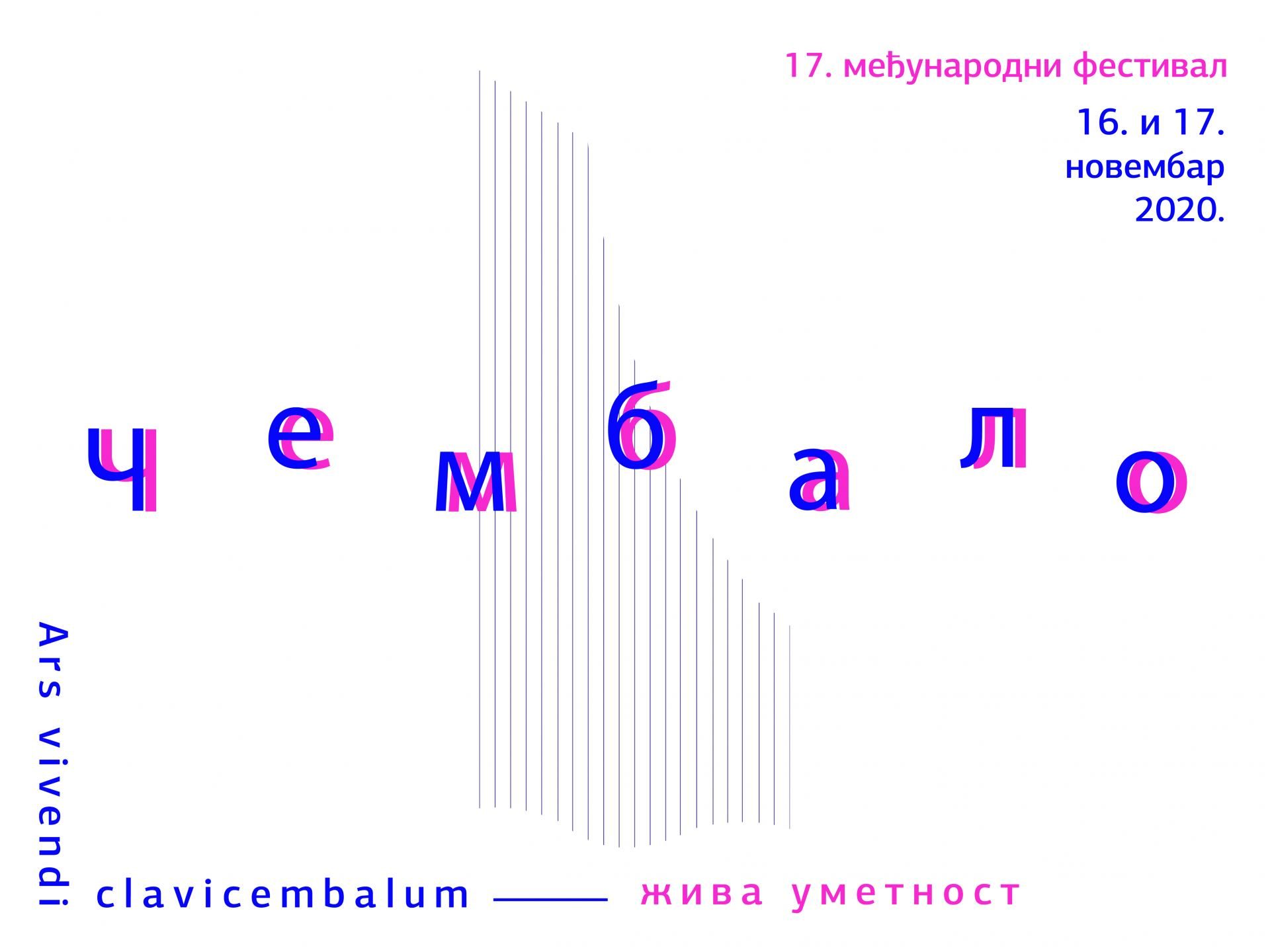 The second evening of the Festival is an opportunity to hear the debut performance of young harpsichordist May Mansouri, and Milan Popović's recital. The concept of their program emphasizes the importance of music and art in times of difficulties and disasters whose outcome has been impossible to predict.

Tuseday, 17th November at 18:30
SECOND EVENING OF THE FESTIVAL
Peculiarities of unusual in the Baroque
MEJ MANSOURI, harpsichord
A Masked Ball – music from the times of large epidemics
MILAN POPOVIĆ, harpsichord
Because of the health and safety guidelines for suppression of the epidemic, number of attendees in the City Hall is reduced to 50, so it is important to book your seat by e-mail lidija.maric@kcb.rs or by phone 011 2622 058 till noon at the day of the concert.
First part
Peculiarities of unusual in the Baroque
MEJ MANSOURI, harpsichord
Young harpsichordist Mej Mansouri, who recently graduated from FMU in Belgrade, has got the opportunity to present her performance to the Festival's audience. For her recital, she chose works by composers from different European countries, compositions that blend pure baroque spirit and the essence of the sound of the harpsichord.
Program:
Johann Jakob Froberger (1616–1667)
Toccata No. 2 in D minor
Manuel Blasco de Nebra (1750–1784)
Sonata in F sharp minor, Op. 1, No. 5
Jean-Philipe Rameau (1683–1764)
From Suite in D major, Pièces de Clavecin
Les Soupirs (The Sighs)
La Joyeuse (The Joyous)
L'Entretien des Muses (Conversation of the Muses)
Les Cyclopes (Cyclops)
Antoine Forqueray (1672–1745)
Suite No. 4 in G minor
La Marella
La Sainscy
Le Carillon de Passy
La Latour
Biography: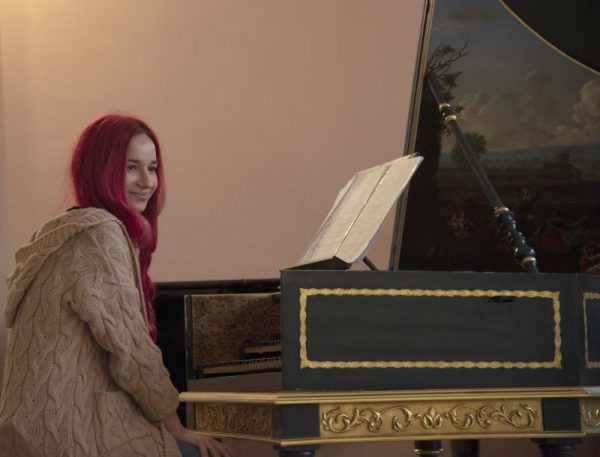 Mej Mansouri (1997, Belgrade) started learning piano when she was five years old at the music school Vatroslav Lisinski with prof. Ana Rančić. Simultaneously, she was attending harpsichord classes at the Department of Early music at the music school Josip Slavenski with prof. Svetlana Stojanović Kutlača. During her schooling, she has won awards at school, national and international competitions. She completed her bachelor studies of harpsichord at Faculty of Music in Belgrade, where she is currently attending her master program with prof. Milan Popović.
Mej performed in the concert halls of the Faculty of Music, Artget Gallery, Theatre Vuk, the Atrium of the National Museum, and the SKC hall, both as a soloist and chamber performer. Since 2016, she is an active participant of Harpsichord Festival master workshops, and the concert series Baroque Evenings at the Faculty of Music. She also participated in the Belgrade Baroque Association workshops, the Baroque Studio of Mariana Mijanović, and in the Tage der Alten Musik courses in Austria, working with Jory Vinikour, Anne Marie Dragosic, Ottaviano Tenerani, Frederick Haas, Marijana Mijanović, Ricardo Barros, Daniel Boccaccio, Maria del Mar Blanco Moreno, Egon Mihajlović and others.
Second part
A Masked Ball – music from the times of large epidemics
MILAN POPOVIĆ, harpsichord
… and humanity has always encountered problems and catastrophes whose course and outcome could not be anticipated. Even in those crucial moments, art and music were the refuge of serenity, the peaceful haven in which, in the company of a small or large number of close and dear people, the inevitability of current events could be forgotten for a moment.
Program:
Carlos de Seixas (1704–1742)
Sonata No. 40 in F major
Allegro
Gigue
Menuetto
François Couperin (1668–1733)
Pièces de Clavecin (excerpts)
La Superbe ou La Forqueray
Les Rozeaux
Les  Barricades mystérieuses
Le Gaillard-Boiteux
La Muse-Plantine
L'Arlequin
Johann Kuhnau (1660–1722)
Sonata for keyboard in 8 movements The Fight Between David and Goliath (Biblical Sonata No. 1)
The boasting and ranting of Goliath
The trembling of the Israelites and their prayer to God at the appearance of the horrible enemy
The courage of David, his eager desire to crush the giant's proud defiance and His Innocent Trust in God's Assistance
The combat between the two and their struggle; the stone is thrown from the slingshot int
The flight of the Philistines, who are pursued and slain by the Israelites (Escape of the Philistines, Pursued by the Israelites Who Impale Them with Their Swords)
The joy of the Israelites over their Victory
The Musical Concert of the Women in honor of David
The general Rejoicing, and the dances of joy of the People
Domenico Scarlatti (1685–1757)
Sonata in G minor – Andante, K 426
Sonata in  B flat major – Allegro, K 70
Sonata in F major – Allegro, K 524
Sonata in A major – Allegro vivo, K 113
Biography: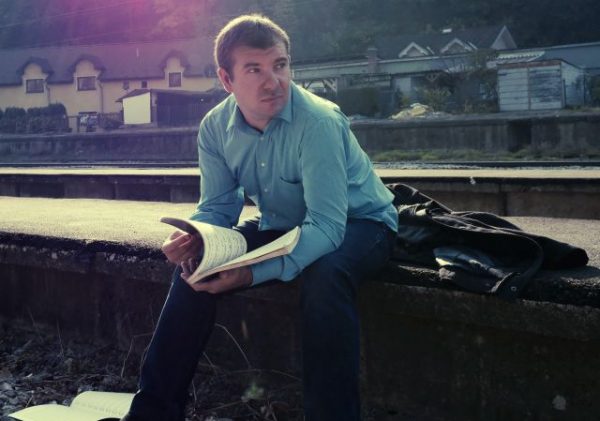 Milan Popović (Belgrade 1985), MA, DMA, graduated (BA in Harpsichord and Piano) at the Faculty of Music in Belgrade, where he also finished his postgraduate harpsichord studies (DMA), under the tutelage of prof. mr Zorica Ćetković. In 2013, he successfully defended the thesis of his doctoral art project named Interpretative connections between 18th and 20th century French Keyboard Music. Since 2014 he has been elected as Assistant Professor of Harpsichord at the Faculty of Music in Belgrade.
During his schooling, he attended numerous master classes held in the country and abroad. He was a fellowship holder of the Austrian Baroque Academy from Gmunden and worked with numerous harpsichord players, such as Egon Mihajlović (Germany), Siegbert Rampe (Germany), Blandine Rannou (France), Jory Vinikour (USA), Maria Louisa Baldassari (Italy), Erich Traxler (Austria), Anne Marie Dragosits (Austria), Eugene Michelangely (France).
Milan Popović won several awards and recognitions at competitions of domestic and international character. His music repertoire includes the French and German harpsichord music of the 17th and 18th century, as well as harpsichord repertoire of the 20th century. Within this, he explores the development of the harpsichord in the 20th century, frequently performing on a modern type of harpsichord.
Milan Popovic actively performs as a soloist and chamber musician (he held recitals and guest appearances in Serbia, Austria, Croatia, Bulgaria, Bosnia and Herzegovina, Spain), and is regular guest on the numerous baroque music festivals: Ars Vivendi Clavicembalum (Serbia), Trigonale (Austria), Aestas Musica (Croatia), Early Music Festival – FERAM (Serbia).
As a soloist, he performed with The Serbian Army Orchestra Stanislav Binički, Faculty of Music Orchestra, acting also as a collaborator of the Serbian Radio and Television Symphony Orchestra, as well as a continuo collaborator of Aestas Baroque Orchestra and The Baroque Orchestra of the New Belgrade Opera. He is a member of the Early Music Ensemble Temenos.
His live performance recordings were broadcasted by Serbian Radiotelevision and Austrian Radio ORF. Milan Popović is initiator and Artistic coordinator of the manifestation Days of Early Music (holding on the Faculty of Music from 2013 onward), under the support of European Early Music Network.
He was a guest professor at The University of Slobomir P in Bijeljina (Bosnia and Herzegovina) and Conservatorio Superior de Música de Vigo (Spain).