Milan Savić, saxophone and Uki Ovaskainen, piano
01.02.2021., 20:00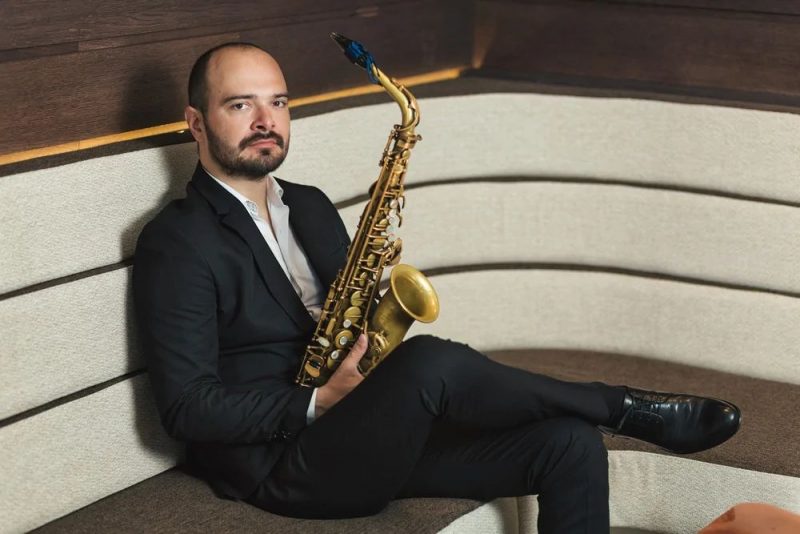 Guest: Ana Radovanović, mezzo soprano
According to the health and safety guidelines for suppression of the epidemic, the number of attendees in the Artget Gallery is reduced to 20. It is important to book your seat by e-mail damjana.njegic@kcb.rs or by phone 011 2622 058 not later then noon at the day of the concert.
We remind you that it is necessary to wear safety masks and to keep 1.5 meters apart from each other during your stay in the Cultural Centre of Belgrade.
Program:
Alexander Glazunov
Saxophone Concerto in E flat major, Op. 109
Allegro moderato
Andante
Allegro
André Jolivet
Fantaisie-Impromptu for saxophone and piano
Fernande Decruck
Sonata in C harp for saxophone & piano
Très modéré, expressif
Andante
Fileuse (Légèrement animé)
Nocturne et finale (Calme, très modéré)
Ivan Brkljačić
Peter and New York for female voice and alto saxophone
Francesco Santucci
Belgrade Tango
Biography:
Milan Savić graduated saxophone at the Academy of Arts in Novi Sad, and clarinet at the Faculty of Music in Belgrade. During his musical development, he attended many schools and seminars with renowned professors abroad.
Since 2006 he has been working at the Music School Josip Slavenski as a teacher of saxophone and clarinet, and his students have won many awards at republic and international competitions. He performed as a soloist and held master classes in the country and abroad: Alpen Classica Fest – Italy, Olympic Sax Festival – Greece, concert tour in France with pianist Uki Ovaskainen, performed as a soloist with Belgrade Philharmonic Orchestra, RTS Symphony Orchestra, Chamber Orchestra Metamorfozis, Grand Chamber Orchestra, recorded for Radio Belgrade and premiered compositions by Ivan Jevtic, Ivan Brkljačić, Ante Grgin, Aleksandar Sedlara and others. As an orchestral musician, he is engaged in orchestras of the Belgrade Philharmonic Orchestra, RTS Symphony Orchestra, with whom he performed at concerts and tours in the country and abroad.
Milan Savić is the director of the international saxophone festival Belgrade Saxperience. On the year of 2017 he was awarded by the French Ministry of Culture and Literature as Knight of Arts.
Uki Ovaskainen is the winner of the 1st prize, the special prize Contemporanea, as well as the prize of the audience at Premio Jaen piano competition in Spain.  He performs regularly as a soloist and chamber musician throughout Europe. He has played eight different solo recitals during 11 days at the Royal Danish Academy of Music in Copenhagen, which is the biggest individual project ever at the Academy. He studied at the Sibelius Academy in Helsinki, in Copenhagen with prof. Jose Ribera, and in Hannover Hochschule with prof. Matti Raekallio. Uki Ovaskainen has performed as a soloist with Sjaelland and Aalborg Symphony Orchestras, in Konzerthaus in Vienna, in chamber music concerts of the Vienna Chamber Orchestra, worked as a correpetitor for Opera Faber in Portugal, played piano parts in professional orchestras in Denmark and in Serbia, worked with professional choirs, and performed at more than 200 concerts on four continents as a member and pianist of the Tapiola Choir. He is an official accompanist at competitions organized by Jeunesses musicales in Belgrade. He works as an accompanist for strings at the Belgrade Faculty of Music.
Ana Radovanovic has graduated classical singing and finished PHD studies in chamber music at the Faculty of music in Belgrade (Serbia). Her professional engagement includes both operatic roles and concerts. As a member of Opera studio of the Belgrade National Theatre she performed a role of the Shepherd in Puccini's Tosca and the role of Frugola in Puccini's Il Tabbaro. In 2009 she performed the role of Agathe in Les Enfants Terribles by Phillip Glass, and also  took part in world premiers of two operatic works by Serbian contemporary composers: Who killed Princess Mond (Tatjana Milosevic) and St Peterburg (Branka Popovic).
She is also active as a chamber musician, with an affinity towards modern repertoire. Since the 2005 she performed in various chamber music concerts in Serbia (Kolarac Concert Hall in Belgrade, Belgrade Philharmonic, Belgrade National Theater, Madlenianum Theater Belgrade, etc.).
Ana is a member of the board of directors of The Construction Site Contemporary Music Ensemble. Whit this ensemble she has performed contemporary chamber music in Serbia, Montenegro, Croatia, Lithuania and Israel and premiered over thirty compositions written by Serbian composers. Also, The Construction Site Contemporary Music Ensemble is a founder of the first regional Festival of contemporary music ReConstruction.
She is also a member the INSAM institute for Contemporary Artistic Music in Bosnia and Herceovina, and a teacher of classical singing in the music highschool since 2012.