Ljiljana Vukelja, piano – Online Concert
22.03.2021., 20:00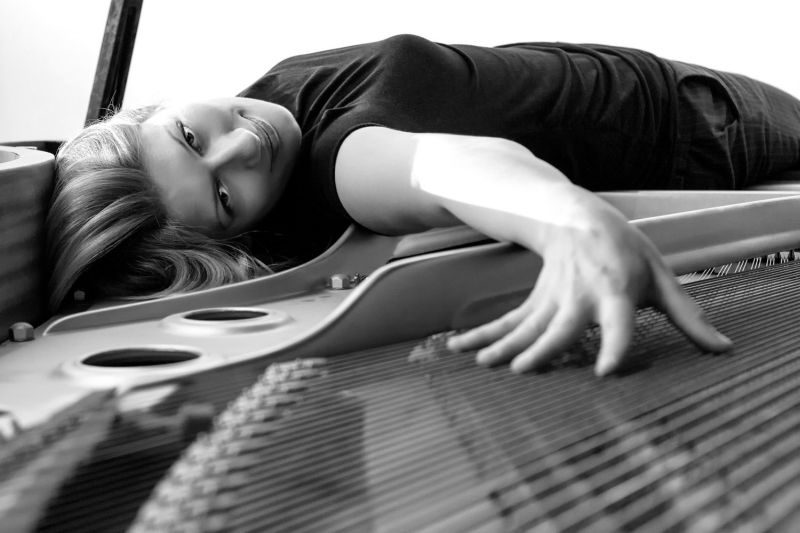 Concert is organized in cooperation with UMUS (Association of Music Artists of Serbia)
According to the health and safety guidelines for suppression of the epidemic, concert will be held online at the Cultural Centre of Belgrade YouTube channel.
Program:
Ludwig van Beethoven
Piano Sonata No. 31 in A flat major, Op. 110
Moderato cantabile, molto espressivo
Allegro molto
Adagio ma non troppo. Fuga. Allegro ma non troppo
Piano Sonata No. 32 in C minor, Op. 111
Maestoso. Allegro con brio ed appassionato
Arietta. Adagio molto, semplice e cantabile
Vladimir Tošić
Retude for piano No. 6
Maurice Ravel
La Valse
Biography:
Ljiljana Vukelja received her first piano lessons from her mother in the age of 4. She earned her Bachelor's (1996) and Master's (1999) diplomas under Professor Nevena Popovic at the Faculty of Music in Belgrade (Serbia). She continued her studies Hochschule für Musik Freiburg (1998-2000, Germany) with the renowned French pianist Michel Beroff. She had an opportunity to perform with Timisoara Philharmonic Orchestra led by Suisse conductor and pianist Jean-Francois Antonioli in 2002. After this colaboration, she continued her studies with prof. Antonioli at the Conservatoire de Lausanne. She widened her performing experience through many master classes with famous musicians like D. Bashkirov, A. Starkman, Michel D'Alberto and Jean-Claude Pennetier. In 2007, she entered PhD in the performing arts, which she defended in 2010 (on the topic of music in Paris, in early XX century, by Ravel, Dutilleux and Enescu) with Professor Dejan Sinadinovic at the Faculty of Music Art Belgrade.
Second and special prize winner at the International Competition in Nauen, Germany (2006), and the third prize winner at the international competition "Adilia Alieva" in Gaillard, France (2004), she also received many awards on the youth competitions in Serbia, as well in Rome, Tortona and Riviera del Connero (Italy). She played in many recitals, chamber music concerts and collaborated as a soloist, with many different orchestras and conductors such as: Jean-Francois Antonioli, Jordan Dafov, Anatolij Novicki, Vincent Monteil, David Porcelijn… Her performances brought her throughout Serbia and Balkan region, Romania, Italy, Germany, France, Switzerland, Ireland and USA. She appeared as a soloist and chamber musician on the music festivals: "BEMUS", "International Review of Composers", "BUNT", "Festival of Minimalism" (Serbia), "Timisoara Musicala" (Romania), Kotor Art (Montenegro),"Havällendische Festspiele", "Movimentos" (Germany), "Galway Music Festival" (Ireland), "Art and More (Croatia)…
In the concert season 2019/20, Faculty of Music Art Belgrade and Composer's Association of Serbia, have released her solo CD, with the piano pieces of Serbian well-known contemporary composer Vladimir Tosić. She performs on regular basis with Serbian famous cellist Sandra Belić, with whom she played in many important halls and festivals in Serbia, Montenegro, Croatia, Republic of Srpska.. She holds the position of Associate Professor at the Department for Piano, Faculty of Music Art, University of Art, Belgrade.