World Poetry Day(s) PAPER ROCK ROCK, March 21st – 23rd, 2021.
21.03.2021-23.03.2021, 12:00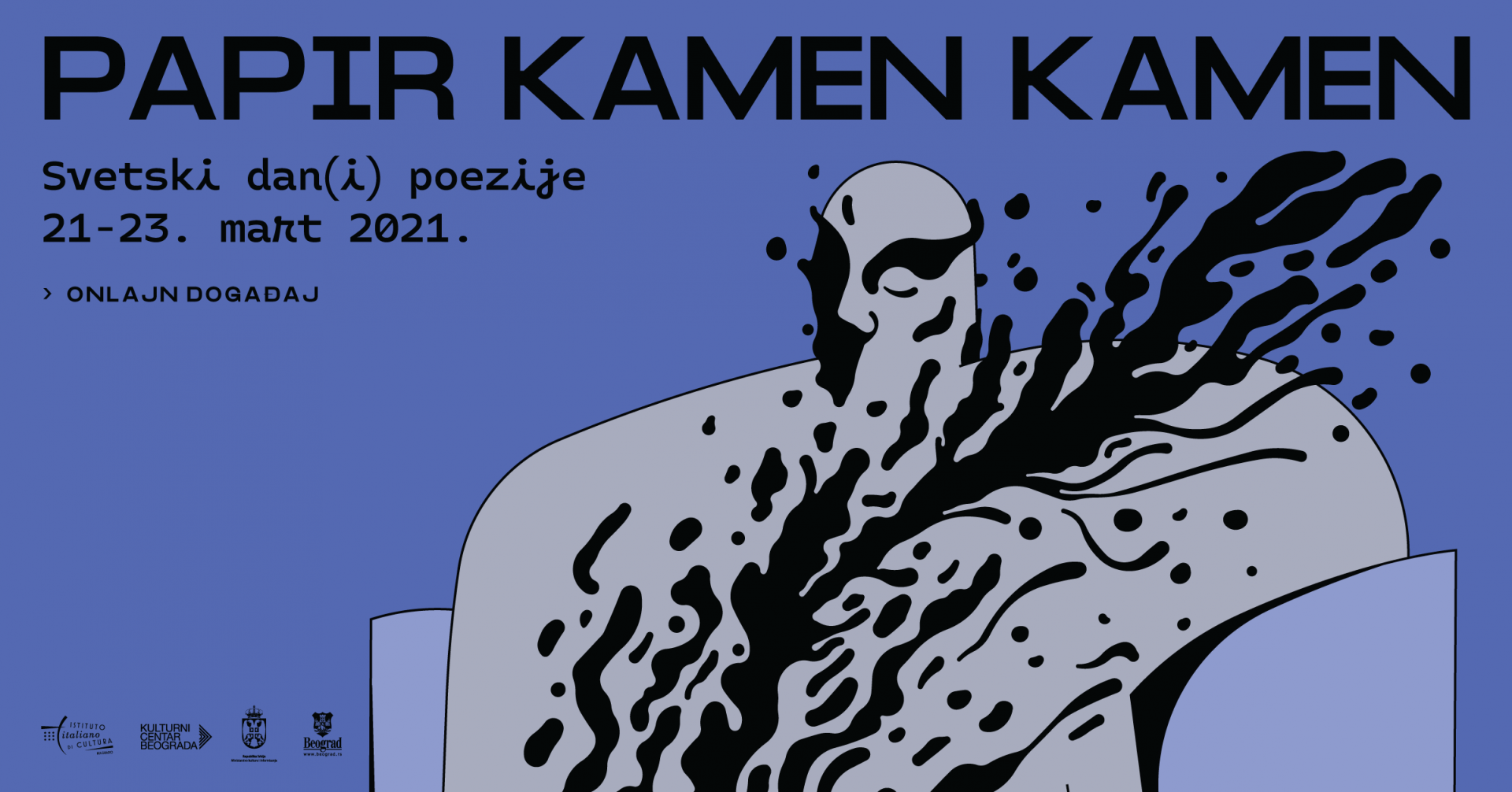 World Poetry Day was declared by UNESCO in 1999, and two years later Belgrade Cultural Center, in cooperation with the poet Dubravka Đurić – relying on its own, as well as overall tradition of organizing poetry programs in Belgrade – began an event dedicated to contemporary poetry, which quickly grew into international poetry festival. So far, authors such as, Adam Zajagewski, Ewa Lipska, Amir Or, Uwe Kolbe, Ana Blandiana, Valerio Magrelli, Aleš Debeljak, Jerome Rothenberg, Zvonko Karanović, Ana Ristović, Petra Miloradović, Radmila Lazić, Milena Marković, Marjan Čakarević, Dragana Mladenović and others have been guests in Serbia, in the Belgrade Cultural Center, but also in numerous partner institutions. Over the years, various poets, translators and critics took part in the debates, while this festival has been continuously dedicated to the affirmation of young authors through their active participation in the programs.
Every year, the manifestation carries a new thematic framework, while the conceptualization is a task given to a poet of choice. The editor of this year's program is the poet and playwright Maša Seničić. World Poetry Day(s) will be held from March 21st to 23rd 2021, on the online profiles of the Belgrade Cultural Center. As the festival is held online for well-known reasons, a dialogic e-publication has been designed instead of live conversations, while instead of reading of the poets, the audience will have the opportunity to hear them via video. In addition to the program editor, the co-authors of these materials are cameraman and director of photography Marko Milovanović, as well as illustrator and graphic designer Srđa Dragović.
If we dare to leave behind relatively fresh and insufficiently precise phrases (such as "challenging times" or "new normal"), it does not mean that we do not take the moment we are in seriously, from a poetic perspective. Quite the opposite: with the World Poetry Day(s) program, we approach language and society on the basis of reflection on essential needs, betrayed expectations and paradigmatic changes – all through an attitude devoid of obvious and worn-out references.
The well-known children's game we rely on in the title – Rock Paper Scissors – is based on a non-hierarchical cyclic system, with nine possible combinations of moves. Exactly as many young authors, who create in the same language, will present themselves this year through their verses: Đorđe Ivković (Serbia), Marija Dejanović (Croatia), Marija Dragnić (Montenegro), Tomislav Augustinčić (Croatia), Radmila Petrović (Serbia), Alen Brlek (Croatia), Vladana Perlić (Republika Srpska), Anita Pajević (Bosnia and Herzegovina) and Jana Radičević (Montenegro).
The videos that make up this online event are intended as an intervention, not as an illustration. Since we are not able to invite authors to visit, individual recordings are made of one of their works, and these audiovisual recordings are part of the program as responses to songs, instead of just being their display/reflection. Bearing in mind that the image is recorded separately, and that the poets will be present with voice and text (not with their head/body), World Poetry Day(s) in a way directly deal(s) with movement and distance: the spatialization of poetry and its associative materialization. With the concept of this year's program, we move the contextual border of reading poems by regional authors, perceiving their works as a whole, consistent in the intention of asking questions, although not necessarily in terms of style or motive. Each video also has a subtitle in the original language.
Since dialogue has always been an integral part of the previous World Poetry Day(s), the three-day online event will result in an e-publication that in its form resembles a conversation about poetic, i.e. poetry. Establishing the relationship between poetic and potentially poetic elements and objects within (in terms of type and form) diverse content, the authors attached to their three poems the same number of other non-literary texts that communicate with their works, forming diptychs. The formatted e-publication is composed of chapters dedicated to authors, and they contain the mentioned poetic and non-poetic texts, photographs, biographies. The comprehensive booklet will be published online and available to everyone for free after the event closes, and therefore the YouTube video addresses will also be hyperlinked in the e-publication itself.
The Italian Institute of Culture in Belgrade has provided additional support to the World Poetry Days, so we have the opportunity to have three young Italian poets – Giulia Martini, Alma Spina and Beatrice Cristalli – as part of this year's program. Their poems will be translated into Serbian for the first time especially for this occasion, and the authors will send their recordings of readings and presentations, which will also be available to viewers with subtitles.
During the World Poetry Day(s) -March 21st, 22nd and 23rd of 2021 – four poetic videos will be uploaded every few hours each day, which will try to convey the rhythm of previous festival performances using online opportunities.
Complete program / content of the event will be available on the YouTube channel of the Belgrade Cultural Center, as well as on their Facebook page, while notes, announcements and news related to the event itself can be seen on the official Instagram profile.