Marija Bajalica, piano
07.06.2021., 20:00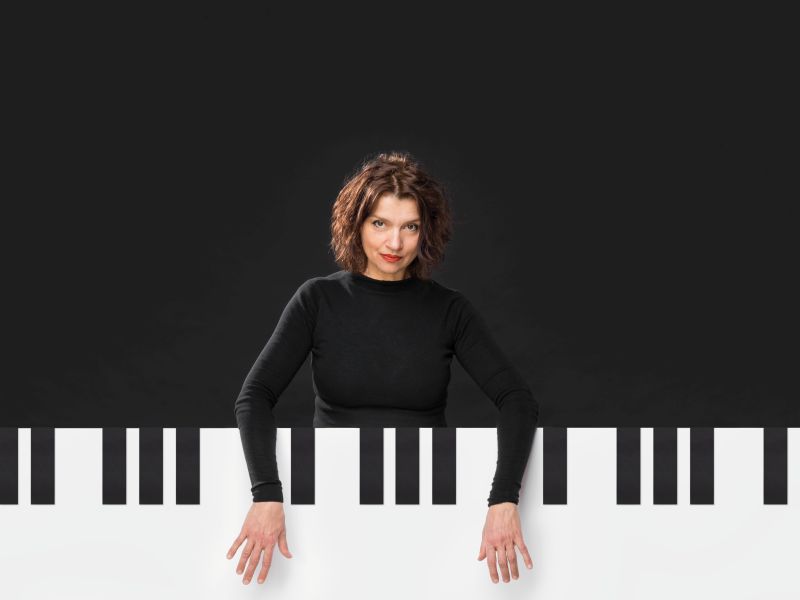 Concert is organized in cooperation with UMUS (Association of Music Artists of Serbia).
photo by Milica Mrvić
According to the health and safety guidelines for suppression of the epidemic, the number of attendees in the Artget Gallery is reduced to 20. It is important to book your seat by e-mail damjana.njegic@kcb.rs or by phone 011 2622 058 not later then noon at the day of the concert.
Program:
Sergei Prokofiev
Romeo and Juliet, ten pieces for piano, Op. 75
Folk Dance (Narodnый tanec)
Scene (Scena)
Minuet (Menuэt)
Young Juliet (Džulьetta-devočka)
Masks (Maski)
Montagues and Capulets (Montekki i Kapuletti)
Friar Laurence (Pater Lorenco)
Mercutio (Merkucio)
Dance of the Girls With Lilies (Tanec antilьskih devušek)
Romeo and Juliet Before Parting (Romeo i Džulьetta perel razlukoй)
Aleksandar Vujić
Serbian kolo (Srpsko kolo)
Waltz
Biography:
Marija Bajalica is a Belgrade born classical pianist. She has obtained her Bachelor and Master Degrees in Piano Performance at the Faculty of Music in Belgrade. During her studies, she competed at national and international competitions in piano performance with greatest recognition. In 1992, Marija relocated to South Africa, where she remained for fourteen years, teaching Piano Performance in the capacity of Lecturer and Senior Lecturer at the University of Pretoria. Along with teaching engagements at the University, she gave concerts and master classes throughout the country. She was a permanent recording artist for the National Broadcasting Corporation, SABC. At the beginning of 2006 Marija settled in Adelaide, Australia. She was employed in teaching both undergraduate and postgraduate courses in Piano Performance at the University of Adelaide from 2007 to 2016. In 2008 she received a prestigious Australian Postgraduate Award for doctorate studies in Piano Performance, which she completed in 2013. In Australia, Marija's concert engagements included recitals for the Elder Hall Concert Series, Ngeringe Concert Series, Recitals Australia, Classic FM Sunday Concerts Live, and recordings for the Australian Broadcasting Corporation, 5MBS Radio and Radio Adelaide. Marija adjudicates national and international competitions in Piano Performance and is the member of the Association of Music Artists of Serbia. Since 2017 she lives in Austria, focusing mostly on concert performances, while maintaining close professional liaisons with the Sydney Piano School & Pedagogy Research Centre. The following people contributed significantly to the shaping of Marija's musical thought: Konstantin Bogino, Anđela Perišić, Dušica Mitić, Mirjana Šuica-Babić, David Lockett and Charles Bodman Rae showed her the way.