Premiere screening of films – 16th ISFC "Interaction 2021"
23.08.2021., 21:00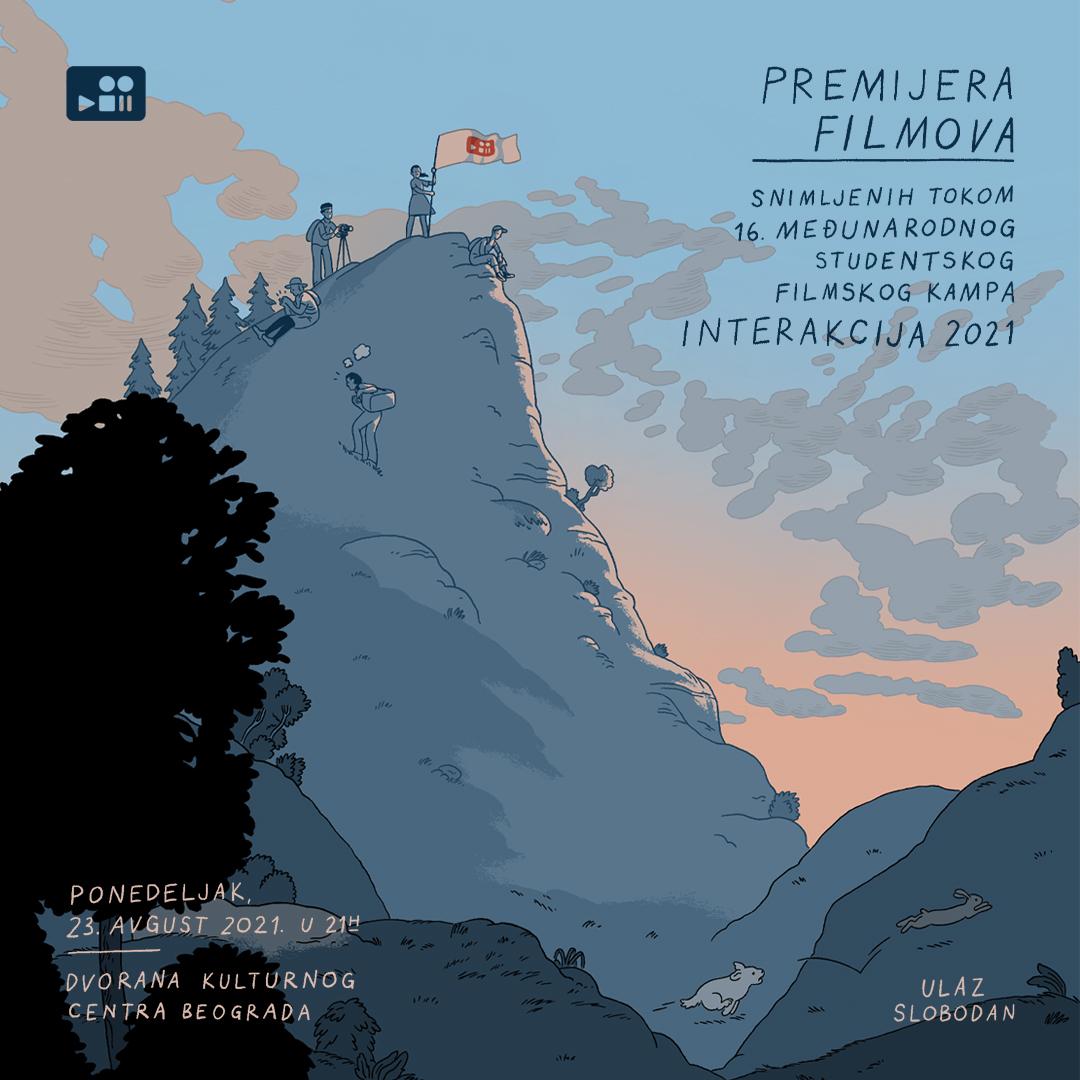 Premiere screening of films – 16th ISFC "Interaction 2021"
Movie Theatre Cultural Centre of Belgrade
Monday, August 23rd, 2021 at 9 p.m.
Free entry
The Independent Film Centre "Filmart" and the Cultural Centre of Belgrade invite you to the premiere screening of documentaries shot during the 16th International Student Film Camp "Interaction 2021", which will be held on Monday, August 23rd, 2021, at 9 pm, at the Movie Theatre Cultural Centre of Belgrade (DKC).
This year's theme of the camp, "Unrestricted" was inspiring for the participants of the film camp Interaction, so three interesting documentaries were shot on the territory of Čačak and Užice. Twelve young filmmakers from Poland, Estonia, Egypt, Russia, New Zealand, Austria, Croatia and Serbia participated in the production of the films, as well as three local production coordinators from Užice and Čačak.
While staying in Užice, the two crews worked on two documentaries in parallel. The director from New Zealand, Isaac Knights-Washbourn, with his crew, following the character of the heroine Dragica in a rural environment, brings a gentle meditation on motherhood and the family chains that bind us. The crew of this film, provisionally titled "Mother's Milk", also included cinematographer Antonio Pozojević from Croatia, editor Ivana Pejak from Serbia, sound designer Evgeny Pereiaslavtsev from Russia and production coordinator Nađa Lapčević from Užice.
Klaudia Folga, a student of directing from Poland, with her team (Jovan Radaković, cinematographer; Lucija Ana Ilijić, editor; Mazin Helal, sound designer and production coordinator Ana Ostojić from Užice), made a film that was also shot in Užice, examines the roles that a small town assigned to a particular individual. Their hero Šone Korea is a local "weirdo" who has been riding a bike all day since he was a child, but no one knows who he really is.
The third crew that stayed in Čačak, led by Ružica Anja Tadić, a director from Serbia, in the inspiring landscape of the Ovčar-Kablar gorge shot a documentary that brings a portrait of a man who, in the midst of extraordinary circumstances caused by climate change, cultivates a special relationship with nature. In addition to the director, the Čačak crew also included Johan Huimerind from Estonia, Isabella Friedl from Austria, Predrag Kedić from Serbia, while Jovana Jevremović from Čačak was the local production coordinator.
This year's camp has been realized with the support of the Ministry of Culture and Information of the Republic of Serbia, the Film Centre of Serbia, the City of Čačak, the production company Cinnamon Films, the Student Centre of Užice, but also numerous partners and friends.
The premiere screening of the films from the 16th Interaction is scheduled for Monday, August 23rd, 2021, at 9 pm, at the Movie Theatre Cultural Centre of Belgrade (DKC), which has been the host of the Interaction from the beginning.
Admission to the premiere of the 16th documentary "Interactions" at the DKC is free.