Bojan Ilkoski (violin) and Dino Imeri (piano)
27.09.2021., 20:00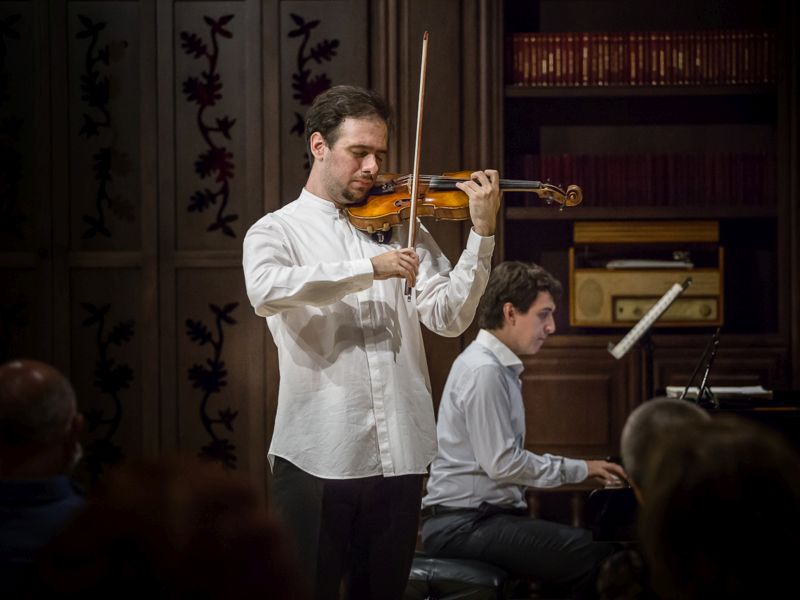 Concert is suppored by Ministry of Culture of the Republic of North Macedonia.
According to the health and safety guidelines for suppression of the epidemic, the number of attendees in the venue is reduced. It is important to book your seat by e-mail damjana.njegic@kcb.rs or by phone 011 2622 058 not later then noon at the day of the concert.
Program:
Lili Boulanger
Nocturne
Claude Debussy
La plus que Lente
Maurice Ravel
Sonata for violin and piano no.2 in G majora
(Allegretto)
Blues. Moderato
Perpetuum mobile. Allegro
Piece en forme de Habanera
Tzigane, rapsodie de concert, for violin and piano
Damir Imeri
Dance Fantasy
Dijana I. Ilkoska
Roots (dedicated to Bojan)
Biography:
Bojan Ilkoski (1992 Skopje) began studying the violin aged 7 at SMBEC Ilija Nikolovski-Luj in Skopje. His first contact with the instrument was closely followed by prof. Rumen Dimitriev, and he has graduated at the Faculty of Music Arts – Skopje in the class of prof. Oleg Kondratenko. He won multiple awards among which are: International Mozartiana-M competition (2006) – 3rd prize;  State Music Competition (2007) – 1st prize; "Ohrid Pearls" (2008) – 3rd prize; State Music Competition (2010) – special prize; "Nedyalka Simeonova" (Haskovo, Bulgaria) (2010) -3rd prize; Sixth International Strings competition in Niš (2013) – 1st prize. Ilkoski has successfully performed solo concerts in Macedonia as well as abroad: Serbia, Croatia, Bulgaria, Romania.. He also performed with the Macedonian Philharmonic Orchestra, FMU Symphonic Orchestra as well as the Chamber orchestra "FMU Soloists". In 2009, the young violinist has performed his first solo-recital at Daut-Pashin Amam gallery. In 2013, Ilkoski forms a duo with pianist Dino Imeri and together they embark on a successful concert streak among which: "European Concert" organized by Music and Ballet Pedagogues of Macedonia, European Union of Music Competitions for Youth, Festival A-Fest in Novi Sad, Srbia, Festival "Golden Lyre", Ohrid Summer Festival as well as a recital in Skopje during the "We are coming.." series organized by the Cultural Informative Center – Skopje and a special performance at "Salon 19,19" upon an invitation by the Spanish Ambassador to Macedonia Mr. Fernando de Galainena Rodriguez. As a well established soloist, Ilkoski also involves himself in chamber music. He has performed in Macedonia and abroad (Croatia, Bosnia) with the FMU Symphonic and Chamber Orchestra. The chamber performances enable Ilkoski to collaborate with renowned musicians such as conductor Misha Katz, violinist Francis Deroy as well as cellist Marc Coppey. This young violinist is a member of the Chamber Orchestra of the Jeunesse Musicales Macedonia with whom he has had the opportunity to collaborate with artists such as Koh Gabriel Kameda, Misha Katz, Sasha Nikolovski-Gjumar, Dijana Imeri Ilkoska, Kokan Dimushevski, Oleg Kondratenko and others, having performed at the Ohrid Summer, Bitola Summer, Interfest and Skopje Summer festivals. Ilkoski is a member of the Macedonian Philharmonic Orchestra as well as the F.A.M.E.'s – Film and Music Recording Company orchestra.
Dino Imeri (1990) is one of the finest Macedonian pianists. He is recognized for his work in classical music as well as a variety of different genres. He has performed to great public and critical acclaim with the Strasbourg Philharmonic, Macedonian Philharmonic, Sofia Philharmonic, FMU Symphonic Orchestra, Macedonian Opera and Ballet orchestra, JMM Chamber Orchestra. He has performed recitals at many prestigious European venues and festivals such as "Vatroslav Lisinski" Zagreb (Croatia), Schloss "Esterhazy" Eisenstadt (Austria), "Liszt Zentrum" Raiding (Austria), "Piano Plage Festival" Ouistreham (France), Ohrid Summer Festival, Skopje Summer Festival, Interfest – Bitola etc. He has collaborated with many leading musicians of today including conductors Nayden Todorov, Emil Tabakov, Sasha Nikolovski-Gjumar, Borjan Canev, Dijana Imeri Ilkoska, Josep Vicent, singers Ana and Igor Durlovski, Blagoj Nacoski, Libuse Santorisova, Aleksey Shapovalov, Luigi Schifano, Biljana Josifov, instrumentalists Vlatko Stefanovski, Adi Imeri, Bojan Ilkoski, Marija Vrshkova etc. He was awarded the "Mother Theresa" – Skopje award for his humanitarian work as well as the title Laureate of Foundation "Tomislav Zografski", "Virtuosi" award, "Maestro of the Year" at the prestigious "Golden Ladybug" awards, many national and international prizes. His discography includes 5 CDs published by domestic and foreign labels and a rich filmography as a composer for motion pictures and television productions. As of 2019, Imeri is an Associate Professor (docent) at the Faculty of Music Arts in Skopje, Macedonia teaching Piano, Chamber Music, Piano in Context and Accompaniment.