Sofija Krsteska-Klebel, violin and Milan Popović, harpsichord and piano
06.09.2021., 20:00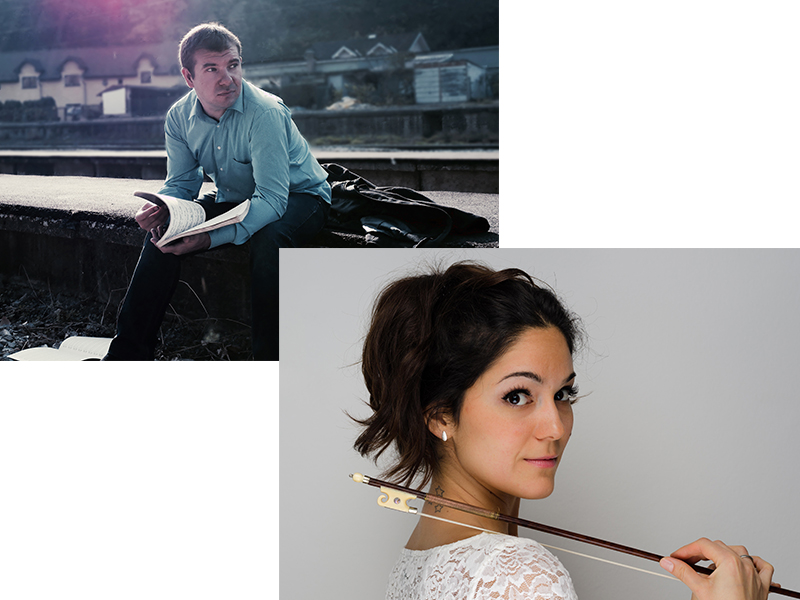 Program "From the Land of Habsburgs – Music of Austrian Composers for Violin, Piano and Harpsichord" is selected by Sofija Krsteska-Klebel and Milan Popović. Concert is organized with the support of Austrian Cultural Forum in Belgrade.
PROGRAM
Antonio Caldara (1670–1736)
Sonata for violin and basso contuinu in A major, Op. 2, No, 3
Andante
Allegro
Allegro
Georg Christoph Wagenseil (1715–1777)
Sonata for harpsichord and violin in D major, Op. 1, No. 2
Allegro assai
Andantino
Tempo di Menuetto
Menuetto 2do
Johann Jakob Froberger (1616–1667)
Suite for harpsichord XI in D major
Allemande
Courante
Sarabande
Gigue
Fritz Kreisler (1875–1962)
Recitativo und Scherzo, for violin
Hans Gál (1890–1987)
Preambulo and Aria, for violin and piano
Wolfgang Amadeus Mozart (1756–1791)
Sonata for violin and piano in A major, KV 305
Allegro di molto
Thema con variazioni
Biographies:
Violinist Sofija Krsteska-Klebel is engaged in concert work with renowned period instrument baroque ensembles, orchestras and chamber music groups throughout Europe and Asia. Sofija has worked with a number of world´s leading conductors such as Martin Haselböck, Rubén Dubrovsky, Stefan Gottfried and well known ensembles including the Bach Consort Wien, the Wiener Akademie Orchestra, Neue Hofkapelle Graz, Wiener Kammerorchester, Belgrade Radio Symphony Orchestra and the Philharmonic Orchestra of Minas Gerais as well as other chamber music groups. She holds both a Master of Music in Performance for violin and a Master of Music in Performance for baroque violin from the University of Music and Performing Arts in Graz and a Master of Arts from the Music Academy in Belgrade. She has undertaken masterclasses with Erich Höbarth, Enrico Gatti, Odile Edouard, Reiner Honeck, Ernst Kovacic and Itzahk Rashkovsky. Her comprehensive professional and academic experience allows her to perform music spanning the sixteenth to the nineteenth centuries, on modern and period violin instruments with equal ease and stylistic precision. Sofija Krsteska is currently based in Austria.
Milan Popović is a harpsichordist and pianist, active as a soloist and a chamber musician, piano accompanist and continuo player. He graduated (BA in Harpsichord and Piano) at the Faculty of Music in Belgrade, in the classes of the full Prof. Ninoslav Živković and the full Prof. Zorica Ćetković. In 2013, he successfully defended the thesis of his doctoral art project named "Interpretative connections between 18th and 20th century French Keyboard Music". During the schooling, he attended numerous master classes held in the country and abroad. He was a fellowship holder of the Austrian Baroque Academy from Gmunden and worked with numerous harpsichord players and professors, such as Egon Mihajlović (Germany), Siegbert Rampe (Germany), Blandine Rannou (France), Jory Vinikour (USA), Maria Louisa Baldassari (Italy), Erich Traxler (Austria), Anne Marie Dragosits (Austria), Eugene Michelangely (France). He is the recipient of laureate awards, the first and other prizes at numerous pianistic competitions of both the local and international character. Milan Popović had guest performances at music festivals both in the country and abroad (Ars Vivendi Clavicembalum,  Trigonale, Aestas,  Early Music Festival), at which he gave a number of recitals of soloistic and chamber music. Apart from regular appearances in the country, he has given concert recitals and has had guest performances as a soloist and chamber musician in Austria, Croatia, Bulgaria, and Spain. As a soloist, he gave performances with The Serbian Army Artistic Ensemble Stanislav Binički, as well as with the Faculty of Music Orchestra. He was associate of the RTS Symphony Orchestra, an associate of the Stanislav Binički Artistic Ensemble, The Jewish Chamber Orchestra, and the official continuo player of the Baroque Orchestra Aestas and The New Belgrade Opera Baroque Orchestra. He is a member of the early music ensemble Temenos. The concert appearances of Milan Popović have been recorded in the form of permanent audio recordings and have been broadcast within the programmes of Serbian Radiotelevision and the Austrian Radio ORF. He is the initiator and The Artistic Coordinator of the manifestation Days of Early Music (holding on the Faculty of Music from 2013 onward), under the support of European Early Music Network. He is the Assistant Professor of Harpsichord on The Faculty of Music in Belgrade.