Nemanja Egerić, piano
25.10.2021., 20:00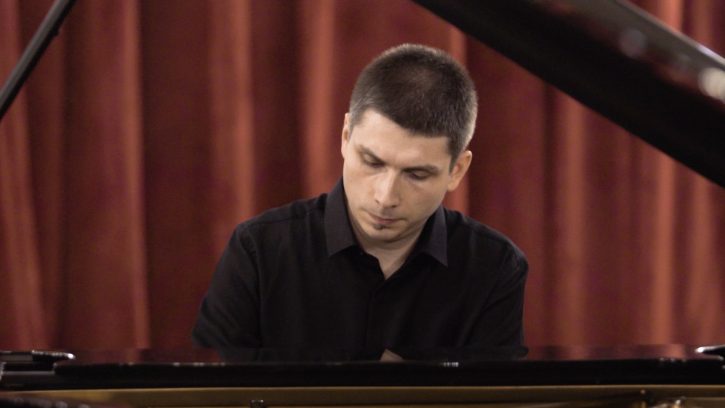 According to the health and safety guidelines for suppression of the epidemic, the number of attendees in the venue is reduced. It is important to book your seat by e-mail damjana.njegic@kcb.rs or by phone 011 2622 058 not later then noon at the day of the concert.
Program:
Edison Denisov
Signes en blanc
Karlheinz Stockhausen
Klavierstück IX
Luigi Nono
…sofferte onde serene…
Ludwig van Beethoven
Piano sonata No. 31 in A flat major, Op. 110
Moderato cantabile molto espressivo
Allegro molto
Adagio ma non troppo – Allegro ma non troppo
Biography:
Nemanja  Egerić  graduated and completed bachelor and master diploma at the Faculty of Arts in Niš in the class of Miroslav Dacić. He has finished in 2018 the post-graduate studies in the class of Bruno Canino at the academy Scuola di Musica di Fiesole in Florence. He has been finnished Ph.D. studies at the Faculty of Music in Belgrade in the class of Maja Rajković. Thesis of his doctoral studies is based on interpretative and programmatic explication of Olivier Messiaen's piano cycle Vingt regards sur l'Enfant Jesus. Nemanja has participated on numerous competitions winning numerous prestigious prizes such as: Laureate at the competition of young composers Laureate at the International piano competition ULJUS (2017), I prize at the International piano competition Klavitas (2017); Laureate of the Contemporary music festival ReConstruction 2 (2019); II prize at INSAM Contemporary Music Competition (2019). In 2020 he has been honored with award "Stanojlo Rajičić" for the best concert of the seasson 2018/2019 of SASU in Belgrade. As a solo and chamber musician, Nemanja has performed many recitals including Italy, Switzerland, North Macedonia, Bosnia and Herzegovina as in all major concert halls in Serbia. He has been participant of the international festivals such as Lucern Piano Festival, Musica al Ponte, Petar Stojanović, BLISS. Nemanja is first serbian pianist who has for the first time in Serbia performed works of modern composers such as O. Messiaen, L. Berio and J. Harvey.
Nemanja has been studying with number of professors at master classes and improved his piano skills such as Bruno Canino, Peter Hill, Momo Kodama and Pierre Sublet. From 2019 he has been working as a piano accompanist at the Faculty of Arts in Niš. His concert repertoire is mainly based on interpreting and promoting contemporary music.