17. Free Zone Film Festival / 9.11.2021. / 13.30
09.11.2021., 13:30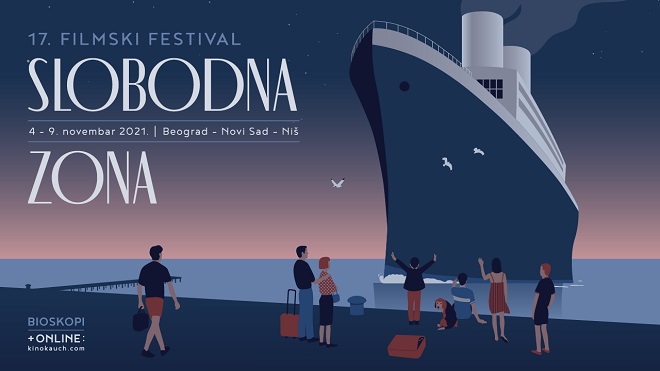 13.30 Stop zemlia (fic.)
Director: Kateryna Gornostai
Country: Ukraine
Year: 2021.
Runtime: 122'
Language: Ukrainian
Cast: Maria Fedorchenko, Arsenii Markov, Yana Isaienko, OleksandrIvanov
Production: ESSE Production House
SELECTION 14+
SYNOPSIS
The introverted high-school girl Masha sees herself as an outsider unless she hangs around with Yana and Senia who share her non-conformist status. While she is trying to navigate through an intense time of the pre-graduation year, Masha falls in love in a way that forces her out of her comfort zone. From a debutant Ukrainian director KaterynaGornostai, a deeply personal story about self-discovery and the patience it requires.
DIRECTOR'S BIOGRAPHY
KaterynaGornostai studied Biology (2010) and later Journalism (2012) at the Kyiv-Mohyla Academy. Then graduated from the School of Marina Razbezhkina and Mikhail Ugarov Documentary Film and Theatre in Moscow (October 2012 – November 2013) and returned home to Kyiv. Now she is engaged in educational documentary programs and her own documentary and fiction films projects.
FESTIVALS AND AWARDS
Crystal Bear, Generation 14plus – Best Feature Film, Berlin International Film Festival 2021
Odesa International Film Festival 2021
16.00 Holy Emi (fic.)
Director: AraceliLemos
CountryGreece, France, United States
Year: 2021.
Runtime: 111'
Language: Tagalog, English, Greek
Cast: Abigael Loma, HasmineKilip
Production: StudioBauhaus, Utopie Films, Nonetheless Productions
BALKAN HORIZONS
SYNOPSIS:
When their mother returns to the Philippines, two young sisters, Emy and Teresa, are left alone in Athens where they begin to forge separate paths in search of their own identities. Teresa, secretly pregnant with a Greek sailor's child, is embraced by the insular Filipino Charismatic Catholic church where Emy feels like an outsider. Emy is drawn toward the home of Mrs Christina, an elderly Greek woman who runs an alternative healing practice where the sisters' mother used to work. As Teresa's pregnancy advances, Emy explores the mysterious forces and abilities within her and must learn how to live a life of her own. Will she make peace with the gifts and curses of her body?
DIRECTOR'S BIOGRAPHY:
AraceliLemos is a director, writer and editor born in Athens, Greece and currently based in Los Angeles. Her debut feature, Holy Emi, is premiering at Locarno 2021 and won the Firs tCut Lab as a work-in-progress. Her short film, Miguel Alvarez Wears a Wig, has screened at several festivals worldwide, including Tampere, Outfest and Leeds.
Araceli has worked as a documentary film editor on award-winning features and on the Emmy-awarded KCET docu-series Lost LA.
FESTIVALS AND AWARDS:
Best First Feature – Special Mention, Locarno International Film Festival 2021
18.30 Aleph (doc &fic.)
Director: Iva Radivojević
Country: United States, Croatia, Qatar
Year: 2021.
Runtime: 91'
Language: Spanish, Arabic, Serbian, Greek, Nepali, Thai, Zulu, English
Cast: Anne Waldman, Guillermina Pico, BouamamaBenFareh, ŽarkoLaušević
Production: Ivaasks Films, Picture Palace Pictures
INTERNATIONAL SELECTION
SYNOPSIS:
Aleph is a travelogue of experience, a journey to find that place of connection, of clarity, of
understanding across language, geography and experience. The thoughts, ideas and dreams of
protagonists in ten countries spanning five continents are revealed through conversation, activity and
contemplation. These collective stories serve as pieces of a puzzle that lead to what the Argentinean writer Jorge Luis Borges called 'the unimaginable universe'.
DIRECTOR'S BIOGRAPHY:
Iva Radivojević was born in Belgrade and spent her early years in Yugoslavia and Cyprus. She is an artist and filmmaker who currently divides her time between subarctic Alaska, Brooklyn and Lesbos. Her work presents itself as a collection of fragments (observations, poetry, images, sounds, melodies, languages) which collage together to connect into a ruminating whole. The work circles around displacement and belonging, seeking to connect to the metaphysical or the magical.
Iva's films have screened at NYFF, Rotterdam IFF, CPH:DOX, SXSW, DocLisboa, Museum of Modern Art
(NYC), PBS and New York Times Op-Docs. She is the recipient of the Sundance Art of Non-Fiction Fellowship, Guggenheim Fellowship, Princess Grace Special Project Award and Film Fellowship.
FESTIVALS AND AWARDS:
27th Sarajevo Film Festival 2021
New directors/New films 2021
21.00 The Case You (doc.)
Director: Alison Kuhn
Country: Germany
Year: 2020.
Runtime: 80'
Language: German
Cast: Isabelle Bertges, Gabriela Burkhardt , Alison Kuhn
Production: FilmuniversitätBabelsbergKonrad Wolf
WOMEN LINE
SYNOPSIS
After five young actresses experienced systematic abuse of sexual and violent nature, they are currently fighting a legal battle. Not much of it has yet reached the public. The Case You explores what occurred back then and what it means for their lives today.
DIRECTOR'S BIOGRAPHY
Alison Kuhn is a German actress, writer and director. She was born in 1995 in Saarbrücken, Germany. Kuhn graduated from drama school in Cologne and is currently living in Berlin. In 2017 she won the national award for young poetry "lyrix" and has since attended writer's workshops at Literarisches Colloquium Berlin. She works as an actress and a writer in film and television while additionally studying directing at FilmuniversitätBabelsbergKonrad Wolf in Potsdam. Her first feature-length documentary The Case You celebrated its world premiere at IDFA 2020.
FESTIVALS AND AWARDS
Student Award, DokfestMunchen 2021
Best Music in a Documentary, Max Ophüls Festival 2021